This information is useful for people who are traveling to the USA for the first time.
This guide is divided into two sections. The first section provides information to consider before reaching the United States. The second section provides information to consider as you are traveling to or have reached the United States.
If you're looking for tips on buying airline tickets, understanding airline itinerary, procedures at check in, or formalities of immigration and customs at the international airport in the home country, you will find detailed information here.
You will also find helpful tips regarding boarding the aircraft and your intermediate stop either in Europe or the Far East.
There is also helpful information regarding entering the United States, filling out forms, legal formalities, immigration, customs, and your domestic flight for onward journey within the United States.
Happy journey, and have a safe flight!
Travel Companion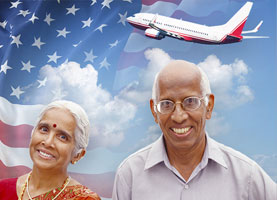 If you or your relatives are traveling and have special needs such as help with transit, immigration, filling forms or just need someone for a company during travel, post your travel companion ad for traveling to and from any airport in the world. Most suitable for parents visiting USA from India who have difficulties with English.

For visitors, travel, student and other international travel medical insurance.
Visit insubuy.com or call +1 (866) INSUBUY or +1 (972) 985-4400