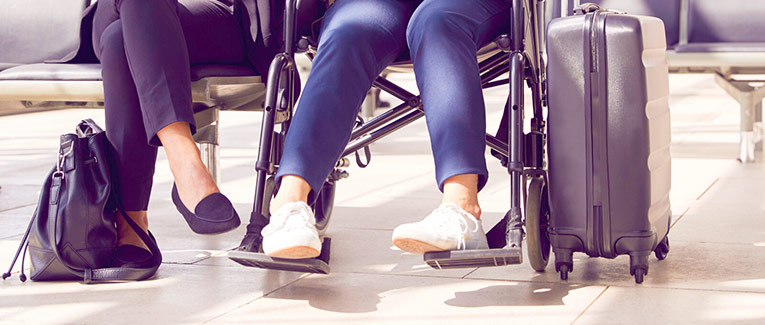 There is no need to dread travel when you use a wheelchair. Read these tips and take that trip you always wanted.
Essential Tips for Wheelchair Users
1. Read the Air Carrier Access Act Carefully
The Air Carrier Access Act of 1986 prohibits all commercial U.S. airlines from discriminating against a person with a disability. It also applies to all international flights that arrive or depart from a U.S. airport.
The legislation is worth studying, and it states your rights quite clearly. ACAA has made air travel for passengers using wheelchairs far easier.
The carrier has to provide you with assistance for boarding and disembarking. The airline also has to provide mechanical wheelchairs, ramps, and assistance for travel between gates.
A wheelchair-bound passenger has the right to board first, even before first-class passengers.
Also, if you require assistance, you cannot be left unattended for more than half an hour.
An important question asked by most: Do airlines charge for wheelchair assistance? Never. The act mandates free service.
2. Request Bulkhead Seats
In a double-aisle aircraft, you might get placed in the middle. That could be quite uncomfortable, and you need to rest during the flight to arrive fresh and ready to enjoy your destination.
The best seat for someone using a wheelchair is beside the window, in what is popularly known as the bulkhead seat. These are under the curvature of the plane's bulkhead.
With a bulkhead seat, you can enjoy your flight in peace without people climbing out all the time to visit the lavatory, or asking the flight attendant for another drink or blanket.
The airline is under no compulsion to provide you with the seat you wish, but they usually do. You might be directed to request a seat when you receive the boarding pass, but most airlines allow the facility after booking.
3. Request an Aisle Wheelchair
The aircraft for domestic flights may be narrow-bodied jets with a single aisle in the middle. Unless you make the request, the plane nay not have an aisle wheelchair for you to visit the lavatory.
An aisle wheelchair is a special type of narrow wheelchair used onboard aircraft.
Make sure that you call beforehand and let the airline know. International flights mandatorily carry this type of wheelchair.
Of course, you must be able to steer the chair into the lavatory. You can also ask for help navigating the aisle.
4. Get to the Airport Early
Get your boarding pass as early as possible. You will need time to get past the TSA and check your baggage.
There is also the matter of obtaining the seat you desire, and ensuring that the aisle wheelchair is placed on the flight.
Your own wheelchair will travel as cargo. If any disassembly is required, do it yourself. Do not trust airline staff. Otherwise, on arrival, you may find that it is broken or damaged.
Keep any prescription medications with you. If placed in cargo, they may go missing.
5. Wear Compression Stockings
You will not have the assistance of anyone on the plane to provide you with physical therapy, yet it is important to prevent deep vein thrombosis.
This ailment is quite common during long, international flights. When passengers rest for long periods, blood clots can form near the toe. Later, these blood clots can travel up through the body and cause a stroke.
Compression stockings help by not allowing blood and fluid to pool in your ankles.
6. Know Your Wheelchair Design
It's not uncommon for wheelchairs to have mechanical issues. Know the design and function of your wheelchair well, and be ready to carry out minor adjustments on arrival.
In particular, the tires might deflate during the flight due to lower atmospheric pressure.
You may need spare parts, so it is important to know the name of the service center at your destination.
If any part of the chair is detachable and easily damaged, detach it and carry it on the flight with you.
7. Toilets–A Tricky Issue
On a flight, your options are seriously limited in this aspect. That is why it is essential that you do not eat a large meal beforehand. Eat enough to sustain yourself, but no more.
Avoid sodas and caffeine, since you might get the urge to urinate more frequently. Carry essentials such as diapers and catheters in your carryon luggage.
If you are with a caregiver, you have greater latitude in what you can do, eat, and drink.
8. Smile at Attendants
Onboard, the attendants are your best friends. Do not get airline staff to carry your bag, as you can place it on your lap while they steer you from the gate to your seat.
Ask for a blanket, pillow, and anything else you might need, but do not monopolize their time. Behave nicely to them, as this companionship can be beneficial if you do need them in an emergency.
9. Disembark Last
When you arrive at your destination, you will be the last to deplane. Be patient, and the wheelchair will be brought to you.
If you need a transfer from the aisle wheelchair to the airport wheelchair, instruct your the attendant about how you are most comfortable doing this.
At baggage claim, your own wheelchair will be returned to you. Perform an immediate inspection.
10. Avoid Connecting Flights
As much as possible, avoid connecting flights. It is not only more time-consuming, but the entire process has to be repeated.
You also have to travel between gates, which may require considerable effort.
Even if direct flights are more expensive, they are always the better and more convenient option.
11. Call the Day Before
Call the airline the day before you depart in order to iron out any details. This will help them help you. By preparing this way, you and the crew will be ready to handle any situation.
12. Seek Advice From a Veteran
Ask someone who has done it before. They would know all about the procedure, and which bottlenecks to avoid.
You can also receive valuable information about protecting your wheelchair from damage.
Buy Travel Insurance
Although travel is entertaining, it can turn somber at a moment's notice.
Far away from home, you might be stranded with a fever or illness. Care is of course available, but often at a steep charge.
There is no need to worry, as travel health insurance can mitigate your expenses. On Insubuy, you can find and compare a variety of insurance products, including travel insurance, which can also provide financial protection for lost or delayed luggage, flight cancellations, and much more. Compare plans online and find the policy that suits you best.
We are sorry that this post was not useful for you!
Let us improve this post!
Tell us how we can improve this post?