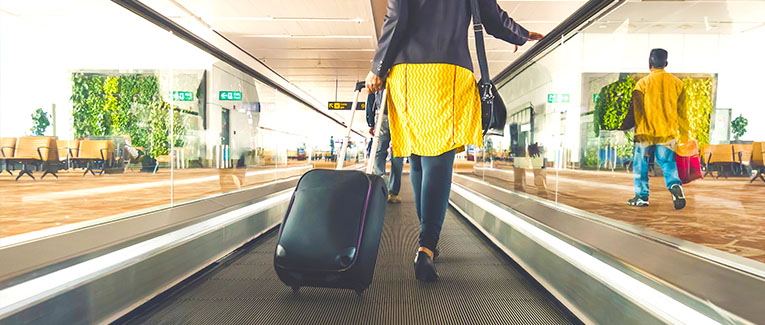 Your purpose of travel to the U.S.A. will determine what you carry in your baggage. The needs of a person going to the U.S.A. as a short-term tourist may be different than those of a person going as a student or a temporary worker.
Unless you are traveling to the U.S.A. in the winter, you shouldn't need to pack many winter clothes. It is best to buy winter clothes and jackets in the U.S.A. itself because most winter clothes from warm countries are not suitable for snow and ice.
You should carry a leather jacket, leather shoes, a leather belt, and a leather wallet (purse), as leather items are expensive in the U.S.A.
You should not carry heavy utensils, but you should carry a pressure cooker if you are going to the U.S. to stay there. Unless you absolutely need specialty spices, it is best to avoid carrying them. There are many ethnic grocery stores and restaurants all around the U.S.A., and such things are easily purchased.
The big bags that go through cargo are check-in baggage. Hand baggage (or carry-on luggage) is the small totes you carry with you at all times. Put a small sticker on your check-in baggage indicating your destination address and telephone number. If you lose your luggage at the airport, do not leave the terminal until you file a complaint with the authorities.

Check-In Baggage
Most airlines allow a total of two pieces of luggage free of charge for each ticketed passenger: one carry-on bag and one checked item. International airports determine luggage allowance and luggage charges (if applicable) based on weight and the number of pieces. Some airlines allow two checked bags. Most airlines allow two checked bags for business and first-class passengers. Check with your airline in advance for the most recent information about baggage.
You can check your big bags at check-in. At the time of check-in, airport staff will take these bags for transport and return them to you at your final destination. You will not see these bags anywhere in between. However, if you are taking a domestic flight after the international one, you may need to pick up your bags and recheck them at the domestic terminal. If your bags are not very strong, tie ropes so they can withstand rough handling.
Generally, total linear dimensions (length + height + width) of each checked bag must not exceed 158 cm (62 inches), and the weight of each bag must not exceed 23 kg (50 pounds). However, exact dimensions may vary with different airlines, so it is best to check with the airline in advance.
TSA-Approved Locks
If you are locking your checked baggage, always use Transportation Security Administration (TSA)-approved/accepted luggage locks. TSA screens every passenger's baggage before it is placed on the airplane. While technology allows them to electronically screen bags, there are times when TSA needs to physically inspect a piece of luggage. TSA has worked with several companies to develop locks that can be opened by security officers using universal "master" keys so that the locks will not have to be cut. These locks are available at airports and travel stores worldwide. The packaging on the locks indicates whether they can be opened by TSA.
Two examples of TSA-approved/accepted locks are:
Hand Baggage
You can carry one piece per person. You should have all the important visa documents you carried to the embassy/consulate because they might need them at immigration at the port of entry (arrival at the first international airport) in the U.S.A. Also, carry one set of clothing and other necessities, like a toothbrush, etc.
Each passenger is allowed one piece of carry-on luggage plus a briefcase/laptop computer bag/purse. In addition, each passenger may carry a coat, umbrella, cane, or other "special" item (see item listing below). Check all items you will not need during the flight. Medicine, keys, important papers, and travel documents (passports) should be carried on board by the passenger.
Carry-on luggage must fit underneath the passenger seat or in an overhead compartment. Maximum carry-on dimensions are 22″ x 14″ x 9″ (carry-on bags must fit in carry-on size box located at check-in counters). Some airlines enforce maximum carry-on weight, which varies by airline. Passengers traveling in first class, business class, or who have accumulated enough miles in their frequent flyer program (like gold members, silver members, etc.) may be allowed an extra carry-on item. This depends on the airline.
"Special" Items:
Coat
Umbrella
Crutches, cane, brace, or other prosthesis on which passenger is dependent
Collapsible manual wheelchair
One stroller
Infant car seat
Infant diaper bag
Two golf clubs (if approved storage space is available)
Reading material
Camera
Two-wheeled luggage cart (cart and bag must fit under seat or in overhead bin)
Infants
Infants not entitled to a seat are allowed one checked bag with total linear dimensions not exceeding 115 cm (45 inches), plus one checked or carry-on fully collapsible stroller or push chair, an infant's carrying basket, or car seat that may be stored in the passenger cabin (subject to availability of space).

Disabled Passengers
Disabled passengers are allowed one fully collapsible wheelchair and/or crutches, canes, braces, and other prosthetic devices without charge over and above the free baggage allowance, provided the passenger is dependent on them. Fully collapsible wheelchairs may be stored in the passenger cabin if space permits and at the complete discretion of the airline at the time of check-in. Collapsible wheelchairs not permitted in the passenger cabin will be carried in the baggage holds.

Miscellaneous Articles
The following articles, regardless of their actual dimensions, may be considered a piece of checked baggage at 158 cm (62 inches):
One sleeping bag or bedroll
One rucksack, knapsack, or backpack
One pair of snow skis with one pair of ski poles and one pair of ski boots, or one snowboard and boots
One golf bag containing golf clubs and one pair of golf shoes
One duffel-type bag or a soft-sided zippered bag with zippered side panel (IATA Type 22)
One suitably packed bicycle (single seat, non-motorized touring or racing type) with handlebars fixed sideways and pedals removed
One pair of standard water skis or one slalom water ski
Suitably packed fishing equipment consisting of not more than two rods, reel, one landing net, one pair of fishing boots, and one fishing tackle box
One portable musical instrument not exceeding 100 cm (39 inches) in length
Check the U.S. Customs website for details regarding what you can and can't bring to the U.S.
We are sorry that this post was not useful for you!
Let us improve this post!
Tell us how we can improve this post?