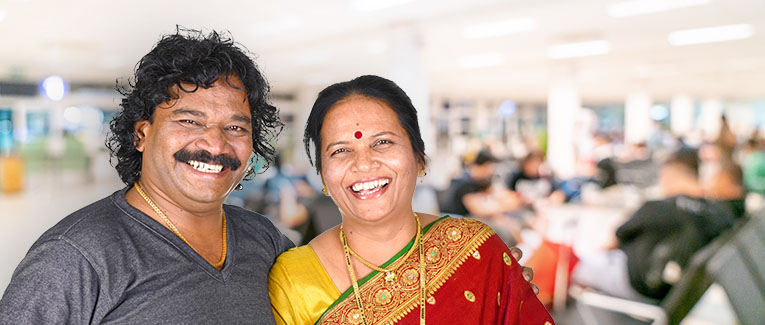 Visiting your kids in the U.S. can be an emotional experience for you and your children both. However, traveling can be a tedious process. To make your travel pleasant and comfortable, here are a few things you can keep in mind:
Documents
Here is a list of documents that you should always have on your person until you've reached your child's residence in the U.S.:


Your passport bearing a valid U.S. visa
Endorsement letter from your child, if applicable
Flight tickets
Boarding pass
Travel insurance paperwork
Contact information of your child (like address with landmark, office or college details, and phone numbers)
It is a good idea to have photocopies of all your documents. Make several sets. You can pack one set in your checked luggage, keep another in your carry-on bag, and leave a third set at home with someone trustworthy.
Medication
Carry over-the-counter medicines for emergencies. Also, pack a sufficient amount of all your prescribed medicines, and do not forget to carry your doctor's prescription. There is no limit on how many medicines you can carry with a prescription. Also, most medical stores in the U.S. do not sell prescribed medicines without a prescription.
Travel assistance
You can book special flight assistance by paying an extra amount. Airport staff will assist you throughout your journey. You can opt for a wheelchair if needed. The staff will also help you with checking in and collecting your baggage.

When you land at an airport in the U.S., you can get assistance from a taxi dispatcher who will help you get a taxi at an appropriate rate. A dispatcher may also prevent you from getting duped by a bogus driver.
Travel insurance
A smart traveler never misses the chance to buy travel insurance or visitors insurance. Discuss the insurance plans with your kids. Take ample time to compare the available plans before buying insurance.

A travel insurance plan can help protect you from flight delays, lost baggage, and damaged articles. It is important to get a medical insurance plan, too. Travel medical insurance can cover the costs of medical emergencies throughout your trip within the parameters of the policy.

You can shortlist, compare, and pay for a suitable travel insurance plan at Insubuy.
Baggage
You need to be extra cautious with baggage when traveling abroad. Read the baggage guidelines on the website of your airline to understand what not to carry. Keep your bags light and avoid overpacking. Also, remember to secure all your bags with luggage tags.
Flight
Flying to the U.S. from abroad could take as long as 15 to 20 hours. It is a good idea to book a direct flight. This will reduce travel time and the risk of transit delays. Also, try to book your tickets in advance to get the seats of your choice. You can opt for online check-in to avoid waiting in long lines at the airport.
Tips for First-Time Travelers to the U.S.
Traveling abroad might be difficult. Preparing for your big trip can make the travel go more smoothly. We have curated a list of some tips to make your travel easy and smooth:
Learn flight etiquette
The foremost thing is to reach the airport at least three hours prior to departure. This will smoothen the check-in process. Make sure to be polite on the flight. A few things that you can do to make for a happier flight are:


Recline your seat carefully.
Keep out of the aisle.
Avoid loud conversations.
Keep your phone on silent mode.
Stay patient.
Prepare for the interview
You will be asked a lot of questions regarding your travel and stay. It is good to prepare for the interview in advance to avoid any miscommunication. An immigration interview is to check whether your visit is valid and does not violate any laws. The interview can be tough, and preparing for it in advance can prevent you from getting into an unpleasant situation. Take the help of your child to prepare for the interview.
Keep emergency contacts handy
It is best to make a handwritten note of your emergency contacts and keep it safe on your person. You should keep the notes accessible at all times.
Prepare for jet lag
You cannot escape jet-lag, but you can prepare for it. Stay hydrated, and take frequent walks to minimize the adverse effects of jet-lag. After you reach your destination, get ample rest to adjust your body to the new climate and environment.
Prepare for the culture shock
The American lifestyle may be different than you're used to, and you might find it difficult to adjust. The best way to accustom yourself to the difference is to read about the place, culture, and people before your arrival. Also, talk to your child to understand the cultural differences.
Traveling in the U.S.
Opt for a bus or a train when traveling within cities. Walk around the neighborhood to get the local flavor of the place. You can start taking frequent walks a few weeks prior to your U.S. trip to get used to long walks. For any interstate travel within the U.S., you can either fly or drive.
The U.S. is a travel-friendly country. Take some time out to explore the beautiful national parks, local markets, monuments, and local cuisine during your stay in the U.S.
We are sorry that this post was not useful for you!
Let us improve this post!
Tell us how we can improve this post?