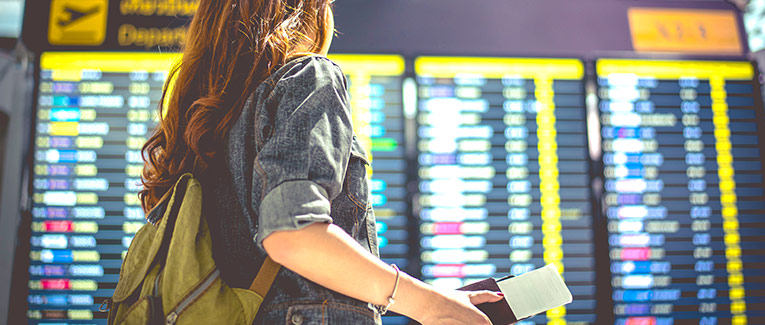 Delayed or canceled flights make you want to tear your hair out in frustration.
But, don't fall apart. The first few minutes can be overwhelming, so take a few deep breaths and then act.
There are ways you can salvage the situation.
10 Alternatives When Your Flight Is Delayed or Canceled
1. Know Your Rights
If you are flying in the U.S., The Department of Transportation does not require the airline to offer any compensation.
However, the airline has a contract with you. While it does not promise you any financial compensation, you can get few freebies such as food and hotel stay, or future discounts.
The EU, though, has stricter rules. Regulation EC 261/2004 states that compensation must be provided if a flight is delayed for over three hours.
Additionally, canceled flights have to refund ticket value in every jurisdiction.
2. Claiming Compensation Under Montreal Convention
The treaty, also known as MC99, puts the responsibility on the airline to take care of its passengers and help them reach their destinations on schedule. Unfortunately, it applies only to international flights.
In case of delay, the airline has to provide:
Food
Beverages
Transportation
Means of communication, like phones and Wi-Fi
Reimburse all costs incurred by the passenger due to the delay
Since airlines try to resist such claims, it is best you put them on record and maintain detailed notes about when every announcement was made.


3. Book Next Available Flight
This is the usual way to sort out the mess. If you are traveling on a busy route, it might be hard to get the very next flight to your destination.
Though airlines find this to be the easiest way to redress the situation, it is tough to get 200 passengers a new seat immediately. Most well-traveled routes do not have that kind of spare capacity.
The usual trick they employ is to reroute an empty aircraft from another airport. That usually involves an overnight stay. The last resort for them is to offer tickets on another airline.
4. Check Your Connecting Flight
A delayed or canceled flight can cause you to miss your connecting flight. If you booked all flights with the same airline or an alliance partner, the airline can take care of the effects of the delay or cancellation.
But, if you are on completely separate airlines for each flight, it's on you. If the connecting flight was within an hour of arrival, call immediately and cancel. You will at least be allowed some sort of refund for cancelling.
Rebooking another flight on the same route has to happen as soon as you know the new itinerary. However, the connecting flight probably will cost more since you are buying a ticket at the last minute.
5. Don't Make a Fuss Immediately
While you are entitled to information and complete disclosure, airline delays are so frequent that making a fuss does not help.
A delayed flight results in compensation after three hours. Before that, there is little you can do except make yourself comfortable in the terminal.
Of course, you are entitled to cancel your flight and move to another at your own cost. A request for a refund or compensation will likely not be heard sympathetically unless you are waiting for a few hours.
6. Don't Leave the Airport
For domestic flights in the US, you can exit the airport if you have not already passed security checks. That, however, would not be a smart thing to do.
It is not unusual for a delay that is expected to last many hours to be resolved swiftly. The plane could depart without you, and you would get no refund.
Also, remember that though the flight is delayed, you are expected to check in as usual at the right time. You should hold on to your luggage, though, in case you decide to take another flight.
7. Check for Credit Card Perks
Travel credit cards such as Chase Sapphire Reserve and American Express Platinum offer you access to over 1,000 airport lounges worldwide in major cities.
Some of these include:
O'Hare International, Chicago
LAX, Los Angeles
Heathrow, London
JFK, New York
Most cards allow you to bring at least two guests with an added entry fee. With access to a lounge and its comforts, a few hours can be spent in luxury.
8. Get on Twitter
A gate agent will be swamped with tasks if a couple of flights are delayed. The customer care helpline of your airline could take forever.
If you want attention immediately, turn to social media.
Twitter is ideal for this purpose, as tweets are highly visible. Every major airline has a Twitter account, and all you need to do is tag them in a tweet.
Of course, make sure that you are not rude. Since tweets are public and seen by millions, they usually get attention the fastest.

For visitors, travel, student and other international travel medical insurance.
Visit insubuy.com or call 1 (866) INSUBUY or +1 (972) 985-4400

9. Ask for Vouchers
If you have waited for more than two hours, start asking for vouchers. The thing is, they are not handed out automatically. You have to ask for them. The exact amount will be given in the airline contract.
You can use vouchers to buy food, beverages, water, and even a hotel stay. Be careful how you spend your vouchers. You don't want to spend them all on drinks at the airport, and then have to spend all of your money from your pocket to stay at the nearest hotel.
For overnight delays, it gets complicated. Your toiletries might be in your checked baggage.
You are within your rights to ask for an essential kit containing toothpaste, toothbrush, earplugs, lotion, and soap.
10. Buy Travel Insurance
If your flight is delayed or canceled, travel insurance can be really helpful. You can be reimbursed if your flight is cancelled due to any reason covered by the policy.
If you pay a little more, you can have access to all the bells and whistles through add-on riders. These include coverage for trip cancellation due to political unrest, or floods or earthquakes.
A canceled flight not only means delay, but excess cost. Even if you arrive a day late at your destination, you nevertheless have to pay for the duration of your booking. Travel insurance can help you get compensated for the nonrefundable bookings you are unable to use due to no fault of your own.
Parting Advice…
Be nice. Those manning the airline helpdesk and the ticketing agents are not responsible for a mechanical failure or unforeseen storm.
There is no reason to take it out on them. On the other hand, being nice can get you a replacement flight earlier, and maybe even have you bumped up to business class. A smile can work wonders.
Flight delays are quite common. By some estimates, at least one out of five flights in the U.S. are delayed. The key thing is to factor it into your travel plans and act accordingly.
We are sorry that this post was not useful for you!
Let us improve this post!
Tell us how we can improve this post?