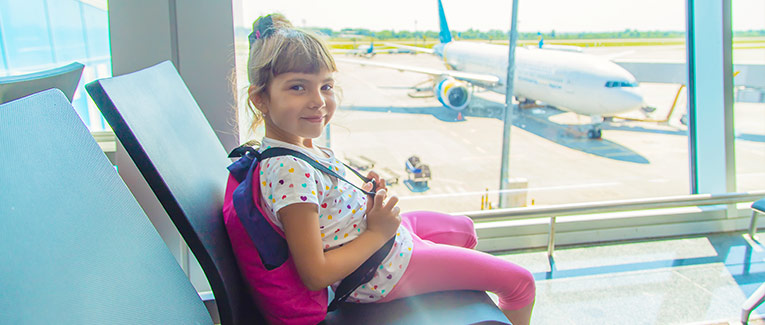 Flight cancellations and delays are unsavory realities of air travel. Their impact is particularly pronounced when you're travelling with kids. Just a few hours' wait at the airport can make the most agreeable of kids insufferably cranky. You can imagine the amount of stress this can cause.
Since flight cancellations and delays are inevitable, every parent or guardian should have a contingency plan in place to keep kids entertained. Here are some instant hacks you can incorporate into yours.
Food Therapy
Hunger can turn a situation from bad to worse in no time. Your top consideration in the event of a flight delay should be to keep your kids fed. You don't have to wait for meal time – even a small bite can be a good distraction and a big morale boost.
Authorities at most airports will be willing to offer meal vouchers to make up for the inconvenience caused to you. If you're packing ample snacks for your kids, make sure to ration them based on the amount of time you have before the next flight. Also, consider and purchase the food items you'll need depending on how long you'll have to wait at the airport (or in a nearby hotel).
The Right Time for Playtime
Check to see if the airport you're in has a playground or special play area for kids. You can look for directions on the terminal's map, or ask the airport's staff. All you have to do then is keep watch while your kids burn off their extra energy, reducing the amount of stress they cause you.
Depend on Devices
Smartphones, tablets, and handheld gaming devices can be your best friend when trying to keep children occupied at the airport. Cue up a kid-centric movie, TV show, or game to keep them happy while you wait.
Most airports offer free Wi-Fi access for at least a short period (usually up to half an hour), and charge a small fee for subsequent usage. It's advisable to download plenty of offline content to your portable devices, and carry fully charged portable power banks so your kids can enjoy uninterrupted entertainment whenever the need arises.
Create Your Own Adventures
Many children find airports to be fascinating places. There are giant planes they can watch taking off and landing. If you can find an area that offers a good view of the runway, you can likely keep your kids entertained for hours. You can also use this opportunity to teach them a little about airplanes; how they fly, how many people they hold, etc. Use the internet if you aren't too sure, and make it a learning experience.
If your kids aren't all that interested in planes, try engaging them in a scavenger hunt. Challenge them to locate different items in the terminal. This can be a lot of fun, and all the walking will help them burn off more energy.
Nap Time
We all get cranky when we haven't had enough sleep, and children are no exception. When you find out your flight has been delayed, one of your first moves should be to find a quiet area where they can get some rest. Suggest your kids to take a nap at the first sign of crankiness. This might not be easy in the hustle-and-bustle of an airport, so consider reading them a bedtime story from their favorite book, or find one online.
Your kids' usual nap time is a good indicator of when they will be most likely to fall asleep. Being up at an hour when they're normally sleeping at can also make them more irritable, and irritating to you. Once your kids are asleep, try to ensure they aren't disturbed and can sleep for as long as they'd like to.
Cameras and Music
A kids' camera or an old camera phone are wonderful ways of keeping your kids busy. If you're not carrying a kids' camera or an old phone, you can also let them click pictures using your phone as long as you're assured of safe handling.
If your kids enjoy listening to jingles or songs, it's advisable to bring along a music player device on every trip, with your kids' favorite music pre-downloaded on it. Just be sure to bring enough headphones or earbuds. You probably don't want to listen to that same children's song over and over, and neither do fellow travelers.
Quality Time
Many people feel as if they don't get to spend enough time with their kids during everyday life. You can look at a flight delay situation as an opportunity to spend more time with them without work, school and other responsibilities and distractions pulling you or your kids in different directions. Engage your kids in a conversation. Kids can go on and on once they begin. The situation is perfect for losing track of time anyway.
Coloring books, toys, magnetic games, and card games are some of the easiest means of passing the time while you're stuck at the airport. If your kids enjoy board games, it's best to keep some handy when traveling. If you don't have any on hand, you can create your own. Joining the dots, finding words or images in a book or magazine, and tic-tac-toe are all wonderful ways of keeping your kids entertained.
A New Toy
A new toy (mostly) succeeds where all else fails. You should ideally pack new toys for your kids when you pack for your trip. Make sure there's one for each of them. While most airports have stores that sell some toys and games for kids, quality, variety and price can be a factor. If you didn't pack a surprise toy, you can only hope your kids pick something economical at the airport stores.
Tips for Minimizing Flight Delay Stress
Depending on if you're the sole guardian for your kids on the trip, here are some tips for dealing with flight delay-related stress and keeping the unpleasantness to a minimum:
Take Shifts Watching the Kids
Flight delays don't just affect your kids; the grownups need some help too. If you have another grownup travelling with you, it's best to take shifts watching the kids. Take some time to yourself periodically. Take a nap, take a walk, read, or catch up with friends. Whatever you enjoy doing can make the wait more bearable and help pass time.
Buy Travel Insurance
One surefire way to increase your stress level is by knowing that a flight delay or cancellation will result in monetary loss for you. A travel insurance plan can provide a host of valuable benefits, including coverage for travel delays and trip cancellation. When you know you have coverage in place, it provides a lot of peace of mind, giving you one less thing to worry about at the airport.
Be Patient and Involved
Unless you're a new parent or a stand-in caretaker, you already know how erratic, unpredictable and insatiable kids can be. Losing your cool will only worsen things for you and the kids. Don't treat entertaining kids as a chore. Try to take genuine interest in whatever activity you want the kids to busy themselves with.
Situations such as flight cancellations and delays give you the rare chance to do the kid-stuff you secretly enjoy. Use them as an excuse to play those childhood games that you still miss, reading comic books and reliving your childhood for a while. This approach will help you reduce the stress, and let you enjoy the time spent awaiting your next flight while keeping the kids happy.
We are sorry that this post was not useful for you!
Let us improve this post!
Tell us how we can improve this post?