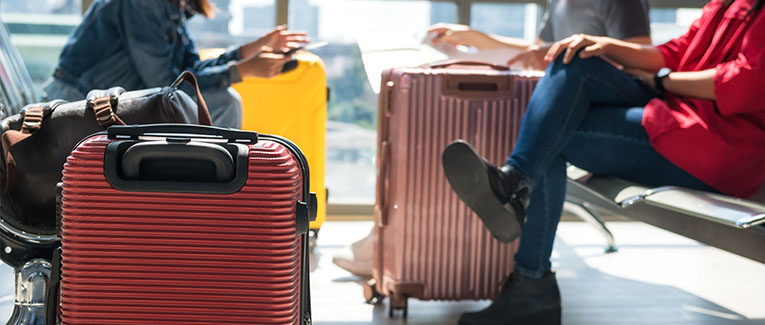 Is this your first time flying to the U.S.? Scary, yes. But don't worry, we've got you covered with some U.S. airport tips.
Most international travelers arrive in the U.S. through one of eleven gateway airports: Boston, New York, Washington D.C., Atlanta, Miami, Chicago, Dallas/Fort Worth, Houston, San Francisco, Los Angeles, or Seattle.
The port of entry may not be the final destination for many travelers. You may have to take a domestic flight to reach your final destination. If this is the case, locate the appropriate domestic airline counter. If you need help or directions, you can ask airline personnel, security officers, or other airport support staff located at the information desks.
If you have not already been issued a boarding pass, you will need to obtain it from the domestic airline counter. These counters may be far away, or even at different terminals. If this is the case, you can take a free airport shuttle service (bus or train, depending on the airport). Most of the time, TV screens can help you navigate, and announcements are continuously made in the shuttle. However, if you are still unsure, you should speak to the driver in advance.
The transport option when flying to the U.S.
When you've reached your domestic airline counter, you can check your baggage and receive your boarding pass.
After you've arrived at your final destination, collect all of your checked baggage. Having pre-planned transport arrangements is important, especially if you're a first-time traveler to the U.S. If you are visiting relatives, depending on your arrangements, they may be there to pick you up.
If you are traveling on business or are a new, temporary worker in the U.S., your company might have arranged for transportation. If this is the case, your driver might be holding a large sign (paper or on a tablet) with your name on it as they are waiting to take you to your destination.
Airport Tip: Always keep a written copy of phone numbers in case you lose power in your phone.
If you were unable to make transportation arrangements, or your arrangements fell through, go to the information counter at the airport, where you will find information regarding taxi cabs or shuttles.

Connecting flights after flying to the U.S.
If you are connecting from an international flight to a domestic flight in the U.S., your connection may be in a different terminal. Or, if your previous flight was delayed, you may miss your next flight. But don't fret about what to do if you miss your connecting flight. If you miss your connection, you may be rescheduled for the next available flight. Depending upon the airline, traveling class, and ticket booking class, there may or may not be a charge for rescheduling the missed flight. If your regular flight is canceled due to a problem outside of your control (such as inclement weather, mechanical problems, etc.), you may be rescheduled by the airline at no charge.
Though the idea of passing immigration may be intimidating, flying to the U.S. isn't so difficult. Just be prepared for long layovers and multiple connecting flights.
We are sorry that this post was not useful for you!
Let us improve this post!
Tell us how we can improve this post?