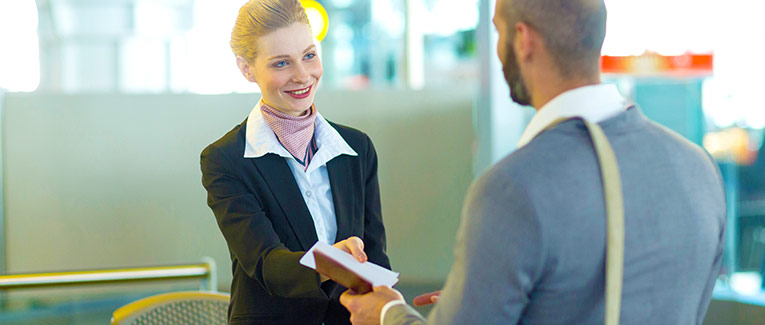 Flying with an economy class ticket can be pretty stressful.
With little to no legroom, a limited ability to recline, and the long wait to board the plane, economy class tickets tend to be less appealing than business or first-class.
So, what do the other tickets offer?
With a business or first-class ticket, you get more space, better food, and you can carry more luggage. Even ground services differ. Most airlines have dedicated check-in counters and priority baggage handling for business and first-class passengers.
The apparent hurdle in buying a business and first-class ticket is the price. Economy-class tickets are far less expensive.
There are a few ways, though, that you can upgrade with little to no cost.
Stick to One Airline
If you fly a lot, join an airline's frequent flyer program and earn miles. Being a loyal customer to the airline can get you special treatment, too. You can trade your miles for flight tickets, or an upgrade to a higher class.
Since most airlines are members of an alliance, you'll benefit from other airlines of the alliance. It will come in handy when your airline does not fly a specific route, or have a lounge in an airport.
Get an Airline Credit Card
You can get an airline credit card to earn miles through your spending. These are co-branded cards offered by an airline in partnership with a card issuer. The perks are usually several miles per dollar spent.
With an airline credit card, you will be able to receive the following benefits:
Sign-up bonuses: Most issuers offer bonus miles for spending a certain amount within a certain time period from opening the account.
Priority boarding: You can board the plane earlier than others, and sometimes even speed through check-in.
Free baggage check-in
Access to airport lounges: around the globe.
The Advanced Membership Status: If you achieve advanced membership, or elite, status with the airline, the earning rate of your card will be higher than the average customer. You will become qualified for more upgrades and other benefits.
As an alternative to airline credit cards that tie you down to a single airline, you can get general travel rewards credit cards. These cards lack the airline-specific benefits of co-branded cards, but you are able to redeem your points with multiple airlines and hotels.
Tactically Time your Travels
Airlines mainly offer upgrades to passengers when tickets are oversold. If you have an economy class ticket, the best time to upgrade will be when business class passengers are less likely to fly.
Airlines do not like flying with empty seats. To extract the most out of their trip, airlines will bump loyal customers up to a higher class.
Stay away from Additional Services
When booking a plane ticket, you will get the chance to choose additional services. Below are reasons why you should not opt for the services if you are wanting to get an upgrade.
Most airlines allow you to pick your seat during the booking process for a small fee. But, doing so will decrease your chance of getting a free upgrade.
Some airlines, typically on international flights, pack meals for the passengers while they are on the ground. Meals are not cooked on the plane. So, if you preorder a special meal (vegan, for instance) during ticket booking, you will be decreasing your chances of getting an upgrade.
Fly Solo
Flying alone increases your chances of getting an upgrade. A single person is easier to upgrade due to the fact that the chances of neighboring seats being empty in business or first-class can be slim. If you don't mind sitting away from your companion, you can check-in separately. If you are lucky, both of you might get upgraded.
Buy Yourself the Upgrade
You can buy premium tickets for the price of economy-class tickets or even lower through certain providers. But, it is tough to find such low-priced tickets.
Here's a list of services that can help you find discounted tickets:
Google Flights
The Flight Deal
Kayak.com
Secret Flying
Mighty Travels
ITA Matrix
Be Ready to Give Up Your Seat
Airline staff will request passengers to volunteer their seats if the flight is oversold. So, if you decide to volunteer your seat, you might be eligible for an upgrade.
Find alternate flights and look for available seats. You could even ask for a first-class ticket and you would, most likely, get it.
Ask, and You Shall Receive
You can simply ask for an upgrade. All you need is to know whom to ask.
Keep the following in mind to request an upgrade:
Dress well, as a well-dressed person has a higher chance of getting upgraded.
The check-in counter is the first place you can ask for an upgrade. Even if they require you to pay for the upgrade, it will not be as expensive as buying the business or first-class ticket.
As a second option, once you board your plane, ask the stewardess if you can get an upgrade to a higher-class cabin. Make sure you are polite while doing so. If there are empty seats available, they will most likely bump you up to a higher class.
Look Around your Seat for Upgrade Opportunities
After you get settled in your seat, look around to see if everything seems okay. The armrest, footrest, tray, seat belt are some things that can fail to work. If you find any of the above broken, inform the stewardess. If your flight is oversold, you might end up in business or first class. Even something as simple as peanuts on your seat, if you are allergic, can help you get an upgrade.
Let the stewardess know if it's a special occasion like your honeymoon or anniversary. Even if you don't get an upgrade, you might get a free drink or other perks.
Final Tips
The best way to enjoy air travel in any class is to be flexible. If you're willing to change seats, sit away from your travel companion, or take a different flight, your chances of receiving an upgrade go up significantly.
However, a change in flight schedules can wreak havoc on your travel plans if you already have things like accommodations and events booked and paid for. Being upgraded to first class due to an oversold flight is nice, but it may not make up for the price of the hotel room you're forced to miss a night in. To avoid being stuck paying for a room you cannot use, buy travel insurance before your trip. If your trip must be delayed due to a covered reason, your insurance can allow you to be compensated for your prepaid, nonrefundable expenses.
We are sorry that this post was not useful for you!
Let us improve this post!
Tell us how we can improve this post?