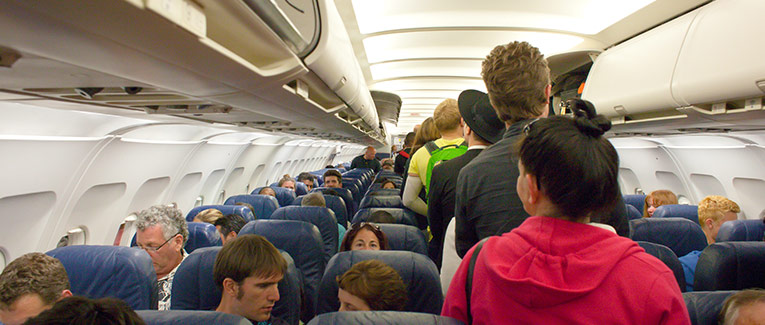 Your much-awaited trip abroad is around the corner, and you are bracing yourself for the long, crowded transcontinental flight.
Be it a pandemic scenario, a general health concern, or simply a matter of comfort, a crowded flight is a concern for many travelers around the world. However, if you have to fly, you have to fly. There is not much of a choice there. Neither do you typically have a choice in matters of choosing a seat, like avoiding the middle seat.
There are ways and means, though, by which you can work around the rush for seats and book yourself a seat on a less crowded flight.
Opt For Red Eye Flights
Flights that leave late in the evening until early in the morning are noticeably less crowded. Many don't prefer to sleep on a flight or wake up too early to rush to the airport. So, you might get an entire row of seats to yourself and enjoy a good night's sleep aboard the plane. Red eye flights have other advantages too, like faster check-in, cheaper fare, more cabin baggage space, and the opportunity to avoid rush-hour traffic on the roads.
Book Through an Agent
Authorized travel agents use booking software that helps them scan the seating charts, and find out whether a flight is overcrowded or if there's some breathing space. Accordingly, they can guide you to choose the right flying time. Be prepared to select a flight at odd hours, or one that's not direct and has a long layover. At least you won't have to fight for space with other passengers.
Juggle Your Travel Dates
If your itinerary allows for flexibility, then don't choose to fly during peak seasons. The week of Christmas, Thanksgiving, and school summer vacations are times when flights are bound to be jam-packed. Avoid such dates, and try to select a date in the middle of the week to fly. Usually, flights are less crowded on these days, as compared to weekends.
Avoid Major Airports
While booking your flight, use the "nearby airports" option. Most big cities have several airports nearby, including some smaller ones. If you are flying from or into New York, you might choose Newark instead of JFK or La Guardia. Though, you would need to take a train from Newark into the city, you will still likely have a less crowded flight. If your origin or destination is San Francisco, consider using the Oakland airport instead of San Francisco International Airport for the same reason.
Consult the Airline
Approach the airline directly and find out their peak times. Get to know the suitable days of the week to fly if you are looking to avoid crowded flights. Based on your origin and destination, the airline may be able to suggest to you the best day and time for booking your flight, keeping in mind the crowd factor.
Ask for Upgrade Options
Flying first class will ensure that you have ample elbow room, for sure. Alas, the first-class fares are out of reach for many. That leaves us with no option but to push and shove our way in the economy classes.
However, if you get the opportunity, don't hesitate to ask for an upgrade of your seating. If it is down to the last minutes before the flight is about to take off and the first class is below capacity, you might find yourself in that coveted space for a much smaller fare difference than usual.
It would be even better if you have accumulated redeemable points or have a slightly flexible budget. If you can get this done, the flight becomes smooth sailing.
Even if you are traveling economy class, try to go for the first row, or the row next to the emergency exits. These provide more legroom and maneuvering space compared to the other seats. If you are booking the tickets through an agent, insist on getting these seats booked, even if it involves paying a slightly higher fare.
Check the Load Factor
You might have to take a connecting flight from a large hub airport. In such a situation, do ask about the load factor of the airline. Load factor is the percentage of occupied seats on the flights that are originating from this hub airport. Opt for the airport where the load factor is low. This means less crowded airports and consequently, less crowded flights.
Select the Airline Carefully
Certain airlines insist on leaving the middle seat vacant, in keeping with social distancing norms. While others are still flying to almost full capacity. Keep this point in mind when you choose the airline. A vacant middle seat gives both the window and aisle-seated passenger sufficient space to sit comfortably without worrying about being too close to another passenger.
Get Travel Insurance
In some cases, flights with fewer passengers can be delayed or cancelled more often than crowded flights. If your scheduled flight is fairly empty, the airline could decide to fit its passengers onto a later flight for logistical reasons. While this saves the airline money, it could cost you. If it results in you arriving late, or having to miss an event you've bought tickets for, you could be out the money you've already spent. A travel insurance plan can give you a way to be reimbursed for your pre-booked, nonrefundable expenses when travel plans change.
To conclude, there are options that enable you to select less crowded flights. It might entail making some adjustments regarding flight duration and layover times; however, these are small prices to pay when you consider the comfort and peace of mind that come with flying in a plane that is not bursting at its seams with passengers.
We are sorry that this post was not useful for you!
Let us improve this post!
Tell us how we can improve this post?