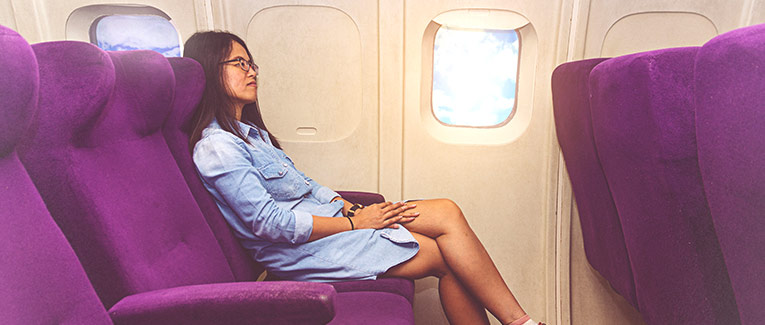 We all love traveling, but not so much flying. Spending the majority of a day in a cramped metal tube isn't an appealing prospect. Sometimes you'll be enjoying an afternoon snooze, and someone will trip over you on the way to the restroom. Or you'll get whacked in the head by the beverage cart while sitting in the aisle rows.
There are loads of unpleasant experiences that can happen in-flight; this article aims to reduce them. If you want to learn to love flying, you have to learn the tricks frequent fliers know. For instance, choosing the right seat for you:
Plus-sized people: aisle seats
People with children: bulkhead seats
In-flight sleepers: window seats
Nervous/nauseous fliers: seats over the wing
Tall people: bulkhead seats and emergency exit seats
Claustrophobic people: seats near a door
Remember that not all bulkhead seats recline— so you may be stuck at 90 degrees for your whole flight. Also, children under 12 or 15 (depending on the airline) aren't allowed to be seated in the emergency rows.
However, choosing the right seat is just the tip of the iceberg. Read on to discover the best ways to enjoy your next long-haul flight.
Don't Go Too Cheap
While we all want to save our money, being too miserly when booking your flight can leave you with a whole lot of head, back, and heartache.
As a rule, the most 'uncomfortable' seats are bound to be the cheapest on any flight; spend a little more to get an upgrade. We're not saying to splurge and opt for an in-flight bedroom suite, but the differences between basic economy and economy will often astound you.
Book As Early as Possible
Some airlines allow you to book up to a yearin advance of your flight. Booking early not only guarantees you your choice of seat, it often lets you save money too.
A study by Expedia found that the best prices for flights were found 57 days before the flight. Another Expedia study showed that people who book more than three weeks in advance can save upwards of 30%.
You can use these savings to spend a little extra on in-flight comforts such as the seat of your choice, or a better meal.
Be Honest (and Specific) With Your Travel Agent
Do notsay, "I want a nice seat." Instead, say, "I'd like a front plane aisle seat if that's possible, please." Being specific doesn't guarantee that you'll get the seat you want, but it does mean one less stone to turn over. The chances are that if you're booking early enough, you'll get lucky.
Also, inform your travel agent if you suffer from any allergies, have mobility issues, need wheelchair assistance, or any other particular scenario. They can often get you the support you need at no extra cost.
Join a Frequent Flier Program
Even if you don't fly all the time, joining a frequent flier program can have big benefits. Try to stick to one airline as much as possible — this industry rewards customer loyalty like no other.
One of the perks of almost every frequent flier program is first choice on seats for most flights. You will be able to pick from any of the seats onboard, even the premium ones.
The perks don't stop there either. With almost all rewards programs, you'll get complimentary access to premium airport lounges across the globe, priority boarding, priority sales support, and even free food, coffee, and in some cases, cocktails.
Aircraft Types Matter
Not all airplanes are the same. Each one has its pros and cons, so do your research into what aircraft you will be flying on.
The two basic types of aircraft – narrow-body and wide-body airliners – have vastly different seating layouts. On narrow-body jets, you'll typically only have a single aisle down the middle, so seating options are more limited. Wide-body jets like the Boeing 777 and Airbus A350 have multiple aisles, and varying amounts of middle seats. The largest jumbo jets, like the Boeing 747 and Airbus A380, even have multiple levels. The best seat for you can differ depending on the aircraft you're traveling on. Consult the seating chart of the aircraft being used for your flight if the airline provides it.
However, it's important to remember that even for flights you've booked far in advance, aircraft types can change at the last minute. While you should consult the information regarding flight route and aircraft type, don't rely on it, as it could change.
Tips To Remember When Booking Seats
Consult Seating Charts
Airlines often provide seating layout charts when you book, so pay close attention to these while choosing your seat.
Beware, though. Not all advertised window seats are actually window seats. This is because
most planes have more seating rows than they do windows. This causes an alignment mismatch
between a few rows of seats on the plane.
You can work around this by visiting the SeatGuru website – it displays the most accurate information
available about any plane— from seat and window placement to chair width, armrest room, and the number of ports available for digital devices.
Avoid High-Traffic Areas
Try not to choose a seat near an area with a lot of foot traffic. This includes seats near lavatories, galleys, or bulkheads. The constant movement of passengers and crew in these areas can become annoying quickly.
By choosing a seat away from these areas, you can avoid a lot of the humdrum, and enjoy a quieter flight. Speaking of quiet, if you want a seat with less noise, choose one near the front of the plane. If you're seated ahead of the aircraft's engines, there's typically less noise.
Buy Travel Insurance
As incredibly efficient and reliable as air travel is, the occasional flight delay or cancellation is inevitable. Sometimes, bad weather or mechanical issues can grind your journey to a halt. Frequent fliers know that the best way to be prepared for this is by having travel insurance.
If your flight is delayed or cancelled, your luggage becomes lost or misrouted, or you encounter any other sort of travel mishap that's covered by your policy, your travel insurance can provide compensation. This allows you to fly with the peace of mind of knowing that you're covered even if things don't go as you had planned.
Befriend Airline Staff
Both before and after you board the plane, it can pay to be friendly with the gate and flight attendants. Gate attendants can easily help you resolve any seating concerns you may have, and even have it in their power to upgrade your seat, or get you the seat of your choice.
If you fly the same routes on the same airline regularly, you'll often wind up being served by the same cabin crew. Striking up a rapport with them will often lead to you getting additional perks and benefits onboard your flights.
While being friendly to airline staff is certainly no guarantee that you'll receive an upgrade, it will give you the chance to make some new friends, and hopefully make someone's day better. You can carry those positive feelings with you as you embark on your flight.
We are sorry that this post was not useful for you!
Let us improve this post!
Tell us how we can improve this post?