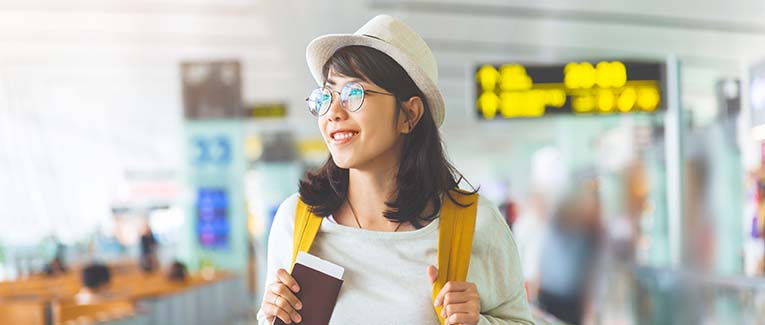 Stuck in an airport due to a layover? Your immediate reaction may be to step out for some sightseeing. But the decision to leave the airport during a layover shouldn't be made without due consideration. If your move isn't well-planned, you can end up in real trouble.
When is it smart to leave the airport? When is it not? Here are the predominant considerations for making that decision.
When to leave the airport during a layover?
1. When you have sufficient time
Note that "sufficient time" doesn't mean the duration of your airport layover. You'll also need to factor in the time you'll need to exit the airport and get a ride. This typically takes at least half an hour. It will likely take you about the same time to get back to the airport and to your gate for your next flight. So, subtract an hour from the layover duration.
You'll also need to consider the time you'll have to be back at the airport before the second flight. This period can vary from one airport to another. It also depends on the type of flight – domestic or international. You can safely assume this duration to be one to two hours. Subtract this from your layover's duration.
Already have a sightseeing spot in mind? Check the time it will take you to get to and from the airport gate. Make sure you've considered your means of transportation and the traffic. Subtract this period from the layover's duration.
Once you've made these calculations, you'll know just how much time you've got for your excursion. Is that time enough to enjoy and explore your preferred attraction? When the answer is yes, you can gladly go through with your plan.
2. When you don't require a visa for exiting the airport
Can you leave the airport during a layover in another country? The answer depends upon the country's visa requirements for your nationality.
Some countries require visitors to get a visa even for leaving the airport. If you're in one of these countries with enough time for exploration, you can apply for a visa on arrival.
The fees and requisite formalities for a visa on arrival can vary significantly from one country to another.
Note that many countries don't have a visa on arrival facility. So, when booking flights with layovers in another country, apply for a visa in advance.
3. When there's a promising airport organized layover tour
A large number of airports have special tours designed for travelers that have a long layover. These layover tours typically cover the city's major attractions. They are usually all-inclusive and budget-friendly. Some are actually free.
Airport-arranged transport and meals means these tours are safer and less time-consuming. Also, there's no risk of missing your next flight.
You can inquire about the availability of such tours when booking your ticket. If you haven't booked an airport-organized tour in advance, don't worry. Simply ask the airport staff about their layover tours after landing.
4. When you're sure you'll enjoy the experience
At times, a layover can be a rare opportunity to visit a place you've longed to see. You never know when you'll be in this city again. So, if there's an attraction you absolutely want to visit, even a couple of hours is worth it.
Already tired? Well, then you likely won't be able to enjoy the trip anyway. Don't go sightseeing just for the sake of it. Use the time to catch up on some much-needed rest.
When should you not leave the airport during a layover?
1. When you have safety concerns
If you have a layover in one of the safest cities in the world, the timing seldom matters. You can go out in the middle of the night and still have a few hours of enjoyment. In cities that are less safe, the timing of your layover becomes a huge factor. It's advisable not to leave the airport unless you have plenty of daylight hours at your disposal.
Look the city up online. Search for public places deemed safe for tourists and stick to them. During nighttime layovers, check the operational hours of the places you want to visit. If they're closed, it's best not to try your luck elsewhere.
2. When you're not prepared for contingencies
Are you an experienced traveler? Do you know the local language? Do you have enough time and money for plan B if you miss your connecting flight? Are you in a good state of health? Are you sure you can deal with getting lost in a new city? Unless your answer to all these is a resounding yes, you'd best decide against leaving the airport.
The airlines aren't liable to issue a refund if you miss your flight. You can prepare for some of these contingencies by investing in comprehensive travel insurance. Based on your travel insurance policy, you may have the opportunity to be partly reimbursed for the expenses incurred by missed flights due to no fault of your own.
If there's a language barrier and you aren't a confident traveler, it's best not to go out exploring. If you're in good overall health but feeling under the weather, it's again advisable not to leave the airport.
3. When the airport is too far from the good attractions
Airports are typically located outside city centers. The places worth checking out can be too far away. Make sure to consider the distance between the airport and the places worth visiting. If the travel distance won't leave you with enough time to enjoy the attraction, don't make the trip.
Traveling long distances during a layover can also tax you mentally and physically. Unless you're well-rested or will have time to rest ahead of the next flight, don't go out exploring.
4. When the costs are steep
In many cities, the cost of traveling from the airport to the city is quite high. The cab fare alone may make the trip unreasonable for a short layover.
Public transport is an economical alternative means of commuting. Make sure, however, to consider the time it will involve. Public transport such as trains and buses is typically more time-consuming than private cabs.
In some cities, the costs of basic amenities, food, and entry to major attractions are too steep. If you only have a few hours at hand, visiting the city may not be worth the costs involved.
Airport layovers can be a blessing as well as somewhat of a curse. Making careful, calculated decisions will ensure your airport layover ends up in the former category.
We are sorry that this post was not useful for you!
Let us improve this post!
Tell us how we can improve this post?