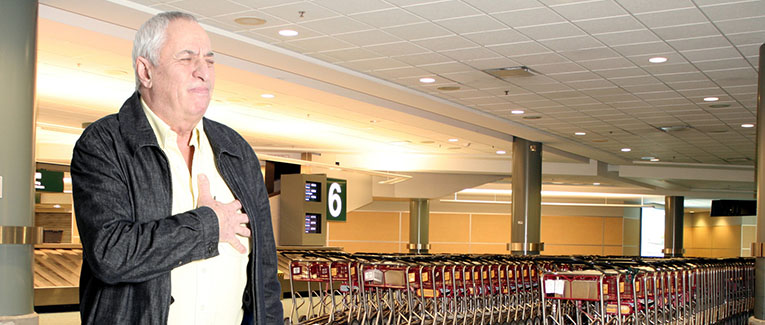 Traveling with a heart condition isn't a routine affair. Some of the heart conditions that can lead to health emergencies while flying are coronary artery disease (CAD), heart failure, pulmonary arterial disease, cardiac arrhythmia, and recent heart surgery.
Exercise every possible care. It is very much imperative to stay informed and know the best practices.
Tip #1: Reach the Airport Earlier
Reach the airport 2–3 hours before your flight's boarding time. This ensures you're not rushed while undergoing pre-boarding procedures.
Tip #2: Stay Informed About Your Pacemaker
If you have been fitted with a heart device called a pacemaker, check with your heart specialist before you plan to travel by air. Carry your personal device identification card at all times while traveling. This card contains all the essential information for security staff so that they can be informed about what steps to take in the event of an emergency.
Tip #3: Be Informed About Implanted Cardiac Devices
You need to inform the security staff at the airport that you have an implanted cardiac device. Also, show them your identification card. Implanted cardiac devices are usually not affected by security screening equipment. However, you do need to take precautions, such as avoiding touching metal surfaces around screening equipment. You may ask to be hand-searched or patted down rather than with a handheld wand. Always speak to a member of the security staff if you have any concerns.
Tip #4: Know These Facts About Venous Thrombosis
According to researchers, one of the biggest risks that people with heart disease face while flying is venous thrombosis. This is the formation of a blood clot in the veins of the pelvis, leg, or arms. A person can be predisposed to blood clots due to various conditions. These include sitting for long durations, lower oxygen levels , and dehydration. If your flight is more than eight hours long, you could be predisposed to venous thrombosis.
Tip #5: What If You Have Had A Heart Attack?
If you have had a heart attack, then air travel is not recommended within less than two weeks of the incident. If you had an angioplasty, then you may need to observe a waiting period of one week before commencing air travel.
Tip #6: While You're Undergoing Security Clearance…
Air travel usually does not cause problems with pacemakers or implanted cardiac defibrillators. But, if you have such an implanted device, then you need to be screened individually with hand-held metal detector wands or hand searches. A handheld device should not be held over the ICD for more than a few seconds.
Useful Pre-Travel Information
Carry an abundant supply of all medication. Ensure they are labelled. These should be placed in the luggage you carry into the cabin and not the luggage that goes in the hold. This way, if your checked baggage gets lost, you won't have to worry.
If you have a pacemaker installed, then carry a copy of a normal ECG with you. This could be helpful to doctors attending you in an emergency.
Write down the contact numbers and website addresses of your pacemaker and ICT manufacturer, and keep them with you.
If you suffer from deep vein thrombosis, then you should wear below-the-knee compression stockings (20 Hg–30 Hg) in flight.
Choose an aisle seat if you are at risk for deep vein thrombosis.
Consider purchasing adequate and appropriate visitors medical insurance. Insubuy offers visitors medical insurance plans that could prove useful. Check for the benefit of acute onset of pre-existing conditions, which could provide benefits in case of a sudden, unexpected recurrence of a pre-existing condition that requires medical care within 24 hours.
Travelling by Land or Sea with a Heart Condition
Chances are you might be travelling to the U.S. by land or sea. In this case, you may need to discuss your travel plans with your care provider as early as possible. Make sure that any outstanding issues are addressed before you begin the journey. It is a good idea to speak to your cardiologist and obtain an EKG.
Carry your prescriptions with you. If you are motoring to the U.S., then take short, frequent breaks while driving. If traveling by train, reach the train station early and ask for wheelchair assistance.
During the journey, avoid wearing tight clothes, as they increase swelling by limiting blood flow. Also, tight clothes can increase dizziness. Consume more protein and healthy snacks while making the journey.
If you are traveling by sea or taking a cruise to the U.S., you may need to talk with the cruise line about your medical needs, such as oxygen in case of an emergency. Also, ask your cruise line if the ship has medical facilities such as an X-ray machine, EKG equipment, oxygen, cardiac monitors, etc., on board to deal with any medical emergency. Check if the ship has 24-hour ER service. In case you would need to be evacuated, check to see if the ship has helicopter pads on board. Never forget to carry your medical records along with you.
Parting Thoughts
To conclude, it's advisable to get up and walk when possible during long flights. Talk to your doctor about your travel plans. Take the necessary precautions as advised. Avoid alcohol while on a flight. If you need oxygen in-flight, speak to the airline in advance. Avoid being immobile for too long while on a flight.
We are sorry that this post was not useful for you!
Let us improve this post!
Tell us how we can improve this post?