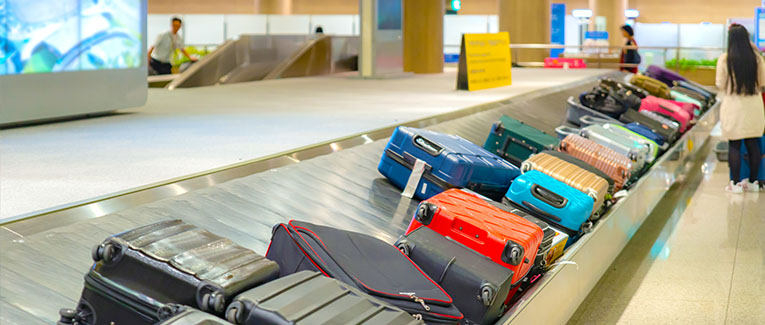 It's common to be worried about what to do after landing at airport in a new country. Especially if you're traveling to America for the first time, and are intimidated by its stringent customs and border control.
But we've got you covered with this on-ground level guide of the common airport procedures for international flights.
At most major international airports in the United States, there are several terminals. Some airlines have their own dedicated terminal, while others have a shared terminal.

#1. What to Do After Landing at Aiport in the U.S.: Baggage Claim
Unlike many other countries, baggage trolleys are usually not free in the U.S. They typically cost $2 to $4 per trolley. Automated machines accept either $1 or $5 bills and/or quarters. If you purchased U.S. currency in small denominations before traveling to the U.S., you can use that. Otherwise, try to get change.
There are many baggage claim carousels at most international airports. You can find your carousel number by either checking the informational TV screens or asking someone at the information counter. Once you know your carousel number, follow the signs directing you to the appropriate place. Occasionally, security dogs will sniff through your baggage before you proceed.
Once you have collected your baggage, move toward the customs clearance area. There will be signs posted.

In Case of Lost Baggage
If you realize after waiting at the carousel that your baggage has been lost, contact the lost baggage office of the airline. They have pictures of various types of bags that help you identify the bags that were lost. Make sure you file a report with them and take a receipt before leaving the airport. Also, take the name and contact information of the person to whom you spoke.
If your baggage is damaged, you should follow a similar procedure with the airline office at the airport.
You may be eligible for compensation for lost or damaged baggage.

#2. What to Do After Landing at Airport in America: U.S. Customs Check
Even if you are traveling to a final destination other than your port of entry, you still must go through customs at your port of entry. A customs officer may ask you questions regarding the contents of your bag. You are not allowed to bring fruits, vegetables, plants, meat, seeds, etc., into the United States. You would normally be carrying clothes and personal belongings. Answer the questions truthfully.
If there are any doubts, the customs officer may ask you to open your bags for a security check and/or verification. Do cooperate if you are asked to open the bags. The customs officer is mainly looking for prohibited items such as drugs or excessive amounts of currency. If you are bringing any drugs (medicine), make sure that they are prescribed for an authentic medical condition and are in the original, labeled container, if possible, in order to avoid confusion and delays. If you are caught with any illegal drugs, they will be seized, and you will be subject to fines and imprisonment. The customs officer generally will not examine your photographic film unless there is suspicion that you are carrying any prohibited material, such as child pornography.
If the customs officer is satisfied, you can proceed.
After clearing customs, you can leave the airport. You may also take your trolley out of the airport, where you will find ground transportation.
Bringing Pets into the United States
Bringing Food into the United States

#3. How to Get to Your Next Point: Transportation from Airports in the U.S.
Be Smart. Arrange for A Meeting Point.
Before traveling to the U.S.A., you should coordinate a specific meeting spot with the person who is picking you up—e.g., they will be waiting just outside the customs area, near the information counter, near the shops, or on the road just outside the airport. If you take a taxi (cab), you should tip the driver around 15%.

Alternate: 4 Ground Transportation Options At U.S. Airports
If you have not made arrangements for someone to pick you up, or if you are looking for transportation from airport to hotel, then choose from these four options.
1. Car Rental:
There are many car rental companies available. However, if you just arrived in the U.S. for the first time, you may have difficulty renting a car.

2. Taxi:
There are many taxis available at most airports. Most taxis are big enough to store two big bags. Some airports authorize only a particular taxi company to take passengers; for example, if you arrive at Washington Dulles International Airport, the only authorized taxi company is Washington Flyer.
3. Shuttle Service:
Many airports have a shuttle bus service to different parts of the airport, to a different nearby airport, or to some areas of the city. Traveling by shuttle may be time-consuming, as they make frequent stops.
4. Public Transportation:
Many cities also have other modes of public transportation, such as a bus, train, etc. However, if you have a lot of luggage, this may not be a convenient option due to it being crowded.
Grab whichever option is most convenient for you, you'll be on your way soon.
Be sure to save this post on your phone to refer to when you need it. So will know exactly what to do after landing at airport in the U.S.
We are sorry that this post was not useful for you!
Let us improve this post!
Tell us how we can improve this post?