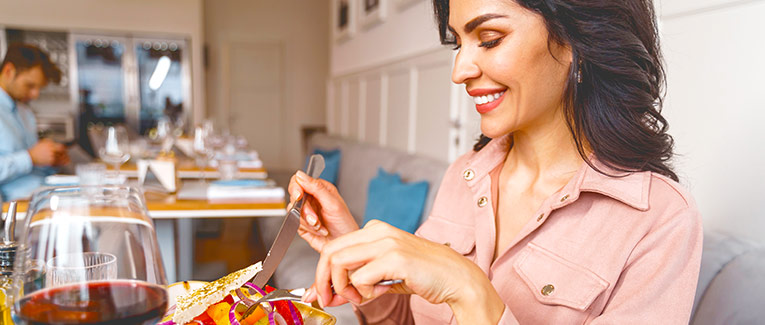 Products like Beyond Meat and other plant-based meat substitutes are becoming more available. But, this boom in the vegan market isn't identical globally.
Here's how you can best balance your craving for adventure and food as a vegan when traveling internationally.
Vegan In-Flight Meals
Some airlines don't have vegan options at all, while in others, you have to order it well in advance. When planning your trip, research whether your airline provides vegan meals, and if not, what the other options are.
Pre-Order Meals
The best way to ensure you'll have a meal on your 14-hour flight is to pre-order it. When you book your ticket, check the 'Special Meal' option. Then, immediately book the meal you want. In case you forget, most airlines allow you to select the meal 48 hours prior to departure.
A hack that people swear by is to tell flight attendants that you're a vegetarian and lactose intolerant. This will eliminate all non-vegan options.
Carry Your Food
One foolproof way to ensure vegan meals on your flight is to bring it yourself. Most airlines will allow you to carry solid food items. Sandwiches and burritos are some easy meal options. The only rule imposed is that the food cannot spill or leak. So, make sure your carryon meal sticks to this rule.
As an extra precaution, try to buy your meal from the airport. This will guarantee that the food passes at least one level of security check. You can also ask the restaurant staff if the food you buy will be allowed on the flight.
Huel – The Miracle Powder
If you're fine with repetitive meals, Huel is a fantastic option for vegan travelers. It is a meal replacement powder that provides all the nutrients your body needs. All you need to do is mix it with drinking water and you're set.
Huel comes in different flavors, so you're not bound to monotony. It is easy to pack and carry around. Since it is not a protein powder, but rather a complete meal in powder form, you won't have to supplement it with other food. This makes for a very affordable and easy option. In addition to Huel, there are numerous other meal replacement powders and shakes available as well.
Put Websites and Apps to Use
One of the best resources for vegans is the multitude of apps and websites that are built for them. Here are some that you may find useful.
HappyCow: This app locates vegan-friendly cafes and restaurants near you. You can filter based on cuisine, distance, and price.
Air Vegan: Air Vegan helps you find which terminal in your airport has the most vegan options. To put this app to best use, check it before you leave for your flight.
V-Cards: This app helps you translate phrases so you can order your food without a hitch. It has translations for over 100 languages. The cards will be specific, so you won't have to converse in confusion.
Search Hashtags in the City
Social media is a powerful aid when looking for a vegan restaurant. Searching by hashtags is a good way to find exactly what you want.
On Instagram or Twitter's search bar, do a search of the following type: #citynamevegan. For example, #LAVegan, or #TokyoVegan. You'll find tons of posts that can point you to vegan restaurants in the city.
Another method is to join Facebook groups for the duration of your trip. Most cities have vegan groups meant for spreading the word about good restaurants. This will be a wonderful resource when you're hunting for vegan restaurants.
Phone Your Place of Accommodation
Being informed about the options available to you will be the best way to prepare for a trip.
When booking accommodations, try to find a small lodging instead of a chain hotel. They may be able to cater to individual needs better. Call them a couple of weeks before you're scheduled to arrive, and explain your restrictions. In most cases, they will be able to provide vegan meals.
You can ask them about vegan options nearby as well. Since they're local, they will be able to provide trustworthy information.
When In Doubt, Go Indian or Chinese
Some cuisines are more vegan-friendly than others. Indian and Chinese cuisines are at the top of this list. Anything vegetarian in these cuisines is also likely vegan.
When ordering Indian, you need to watch out for ghee and curd. Tell your waiter you are lactose intolerant, and they can easily make vegan dishes for you. To err on the side of caution, pick south Indian dishes.
If you're at a Chinese restaurant, shrimp paste and fish sauce are ingredients to keep an eye on.
Other vegan-friendly cuisines can include Ethiopian, Middle Eastern, and Thai.
Learn Basic Phrases
While veganism is a lot more catered to of late, there are still countries where people just won't understand you when you say 'I'm vegan.' So, to give yourself the best shot, learn the phrases that convey your dietary needs.
"Vegetarian, no dairy, no eggs." These are terms that you will need, especially in countries where English isn't widely known. Always have the phrases handy when you're out exploring. To be extra safe, have it written down.
If you're confident you'll have access to the internet, you can use apps like Google Translate and Duolingo to help you translate. But, be sure to have backups for this in case your phone dies.
The Vegan Passport is another great option for frequent travelers. It has vegan phrases in 80 languages. The book is compact and easy to carry with you on a day out.
Hit Up Grocery Stores
Make it a point to make a quick grocery store stop on the day you land at your destination. Stock up on filling snacks and fruits. This way, you won't have to pay unreasonable hotel prices.
Readymade oats, one-pot meals, and instant rice make for good microwave meals. This way, you can at least eat something more substantial than just fruits and juices.
The Plant-Based College Cookbook is a good resource for finding quick and simple vegan meals. It has recipes that can be made with minimal ingredients and utensils, making it perfect for hotel life.
Set Low Expectations
Letting your tastebuds explore isn't always an option when you're a vegan. In some countries, it is extremely hard to find vegan food, and even if you do, you'll be limited on choices. So, unless you've found vegan restaurants already, prepare to live on PBJs and fruits.
Bring Your Own Toiletries
Very often, people forget that veganism isn't restricted to food. It includes makeup, toiletries, and even clothes. Make sure you pack your vegan toothpaste and makeup in your carryon. The airline-provided toothpaste may not be vegan, and you don't want to spend a day with bad breath.
Preparing for an International Trip
Don't let your dietary restrictions put a damper on your desire to travel.
Traveling abroad is a wonderful way to experience new cultures and experiences, including food. However, if you are vegan, it can be somewhat difficult. Planning ahead is the key. Do everything you can to arrange meals beforehand, and make a list of restaurants that may be able to cater to your needs once you arrive. By doing this, and carrying an array of go-to snacks and meal shakes, you should have enough variety for an enjoyable vacation. Beyond that, simply book your tickets, buy your travel insurance, and you're ready to go.
We are sorry that this post was not useful for you!
Let us improve this post!
Tell us how we can improve this post?