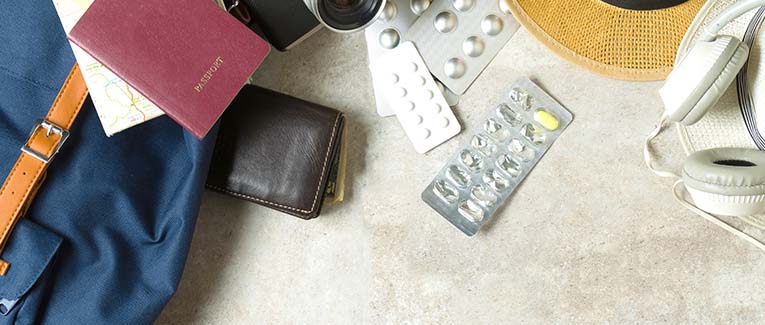 Most people have a fair idea of what is travel insurance and what does it cover — cancellation, evacuation, loss of baggage, and round-the-clock assistance, for instance. But does travel insurance cover medical supplies? It's common for travelers to carry some form of medical supplies with them. Some typical examples are:
Prescription drugs
Blood glucometer
Pulse oximeter
Portable blood pressure monitor
Insulin pens
Portable nebulizers or inhalers
Does your travel insurance plan cover medical supplies? Are you owed reimbursement for lost or damaged medical supplies? Here are the answers.
Does Your Travel Insurance Cover Medical Supplies – A Complete Guide
Understanding the Medical Coverage Offered by Travel Insurance
Travel insurance plans usually have limited medical coverage. Most travel insurance plans only offer emergency medical aid for a fixed short duration. The duration typically ranges from five days to up to a year. Their goal is to help you survive health emergencies so you can safely return home.
Travel insurance providers usually have a dedicated round-the-clock travel assistance helpline to help travelers during emergencies. If your policy covers baggage loss or damage, the medical supplies you're carrying may also be insured. In such an event, you can expect to be reimbursed for the cost of your medical supplies.
The type of medical supplies covered by baggage insurance varies with the insurance provider. Read the policy document carefully to ensure the medical supplies you require fall under the list of covered items. Furthermore, the policy mentions what the travel insurance doesn't cover as well.
Your travel insurance plan can also cover the cost of medical equipment and drugs used for your treatment during an emergency for covered and eligible medical expenses, as per the terms and conditions of the policy. Note that you're only eligible for reimbursement if you get treated at a licensed hospital or clinic.
What If You Lose/Damage Essential Medical Supplies on a Trip?
Lost or damaged essential medical supplies while traveling? Having travel insurance can save you a lot of trouble in these situations. If you're traveling outside of the U.S., losing your prescription note or drugs can be a big hassle. With travel insurance, you only need to call your insurer's 24-7 assistance helpline.
Here are the ways your travel insurance provider's hotline can assist you:
Help you locate the nearest doctor or clinic relevant to your medical needs
Arrange for prompt communication with your doctor back at home
Help arrange a translator to overcome language barriers
Help you with information regarding the closest pharmacies that sell the drugs/medical equipment you require
Help you obtain a new prescription
If you're on a trip within the U.S., your insurer can transfer existing prescriptions to a participating pharmacy
In some cases, your insurer can even help the required medical supplies delivered to you
Medical Benefits to Consider When Choosing Travel Insurance
When choosing a travel insurance policy, make sure to look for these three benefits:
1. Coverage for baggage loss or damage
Consider the medical supplies and equipment you need to travel with based on your health condition. Your ideal travel insurance plan should provide medical supplies coverage under baggage insurance.
If there's a baggage delay, you may end up having to purchase certain supplies. Your plan should cover both baggage delay as well as the contents.
2. Emergency evacuation
Look to cover worst-case scenarios like emergency evacuation. Choose a plan that covers the costs of transporting you to a medical facility in case of emergencies. Emergency medical insurance for international travel can also include the cost of transporting you back home.
3. Travel medical expenses
When shopping for travel insurance, make sure you choose a plan that covers these expenses:
Doctor consultation bill
Cost of medical treatment
Cost of hospitalization
Cost of ambulance
Tips for Traveling with Medical Supplies
1. Create a list of essential medical supplies
The list of essential medical supplies for travelers varies by individual medical needs. Your list should begin with a well-stocked first-aid kit. Next, write down all the oral and injectable medications that you're on.
Don't forget to include portable medical monitoring equipment that you regularly utilize. Also, make note of emergency medications such as pain relievers that you only occasionally require. Make sure you check this list, and pack everything that's on it before leaving for a trip.
2. Keep the medical supplies close by
Always keep the essential medical supplies and equipment within reach. If you want to travel with a light carryon, divide your stock of medical supplies. Make sure your carryon bag holds all the supplies you'll need to last the duration of your journey.
3. Always carry extras
Always plan for emergencies such as baggage delays. Your carryon bag should have enough extras to last you a few days. If you've planned for a week's trip, your baggage should have seven to 10 days' worth of medical supplies. This will ensure your medical needs are met in the event of travel delays and other emergencies.
4. Track your usage
It's essential to keep track of your use of medical supplies while traveling. This also applies to your first-aid kit. Regularly tracking your usage will ensure you can replenish your stock at the earliest opportunity. This way, you'll never run out of any essential medical supplies.
5. Save your prescription notes online
Click pictures of your prescriptions and save these online in iCloud or Google Drive. This will save you the trouble of securing new prescriptions should you lose or damage your original prescription notes. If your phone is damaged or out of juice, you can access the prescriptions using another device.
Another essential detail to memorize or keep handy is your insurance provider's helpline number. It's advisable you add it as a phone contact, and write it down in a couple of places.
6. Consider travel health insurance
A travel health insurance policy is quite similar to a travel insurance policy. One difference is that a travel health insurance policy offers more extensive medical coverage. If you're a frequent traveler that takes longer trips, you should consider travel health insurance.
Home medical insurance policies typically don't cover medical expenses incurred overseas. Travel health insurance or travel medical insurance policies, on the other hand, specifically target overseas medical expenses.
Here are the key features of travel health insurance plans:
Coverage for the costs of local ambulance services
Coverage for the costs of regular hospital rooms as well as intensive care
Emergency evacuation coverage
Coverage for costs of emergency dental treatments
Coverage for accidental dismemberment
Accidental death coverage
Chiropractic and physical therapy coverage
Coverage for medical quarantine
Coverage for terrorism and evacuation due to political emergencies
In addition, travel health insurance plans can also cover personal liability, trip delays, and interruption, or loss of checked baggage.
Does Your Travel Insurance Cover Medical Supplies – How to Choose the Right One
Now you're probably thinking about how to get travel insurance. Here's your answer. The smartest way to find the ideal plan for your travel medical needs is through Insubuy. Insubuy is a consumer-centric online insurance marketplace with 700+ five-star reviews at Trustpilot. It offers features like instant insurance quotes, easy comparisons, and safe, swift purchases right on the website.
You can also contact licensed U.S.-based insurance professionals at Insubuy's website and get answers to all your queries. All of this is absolutely free of charge.
Packing and managing medical supplies are two of the most important aspects of traveling. Unfortunately, they're also often overlooked. Be smart when packing and managing your medical supplies, and choose an insurance plan that offers the best coverage for them. This will go a long way to ensure your travels are both safe and smooth.
Now that you know the answer to the question, "Does your travel insurance cover medical supplies?", we hope the information will help you.
We are sorry that this post was not useful for you!
Let us improve this post!
Tell us how we can improve this post?