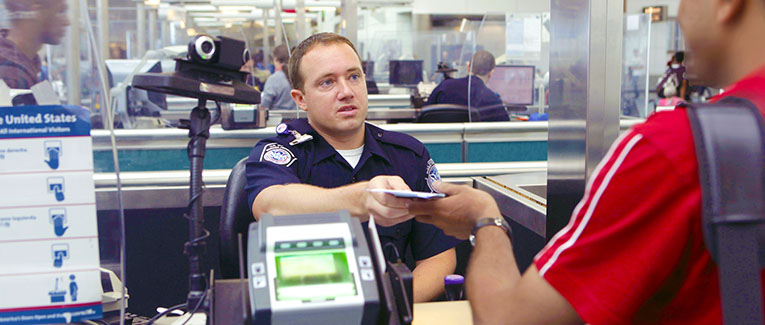 The U.S. airport immigration process can seem complicated and intimidating for most people. Especially when one is entering U.S. for the first time on an immigrant visa.
But it can be a smooth and simple process when are prepared and know what to expect. So read on to get all the details.
Everyone arriving at a port of entry (airport, land, or sea) to the U.S. is inspected by U.S. Customs and Border Protection (CBP) officers. CBP officers will conduct the immigration at U.S, airports, along with customs checks and agriculture product inspections. If a traveler has health concerns, he or she will be referred to a Public Health Officer for a separate screening.
You don't have to complete the customs form or Form I-94 on the airplane, as everything is now electronic at the airport.
If you took several flights to the U.S. and had to pass through one or more countries to reach the U.S., you should use the flight number of the last flight that brought to you the U.S. and the last city/country you boarded from.
What to do Before You Get to Immigration at U.S. Airports
Keep your watch in sync with the current time zone as you get off the plane. Take all of your belongings, including hand-baggage, and start walking towards the immigration check.
Upon arrival, follow the signs for immigration. Airline personnel will guide you to the inspection area. There may be separate lines for U.S. or Canadian citizens, people from Visa Waiver Countries and Lawful Permanent Residents, people with no checked luggage, Visitors Visa Holders, and all other visa holders, such as temporary workers.
At many airports, there are automated passport controls where you don't have to see an officer but go through the steps at an automated kiosk.
Depending on your legal status with respect to the U.S., you may need to present different documents.
Be prepared with all the USA entry requirement documents beforehand.
Keep the completed form in your passport. In addition, make sure all other applicable papers in order for easy processing. Everyone in the family can walk together to the immigration counter.
If you are a U.S. citizen, the officer will ask for your passport, verify your citizenship, and then welcome you back to the United States.

For visitors, travel, student and other international travel medical insurance.
Visit insubuy.com or call 1 (866) INSUBUY or +1 (972) 985-4400

Immigration At U.S. Airports: Process for Visitors or Non-Immigrants
Although the process of U.S. entry for visitors is much dreaded… What happens at the airport immigration counter, is in reality very simple.
A CBP officer will put a stamp in your passport that shows the date you arrived in the U.S. and the "admitted until" date, or the date when your authorized period of stay expires.
During the inspection, a CBP officer (immigration officer at the port of entry) may ask you several questions about the purpose of your trip, how long you will be in the U.S., where you will stay, and your residence abroad. Talk absolutely to the point. Do not try to lie. Make sure that whatever you say is written on the paper. Keep your answers simple and to the point, such as "6 months" or "visiting my son and seeing tourism sites."
After successfully completing your processing, a CBP officer will stamp your passport, signifying that you are permitted for an appropriate duration, e.g., six months (for visitor visa holders) or three years (H-1B/H-4 visa holders). The passport stamp indicates a date, which is the latest date you are allowed to be in the U.S. Prolonged stay after that date is illegal. Do not lose it.
All non-U.S. citizens will be fingerprinted and photographed under a program called OBIM.
Prior to departing the area, review the class of admission (such as B-2 for visitors, H-1 for temporary workers, F-1 for students, etc.) and period of admission recorded on the admission stamp. If there are any mistakes, it is best to have them corrected right away. The information written by the officer in the passport stamp at the port of entry is the basis for all further immigration-related activity in which you may engage while in the U.S. Benefit agencies, namely the Social Security Administration, make decisions based on the handwritten endorsement recorded on the passport stamp and previously on Form I-94.
File Form I-102 for correcting errors later. Even though paper I-94 forms have been eliminated, you may still need it for various immigration-related purposes. You can print it online at the CBP website.
If you would like to extend your stay beyond the date in the passport stamp (previously in I-94 form), you will need to file Form I-539. You may need to file additional paperwork, depending on the type of non-immigrant visa you are extending.
Many people who come to the United States on non-immigrant visas are confused regarding the duration for which they can legally stay in the United States. The visa stamp is used just to enter the United States. You can enter the U.S. at any period during the validity of the visa. (Whether you are permitted to enter once or multiple times is dependent on whether your visa is single-entry or multiple-entry.) At the port of entry, the immigration officer determines the duration for which you can stay in the United States. That is the legal period for which you can stay. For example, if you are traveling on a visitor visa and your visa is expiring next month, if the immigration officer grants you six months' stay, you can legally stay for six months.
More details on visa stamp vs. authorized duration.
Once you are in the United States, you are free to travel wherever you like without needing to follow any preset itinerary or check in with any government officials.


For visitors, travel, student and other international travel medical insurance.
Visit insubuy.com or call 1 (866) INSUBUY or +1 (972) 985-4400

Form I-94 and I-94W
Paper I-94 and I-94W forms have been eliminated from the process for immigration at U.S. airports, as of May 2013. If you need them for any purpose, you can print them from the CBP website.
Entering by Land
The general entry process at a land border port of entry is similar to that described above. A CBP officer will conduct a primary inspection in the vehicle lane. If required, the CBP officer may send you to a secondary inspection area for further review or issuance of needed papers. Once the officer determines that you should be allowed into the United States, you will either be sent for further customs inspection or immediately allowed to proceed on your trip.
Alien truck drivers may qualify for admission as B-1 (business) visitors to pick up or deliver cargo traveling in the stream of international commerce.

Entering by Sea
The general entry process at a sea port of entry is similar to those described above if inspection facilities are available. Otherwise, passengers will be instructed while on board the vessel as to where they should report for inspection.
Related links
We are sorry that this post was not useful for you!
Let us improve this post!
Tell us how we can improve this post?