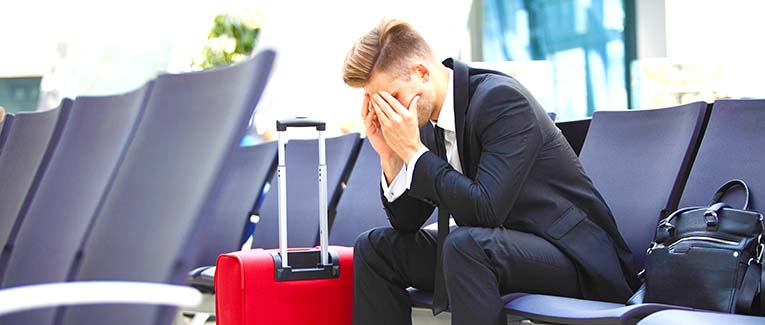 Your luggage arrived six hours after you got off the flight. You received your suitcase with a dime-sized hole. The airline forced you to give up your seat.
You can go through any of these aforementioned scenarios, and each time airlines offer one solution — vouchers. However, you can receive cash compensation as well.
In the next five minutes, learn all the ways to get cash compensation if airlines caused you any inconvenience. The article will discuss:
Knowing when you are eligible for cash compensation
How to contact the airline about cash compensations
Filing a complaint to the U.S. Department of Transportation (DOT)
Getting help from a third-party agency
Initiating a credit card chargeback
Know When You're Eligible for Cash Compensation
Airlines never inform you about cash compensation. British Airways even removed the refund option from their website in 2020. Travelers often to talk to customer service representatives who are not willing to help out.
You must know the laws so that the airlines cannot cheat you out of your money.
1. An Overbooked Flight
If you volunteered to give up your seat, airlines will offer you a voucher. However, refuse the voucher and ask for cash compensation. DOT does not have a cap on the amount of money, so you can negotiate with the airlines.
If the airline forced you to leave your seat, you can receive cash compensation. However, the DOT rules are murky, and airlines can get away with not paying anything in certain circumstances. Check the DOT website for the eligibility criteria.
If you are eligible for cash compensation, here is how much you can receive:
If you arrive at your destination within two hours of your original arrival time, you can receive 200% of the one-way ticket price, or $775 (whichever is lower).
If you arrive at your domestic destination over two hours after your original arrival time, you can receive 400% of the one-way ticket price, or $1,550 (whichever is lower). If you arrive at your international destination over four hours after the original arrival time, you can receive the same amount.
2. Delayed and Cancelled Flights
The DOT website states that airlines do not need to compensate travelers for delayed and canceled flights in the U.S. So, if your flight gets canceled or delayed, you may be out of luck.
Europe and Canada apply much stricter rules favoring travelers. In Europe, if you arrived at your destination three hours late, you can claim up to €600.
In Canada, compensation limits vary. If you flew with a large airline such as British Airways or Air Canada, you can receive up to $1,000. If you don't know, airlines that carried over two million passengers in each of the two preceding years are called large airlines.
If you flew with a small airline such as First Air or Harbor Air, you can receive up to $500.
3. Damaged, Delayed, and Lost Baggage
If the airlines damaged or lost your baggage on a domestic flight, you can receive up to $3,500. If you traveled on an international flight, you can receive up to $1,545.
If you flew with two airlines, you must file your claim with the last airline you flew with.
Airlines can take up to three months to process your claim. They also estimate the compensation based on the depreciated value of your luggage, not the original cost.
You won't receive any compensation for regular wear and tear, and if you handed over damaged luggage, the airline will reject your claim.
File a Complaint with the Airline
You must contact the airline that operated the flight. Here is an example:
You booked a ticket on the Air France website. However, Delta Airlines operated the flight. Here, you will need to claim compensation from Delta Airlines.
Call or email the airline support team. Some airlines offer forms on their websites so that you can submit the claim.
On the call or in the email, share details including the flight number of the canceled flight, and mention whether you were notified or not. Also, if you were notified, when did the airline notify you?
Did the airline reroute you? If yes, on which flight? How late did you arrive at your destination? How much money do you want to claim as compensation? Mention all of these details.
If you are on a call and the representative won't budge, ask to talk to a supervisor. If you don't see a reply to your email within a week, send a follow-up email.
What if both of these methods fail? Tweet to the airline. Reputation is crucial to the airlines. A public tweet stating the airlines never compensated you hurts their reputation. Your chances of receiving a cash compensation via Twitter are much higher than through call or email.
However, never give out personal information on a tweet. Tweet with a general query such as requesting compensation for a canceled flight. When the airline representative responds, share personal details including frequent flier number and booking number over direct messages.
Airlines including United Airlines and Alaska Airlines typically respond to tweets within 15 minutes.
File a complaint with the U.S. Department of Transportation
If you want to register a complaint with the U.S. Department of Transportation (DOT), head over to their website. Fill out the form to submit your claim. You can call or write to the department as well.
Note that while you can explain your issue on a call, if you wish to lodge a complaint, you must send it in writing or use the online form.
You can find the mailing address and contact numbers on the DOT website.
Get Help from a Third-Party Agency
Airlines ignoring your claim? Tired of all the hassle it takes to complain and follow up with DOT? Hire a third-party agency. The agencies help you in receiving cash compensation for issues including canceled or delayed flights, damaged or lost luggage, and expenses that occurred due to the inconveniences such as hotels and meals.
You can hire third-party agencies such as AirHelp and Flightright.
Both the sites offer free checking tools. The tools allow you to check whether you are eligible to receive cash compensation or a refund within seconds. Enter flight details including whether the flight was canceled, delayed, or rebooked. Furthermore, if you missed your connecting flight, mention it.
These agencies employ travel law experts to negotiate with the airlines. Furthermore, the agencies appeal to court as well. The agencies will keep you updated about the legal procedures.
You can receive compensation for flights up to three years back.
Flightright never charges any fee if you receive the ticket refund within a week. Afterward, the agency charges a commission of 14% to 28% plus VAT. If you receive a compensation payment, the agency charges 20% to 30% commission on the payment plus VAT.
AirHelp charges 35% of the received compensation including VAT for all cases.
Initiate a Credit Card Chargeback
If all else fails, file a credit card chargeback. Here is how to request a chargeback.
Find the charge on your credit card account. Afterward, choose the option 'Report a problem.'
The website will redirect you to a new screen. You will be asked whether the charge was incorrect or unauthorized. Choose the 'incorrect' option (Hint: look for the phrase 'I recognize the purchase, but it's wrong.').
On the next screen, you will need to explain what was wrong with the purchase. You must also answer questions about contacts you made with the airline.
You will need to choose the amount you want to dispute, and whether the purchase was a service or merchandise.
Explain what you purchased and on which date. That's it. You will receive a confirmation email with the confirmation code. Keep the code handy until you receive the chargeback amount.
Never Accept a Voucher Instead of Cash
Airlines will almost always offer a voucher instead of cash. The process allows the airlines to sit on your money.
However, know your rights and never accept vouchers when you have a right to receive cash. As an additional measure, be sure to always purchase travel insurance before you travel. If your flight is cancelled or delayed, a travel insurance plan can help you receive compensation for your nonrefundable, prepaid trip expenses such as hotels, and tickets to attractions and events. It's another important way to protect your money from the uncertainties of travel.
We are sorry that this post was not useful for you!
Let us improve this post!
Tell us how we can improve this post?