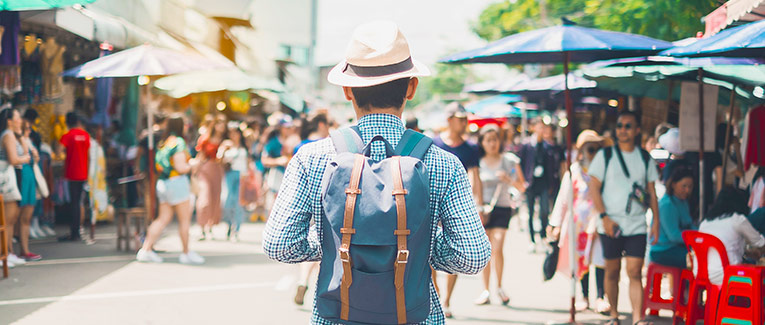 With massive city centers, towering skyscrapers, museums, and other attractions, big cities often draw in a lot of tourists, especially overseas.
However, traveling to a large urban destination abroad has some inherent risks. Research indicates that cities across the world tend to have higher crime rates than small towns or villages. They also have millions of inhabitants, leading to inconveniences like overcrowding and traffic.
Here are seven things to avoid doing as a tourist in a big city. These tips will help you enjoy a safe and hassle-free time abroad.
1. Walking with Your Phone in Your Hand
For most of us, our smartphones are basically extensions of our hands. Whether you're scrolling on your phone or navigating your route, it's convenient to hold your phone in your hand while walking.
However, displaying your phone in this manner could make you an easy target for theft. Most tourists report having their phones stolen in these three locations:
Crowded public places like squares or shopping plazas
Public transport like buses and trains
Deserted streets and alleyways
Your phone could be your only source of help during an emergency. Therefore, having it stolen can be more dangerous than you might imagine.
Here's how you can protect yourself from phone-snatchers:
Put your phone in the inner pocket of your purse or backpack. Alternately, put it in your coat or pant pocket so that it is not visible from the outside.
Switch on your phone's GPS tracking feature so that you can locate it from another device if you lose it.
Write down its serial number. This comes in handy for filing a comprehensive report with the police, as well as getting the phone blocked.
2. Using a Low-Security Backpack
Your backpack is one of your most valuable assets while traveling. It holds your wallet, money, cards, phone, passport, tickets, and everything else that you need to survive abroad. Whether you're traveling around the city by bus, or simply walking about, you must protect your backpack at all times.
It is best to use a theft-proof bag in order to keep your belongings safe. These bags have hidden zippers, concealed pouches, and even GPS trackers so that you can locate your bag in the event that it goes missing.
In any case, wear your backpack on the front of your body in crowded spaces. You should also avoid placing your phone or wallet in the outer pockets of the bag.
Get a mesh backpack cover for extra protection. Slip it over your bag to prevent thieves from opening zippers or yanking on handles.
3. Not Sanitizing Surfaces
A big city equals more contact with public surfaces. Consider all the surfaces you touch in a single day. These include elevator buttons, subway seats and handles, cash and coins, tables in cafes and restaurants, and hundreds of doorknobs.
Regardless of your destination, your number one priority should be to stay healthy and safe.
Carry a bottle of hand sanitizer with you at all times. Spritz a little whenever you handle cash or travel on public transport. Remember, all it takes to avoid germs is a little bit of caution and disinfectant.
If you do catch an infection, accessing private healthcare on a foreign trip can be quite a gamble. Unfortunately, with the cost of medical care in metros, you could end up with a hefty bill even for minor procedures.
That is why all experienced travelers recommend buying adequate travel medical insurance or travel insurance before setting off on a holiday. Use Insubuy to browse through dozens of international insurance plans and find the best one for your upcoming trip.
4. Looking Like a Tourist
The best way to enjoy your time in a foreign country is to experience it as authentically as possible. This means trying the local cuisine, and doing your best to blend in with the locals to see the city as its inhabitants see it.
Avoid drawing too much attention to yourself by wearing the wrong clothes. The way you dress in your home country might be wildly different from the way people dress in your destination country.
Remember, the more you look like a tourist or an outsider, the higher your chances are of getting scammed or becoming a target.
Research your destination, and choose your wardrobe accordingly.
5. Taking a Taxi at Rush Hour
Big cities like New York, Chicago, London, Kuala Lumpur, and Bangalore are notorious for their heavy traffic. If you have the misfortune of traveling by taxi during the morning and evening rush hours, you can expect to spend up to two hours getting from one part of the city to another.
Travel smarter and use public transportation.
It might be a little confusing at first to navigate through subway and bus routes. But, traveling this way will save time and exasperation.
Get a week pass for the local transport. This way, you can avoid the hassle of buying tickets for every single journey, and save a few dollars in the process.
6. Wearing Uncomfortable Clothes
Traveling to a big city is synonymous with lots of walking. A single day spent exploring the city center, visiting local markets, and grabbing food can keep you on your feet for hours.
Wearing uncomfortable clothing can ruin your day. You do not want to wear shoes that will give you blisters, or pants that restrict your movement. You will have a difficult time getting around the city, and being in pain due to your clothing choices might make you miss out on other elements of your trip.
Here is a handy checklist for staying comfortable throughout your trip:
The correct footwear: Carry a pair of sturdy sneakers. Remember, they should be broken in to prevent blisters. Sneakers are ideal for day trips and when you have a lot of walking in your itinerary.
The right clothes: You can never go wrong with cargo or cotton pants. Avoid wearing leather, spandex, or skin-tight clothes, especially in hot climates.
A quick add-on: If you are traveling to a place with unpredictable weather, it is best to keep a light jacket handy. Get one that is water-resistant so that you can beat the rain too.
7. Blindly Trusting Locals
Keep your guard up. Prominent tourist attractions are hubs for scams and pickpockets. Always trust your instincts and avoid being too friendly with strangers.
If something seems off, simply leave, or approach the nearest authority.
A final safety tip: Keep emergency contact details of the police, your travel insurance company, and your fellow travelers on your person at all times.
We are sorry that this post was not useful for you!
Let us improve this post!
Tell us how we can improve this post?