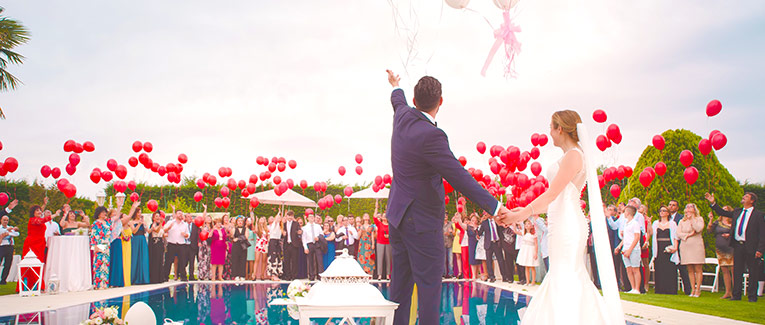 Getting dressed up is just another excuse to add more pictures to your Instagram grid. What better time to take a glam photo than at a wedding?
Every social media outlet sees its fair share of wedding photographs, and you'll definitely want to add to yours when it's your big day.
But, there are some rules, or rather, suggestions that you should know. If you're a guest at a wedding, there are rules for you too. Read on to know the social media rules for foreign weddings.
Social Media Rules for Foreign Weddings – for the Couples
1. Set Up a Hashtag
The first recorded wedding hashtag was created in 2008. But the trend really took off in the early 2010s. Today, you can hardly find any wedding without a hashtag to go with it.
Having a hashtag serves two purposes.
It's insanely cutesy, and adds an element of fun and excitement to the wedding.
It allows guests to search for wedding pictures using the hashtag.
For the hashtag to be effective, it needs to be unique. Most couples go for their ship name, a portmanteau of both of their names. For example, #BrangelinaWedding. This way, no other couple will have a similar hashtag.
2. Be Clear About Your Photograph Instructions for Guests
Some couples prefer having a phone-less wedding. Some want their guests to take pictures. Decide which version you'd like for your wedding.
How do you say no social media at the wedding or use social media only during selected hours? Include your requests in the wedding invitations so your guests know what to do.
Remember not to be too caught up in controlling this. If a guest slips and ends up taking pictures, don't make it a big deal. Just remember to have a good time on your big day.
3. Have A Themed Photo Booth
Most people enjoy having their photos taken when they're all dressed up. Why not make it more enjoyable for them?
Thus, even if you're searching for small wedding ideas, a themed photo booth is a must. Set up a fun photo booth that matches your wedding's theme. Equip the booth with exciting props and a good photographer. Your guests will definitely thank you for it.
Many vendors print photo booth pictures on the spot, and frame them for the guests. You can consider a setup like that. It makes for unique memorabilia of the event.
4. Post As Much as You Want
If you're thinking, "Can I share all my wedding photos on social media?", the answer is yes. There are so many so-called rules around how many pictures you can post on your profile of your wedding. Don't believe any of them.
It is your wedding and your event. No one can tell you that you can only post five pictures from such a special day. Post 50 if that's what you want, or don't post any. But, don't limit yourself just because some unknown person set an arbitrary number for it.
When you're posting, don't forget to tag your guests. They will appreciate you for it. Don't forget to add your special hashtag either.
Be sure to include all your wedding vendors in the tags as well. That way, you get to thank them for their work, and possibly get them more business.
5. Appoint A Trusted Social Media Manager
If you're a person who likes to live-Tweet an event, then you need to pass on your profile to a friend. You can't be standing at the altar taking selfies.
Give a trusted friend your phone so they can capture the moment you say 'I Do' and post it immediately. But, if you'd prefer to post the picture yourself, feel free to do that as well.
Social Media Rules for Foreign Weddings – for Guests
1. Don't Post Photos Before the Ceremony
If you're asking what is the etiquette for out-of-town wedding guests, this is the one etiquette that cannot be broken. Do not post pictures of the venue, the decor, the bride, or the groom before the ceremony takes place. It is disrespectful to your hosts if you do.
Any picture you want to post, be it an OOTD, or a picture of your date can wait until after the ceremony. There are so many unfortunate stories of brides whose pictures were shared even before they got to say 'I Do'.
That is a deep break in the trust the couple has in you. Don't get yourself to that point.
2. Don't Disrupt Professional Photographers
The professionals are there doing their job. It is absolutely unacceptable for you to get in the way of that. If the bride or groom expressly asks you to take pictures during the ceremony, then go ahead. But even then, do so with respect for the others there.
There are often photographers solely to take pictures of guests. You can ask them for photos if you want one for social media. Otherwise, don't disturb the professionals.
3. Don't Stop the Party For Pictures
No one gets the stink eye more than someone who insists on stopping the fun for photographs. Don't be this person, no matter how good the photo opportunity is.
If you see a person enjoying themselves, don't attempt to pull them in for pictures. If they are a close friend, they might appreciate candid shots, but don't be the buzzkill of the party.
Wait until there's nothing monumental happening before you start posing for shots.
4. Try To Enjoy the Moment
What are the rules for a destination wedding? First of all, have fun. Weddings are usually a one-time occasion. Once a moment has passed, you will not get to experience it again.
If you've been given the honor of being present on someone's big day, appreciate that moment. There is nothing wrong with taking pictures when everybody's casually hanging out. But, when big moments like the first dance or the reception entrance are underway, be present. Enjoy the moment.
5. Don't Post Pictures of People in Vulnerable Positions
Is someone crying tears of joy? You don't get to post that. Did you capture a wardrobe malfunction? Nope, don't post that either.
Reflect on whether you'd like a picture like that of yourself posted. If the answer is no for you, then it's no for others as well.
Any picture that might embarrass those in the image does not belong on social media. If you do take such a picture at a wedding, be sure to delete it.
6. Respect Privacy
Remember that a wedding is the bride and groom's event. So, if you happen to capture a personal or intimate moment between them, do not post it.
There are other moments, like the first look or giving away the bride, that are very intimate. Be aware that they are not for everyone to share.
As a general rule, only post pictures of yourself on your personal pages.
Now that you know the social media rules for foreign weddings, remember to stick to these rules and any others that the bride or groom may set. If you do, you are sure to have a good time at the wedding. Capture away with consideration for others.
When attending a wedding in a different country, there are a lot of expenses that go along with it. Be sure to purchase a travel insurance plan beforehand in case you have to cancel your trip, encounter a flight delay, experience lost or delayed baggage, or have an unexpected medical issue. Your travel insurance may be able to financially compensate you. Having insurance means just a bit less stress on your (or someone else's) big day.
We are sorry that this post was not useful for you!
Let us improve this post!
Tell us how we can improve this post?