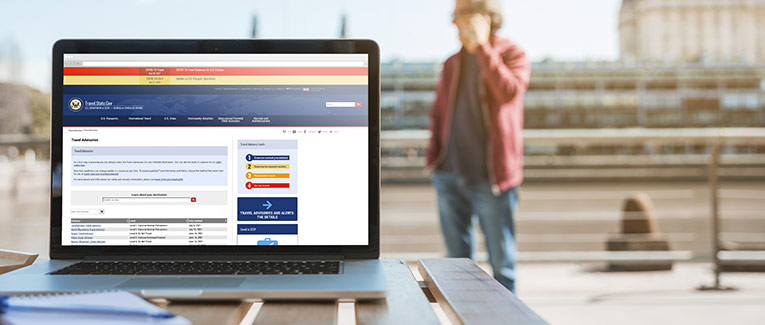 Almost 50% of Americans research, book, and plan their trips using a mobile device. A vital part of the planning process is researching the possible risks and threats prevalent at a destination. US State Department travel advisories play a big part in providing updated information in this regard.
A State Department travel advisory provides comprehensive information in this regard about any country in the world. Besides the State Department's travel warnings, the Centers for Disease Control and Prevention (CDC) issues advisories pertaining to health concerns. The National Oceanic and Atmospheric Administration (NOAA) issues advisories about the weather.
What is a US State Department Travel Advisory?
If you're traveling abroad, it is likely that you'll be unaware of the health and safety situation at your destination. That is where various governments step in to provide travelers with official information and advice for their trip.
The State Department's advisories offer updated information on the most pressing risks and threats, like:
Terrorism
Public crime
Civil unrest
Natural disasters
Epidemics
They advise travelers about places to avoid, personal safety tips, and helpful contact points in a foreign country.
Travel advisories also inform travelers about the lack of government assistance in specific regions, where governments cannot respond to the travelers' needs in cases of emergencies. Your government may not have an embassy in conflict areas, or the functioning of the embassy may be hindered due to unrest. You can easily locate these places via the US State Department do not travel list.
Understanding the Four Levels of US State Department Travel Advisory
The U.S. Department of State Travel Advisory is the standard site used by travelers to learn about potential safety threats. If you're planning a trip, reading the travel restrictions by country should be a key step. Here's how you can understand it better.
The U.S. travel advisory system uses four levels to indicate the level of risk in traveling to a destination.
Level 1 – "Exercise Normal Precaution"
Level 1 indicates that there is nothing exceptionally risky in your destination country. Yet, it does not mean that the country is devoid of corruption. For Level 1 countries, exercise typical safety measures like purchasing travel insurance or travel medical insurance, and enrolling in the Smart Traveler Enrollment Program (STEP).
Level 2 – "Exercise Increased Caution"
Level 2 indicates that there is one or more identifiable preexisting safety concern, or one that could arise without notice. Exercise high caution when traveling to such countries. To ensure your safety, keep tabs on local media updates, and follow the instructions of your travel guides.
It is advised that you set Google Alerts to stay informed about the safety concerns in your destination country. Level 2 countries rarely have life-threatening risks. However, probable safety concerns are civil unrest, health concerns, and kidnapping.
Level 3 – "Reconsider Travel"
Level 3 indicates high safety risks and an increased probability of injury. You should avoid any nonessential travel to Level 3 countries.
Nonessential travel typically pertains to travel for pleasure. For instance, if you are at your permanent residence, but would rather spend the Christmas holidays in Barbados, it amounts to nonessential travel. Visiting friends and family is also nonessential travel unless it's an emergency.
Level 4 – "Do Not Travel"
Level 4 is the highest advisory level. It indicates that there is an extremely high risk to your safety. You should avoid any travel to this destination. If you're already present in the country or region, begin preparations to leave immediately.
The imminent risks in such areas are things like terrorism, armed conflict, and kidnapping. Your government may not be able to offer you assistance in these areas.
How Is a Travel Alert Different from a Travel Advisory?
Both travel alerts and travel advisories serve the same purpose of keeping you informed. Yet, they differ from each other based on the duration and severity of the risk.
A travel alert is issued to identify a short-term event. It could pertain to temporary concerns such as a disease outbreak, a political demonstration, or a storm. Governments frequently issue travel alerts to keep travelers updated about safety concerns in specific regions as a heads-up.
They are important because they may turn into long-term warnings, or travel advisories.
Travel advisories, on the other hand, give long-lived and more detailed safety and security information about every country. They help you plan and prepare long-term.
How to Assess a Travel Advisory/Alert?
Travel Advisories can be scary. The information is reliable, but a lot of factors play a role in whether you take the trip. Here is what you should find out before you decide:
What is the actual danger?
For assaults and petty crimes, be mindful of who the targets are. Areas with foreign nationals as targets are the ones that should be the cause of concern.
Check your itinerary. If the violence is focused in areas far away from the ones you're visiting, you'll likely be safe.
2. What are the affected areas?
Seeing a level 3 travel alert next to your destination does not have to mean the worst. Mostly, violence and unrest are contained in areas far from tourist attractions. Even countries with perpetual border disputes like Israel and Palestine have booming tourism.
Read the travel advisory carefully, and do additional research to confirm what areas are truly affected. If you're still doubtful, get in touch with a local or your hotel manager and confirm what you read on the internet.
3. Read multiple travel advisories
A good way to test the authenticity and severity of a warning is by comparing it to other advisories from different authorities. If other advisories corroborate the same warning, it is likely to be true. However, if the severity of the warning is downplayed or exaggerated, this is the best way to find out.
4. When was the advisory last updated?
Travel Advisories are updated regularly. Nevertheless, it is possible that the cause of concern has, or will have, dissolved by the time you arrive in the country. Yet again, asking the locals about the status of the risks is advisable.
Will Your Travel Insurance Be Affected?
The manner in which a travel advisory affects your travel insurance is relative.
Here are some instances where your travel insurance plan may be affected by a travel advisory/alert:
1. Medical Perks: Your travel medical insurance protects you from financial burden in cases of medical emergencies. Whether these emergencies cover epidemics or sudden disease outbreaks in your destination will depend on your insurance company provider.
Read your insurance company's certificate wording and inquire about the specifics in such cases.
2. Terrorism: Most travel insurance plans provide coverage for injuries resulting from acts of terrorism. However, a lot of companies void this coverage if a travel advisory is issued against travel in that region because of terrorism.
In case a travel alert or advisory is issued while you're in the affected area, you will most likely be given a window within which you're expected to leave that area. If you cannot do so, you may not receive coverage for injuries sustained.
3. Trip Cancellation: Trip cancellation insurance gives coverage for the cost of your nonrefundable trip costs if you need to cancel. Trip cancellation insurance is applicable in cases of unforeseeable and unexpected events. Hence, an event for which there is a preexisting travel advisory may not be eligible for coverage.
Travel alerts issued after your arrival may be accepted as unforeseeable circumstances. It will largely depend on the insurance company you choose. Try to opt for companies that offer 'Cancel for Any Reason' protection for sudden travel alerts.
Should You Travel Despite a Travel Advisory?
Travel Advisories scare travelers easily. You must remember that a travel warning does not necessarily mean your trip is doomed.
Firstly, what amounts to essential or nonessential travel is subjective. It is a decision that you make individually, based on the risks and your safety net.
Secondly, remember to get into the specifics of any US State Department travel advisory. A vague advisory against travel is not a good enough reason to cancel.
Learn the specifics like affected areas, security measures taken by authorities, experiences of recent travelers, whether your government will respond to your needs, and whether your trip cancellation insurance will provide coverage.
As long as you understand the risks, you can recognize whether you're equipped to travel to your destination.
We are sorry that this post was not useful for you!
Let us improve this post!
Tell us how we can improve this post?