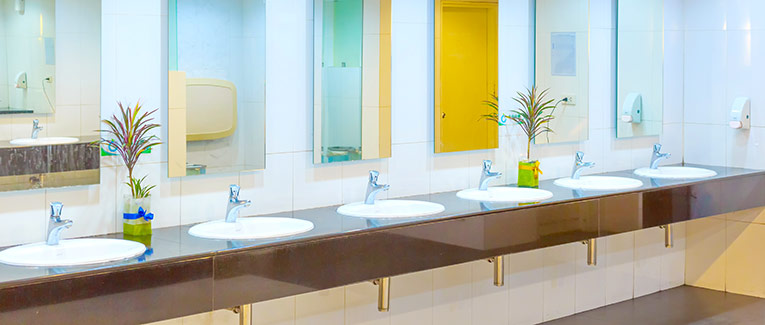 After the outbreak of Coronavirus in 2019, it became even more essential to practice sanitation in public washrooms. The virus brought about many researched works on the spread of the disease through different sources.
But that shouldn't be your only concern. Viruses may come and go, but germs stay. So, packing sanitation products should be your first step while planning a trip or a getaway where you're likely to use a public washroom. Read on to find some public washroom sanitation tips and sanitation safety products to pack for your upcoming trips.
Public Washroom Sanitation Safety Products to Pack Before a Trip
Here are some vital items to pack in that sanitation bag of yours for your next trip.
Hanging Toiletry Bag:
The first step is to get a compact toiletry bag that will be accessible for you. Consider buying a compact bag that can be folded and stored inside your purse or backpack.
Hand Sanitizer:
Most hotels and resorts keep hand sanitizer in their rooms, but you shouldn't take a chance. You should carry your own bottles of hand sanitizer to a public toilet to protect yourself from germs, especially when you don't have access to water to wash your hands. Ensure that you have enough bottles of sanitizer with you to last you until the trip ends.
Rinse-free Bathing Wipes:
Planning a camping trip? Well, you should know that finding water for bathing might become a problem in campgrounds. So, to be safe, keep rinse-free bathing wipes with you for such trips. You can easily freshen up using these bathing wipes. Go a step ahead and also buy a set of deodorant wipes to clean up under your arms and feel refreshed.
Feminine Hygiene Products:
Always carry your hygiene products such as sanitary napkins, panty-liners, and tampons with you on a trip. Also, carry some extra sets of toilet papers for emergencies.
Disinfecting Wipes:
This is another essential that you need on your trip. Disinfecting wipes are antiviral. They help destroy viruses and bacteria that your body might have contracted while out sightseeing.
All-Purpose Soap:
While most accommodations provide you with packs of soap, there are some that may not provide these. Keep your all-purpose soap in your toiletry bag. It'll come in handy in beach locations, cabin stays, and camping sites. Try to pick all-purpose soaps that are available in travel-sized bottles. As the name goes, you can use these soaps for cleaning your body, hair, and face.
Toilet Seat Sanitizer for a Public Washroom:
There are many brands coming forth with toilet seat sanitizers that are easy to carry on a trip. You can spray the sanitizer on the toilet seat of a public washroom before using it, and you're less likely to contract germs from it. It's a handy hygiene essential.
Before you start ordering these essentials for your next trip, take a look at the liquid rule:
What is the Liquid Rule?
The Transportation Security Administration (TSA) has imposed the liquids rule which says that you are only allowed to carry travel-sized containers that are approximately 3.4 ounces or less per product. Pack only quarter-sized bags for your liquids like gels, creams, sanitizers, and toothpaste. If one of these packs raises an alarm during screening, it will be sent to additional screening.
Public Washroom Sanitation Tips to Follow on a Trip
Let's first understand why we need these tips.
Regardless of where you are traveling, there's no accommodation that guarantees cleanliness before booking. Also, you don't travel to a destination only to cozy up in your hotel room, right? You'll be traveling to different places, hopping from one adventure spot to another, sightseeing, and clicking pictures on your way.
Most often, you'll be leaving your hotel room in the morning, only to return late at night. While you are out exploring different places, you'll be using different public washrooms.
Here are some public washroom sanitation safety tips to follow:
Use disinfecting wipes to clean bathroom doorknobs, fixtures, light switches, taps, and other hard surfaces.
Remember to close the toilet lid before flushing. Try to press the flush button using a small tissue.
Avoid using a hand dryer that's set up in the public washroom. The hot air coming out of the dryer can spread germs faster. Use a paper towel to dry your hands, or go the old-fashioned way and carry a handkerchief to wipe your hands after washing them.
If you're planning to redo your makeup or check your hair in the mirror, always close the lids of the toilets, and try to spend only a couple of minutes in the washroom to avoid contracting germs.
One smart way to use paper towels is to dry your hands, and then using the same paper towel to open the door handle, before throwing it away.
Some of you might like to take your smartphones to the washroom. While this may be okay if done at home or even in your hotel washroom, it's not something advisable for a public washroom. Keep your phone inside your purse or bag, and only touch your phone after you're done with your business completely and are out of the public washroom, with thoroughly cleaned hands.
Following these public washroom sanitation tips can be tricky, but are not impossible. Make it into a habit, and you won't even have to remember these tips anymore.
Finding a Public Washroom When Traveling
Here are some mobile phone applications that can help you find public washrooms anywhere easily.
Bathroom Scout: If you have an Android phone, Bathroom Scout is an application that you can download before leaving for a trip. With the help of this app, you can look for public washrooms and restrooms nearby. Some of its features include a Satellite view, a display of nearby toilets on a map, thorough navigation to the toilet, Google Street View to inspect the nearby locations of the toilet, and accessibility in different languages like German, English, and Russian.
Sit or Squat: This is another app that will help you find a public restroom nearby. It has 100,000+ listings, and it's easy to use and access. It's available on both Apple and Android phones. Log in via your Facebook or Google account and look for a washroom nearby. The app allows you to filter as well. For example, if you're looking for a baby-changing table in a washroom, there's a filter available in the app for that.
You can also look for a restaurant nearby to use a washroom if there's an emergency.
One key takeaway from this article is that if you feel the washroom you are about to use is dirty, don't enter. Of course, if it's an emergency and you don't have any other option, try to follow the tips rigidly. In case you do get sick while traveling abroad, purchase travel medical insurance or travel insurance before you depart. An international insurance plan can provide financial protection for emergency medical treatment expenses in a foreign country. It can help you feel a little less uneasy about using a questionable washroom during your trip.
We are sorry that this post was not useful for you!
Let us improve this post!
Tell us how we can improve this post?