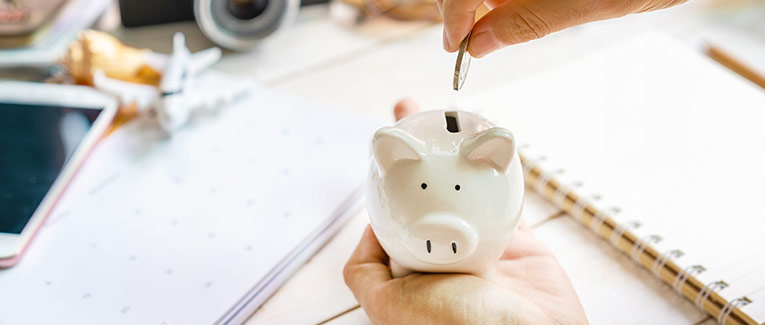 The two biggest reasons behind unfulfilled travel dreams are procrastination and improper planning. Either you haven't yet started a travel savings fund, or you've had to withdraw money from it for another reason. Or, you simply don't know how to save for vacations.
How to save money for a trip? 9 Ideas
Whether you aspire to go backpacking in Spain, enjoy a romantic stay in Paris, or take the family to Disneyland, realizing your travel dreams requires the same level of commitment and planning that goes into achieving every other goal in life.
These 9 practical tips will tell you how to save money for a trip, and execute a travel savings strategy in the best and most efficient way.
1. Prioritize Your Travel Dreams Over Other Aspirational Purchases
Many people miss out on taking their dream trips year after year because they never truly prioritize them. If you want to make the trip happen, it should have a definitive spot on your calendar and be part of your monthly financial planning. If you're planning the trip with family or friends, their individual priorities and financial situations are bound to impact the future of the trip.
An earnest conversation will help you identify all who are committed to the trip so you can start the actual planning. Individuals who are not financially responsible or fully committed can hold you back, so it's best to plan a trip without them.
2. Calculate Detailed Trip Expenses For Your Planned Vacation
Not many travel enthusiasts know how much to save for vacations. Don't be one of them.
It's natural to aim to save an estimated lump sum that covers your trip's expenses. A more detailed vacation budget that comprises costs such as flight prices, accommodations, food, and ground transportation can end up reducing the amount you need to save up by a significant margin.
Researching your destination will help you identify the most economical places to stay, transportation, and dining options. Taking your trip at a time when your dream destination experiences less tourist traffic can also lead to big savings.
If your dream destination lies in another country, make sure to consider the exchange rate for currency when calculating overall expenses. Separate the spending you're likely to make in your own currency from that which will require foreign currency, and create your travel budget accordingly.
3. Start a Dedicated Travel Savings Account To Save For Your Travel
A dedicated travel savings account will help you manage your travel savings fund independent of any regular savings or day-to-day expenses. Plenty of banks and travel companies offer travel savings accounts and travel-oriented holiday savings accounts. At many banks, you can automate the amount of money put into your travel savings account each month. This is helpful, as it prevents procrastination and simplifies budgeting.
4. Set Savings Goals That Are Specific, Measurable, Actionable, Realistic, And Timely
While you're learning how to save money for a vacation, you also know how much to save, and by what time.
Timing matters. When you're planning a trip in the summers, and you're nearing spring, then you have to act sooner. In this case, you need to know how to save money for vacation in 6 months, or perhaps 3 months.
Assess your current earnings and the amount of money you can contribute to your travel fund on a periodic basis. It's advisable to start with small periods, such as weekly or monthly. If you aim to save enough for the trip by the end of the year, setting bi-monthly or quarterly savings goals can help you stay on track.
If there's a change in your financial situation (such as an adjustment in income), readjust your short and long-term savings targets accordingly, so you're aware of exactly how far behind or ahead you are of your savings goal. Monitor your progress regularly. If you're falling short of the savings goal, try to identify the reasons and remedy them.
5. Reduce Unnecessary Expenses To Save For Your Trip
Many of us forgo our dream vacations because we are convinced that we simply cannot afford them. We tell ourselves that, after paying all of our bills, there simply isn't enough left over to save for an international trip. However, in many cases, you may be wasting money on things you can do without.
Consider how much you spend each month on eating at restaurants, going to bars, cable television, gasoline, and your gym membership. When you total it all up, the number may surprise you.
Simple acts such as choosing to cook and entertain at home, rather than going to restaurants and bars all the time, can save you a significant amount of money. Likewise, are you really watching all of those cable TV channels you're paying for? Chances are, a cheaper streaming service will meet your needs. You can also choose to exercise at home rather than pay for a gym membership. This will save you extra money on gas and wear-and-tear on your car too.
A smart way of going about making these changes is to create a list of your expenses, and separate your "needs" from your "wants." Decide which of your "wants" can be sacrificed or compromised to realize your travel dreams and look for the most economical alternatives.
A lot of these changes will help you reduce wasteful financial practices and save money in the long run too. Learning to cook to avoid having to order food all the time, for instance, can set you up for lifelong independence and savings on food bills.
6. Manage Additional Income To Fulfil Your Saving Goals for Vacations
If you receive a bonus or salary incentive, additional money from credit card reward redemption, or any other sort of financial windfall, it's important not to blow it on extraneous purchases. Make sure any and all additional money that you come by goes into your travel fund. Resist the urge to claim your credit card reward points. You may be able to use them to purchase flight tickets or cover other travel-related costs.
7. Be Prepared to Take More Drastic Measures
If you find yourself falling short of your planned savings target, be prepared to take steps to get back on track. There are plenty of expenses you can comfortably minimize by changing the way you lead your life. Reducing the frequency of haircuts, buying clothes less often, and setting your thermostat to a slightly less-desirable temperature are some easy ways to save more for your trip.
It's important to truly examine the areas where you can cut back. Brew coffee at home instead of buying it each morning. Take shorter showers, and do smaller loads of laundry to save on your utility bills. Reduce your intake of alcohol and soft drinks. Consider if you may be able to switch to less expensive cellphone service. Though all of these expenses may seem small on their own, they can add up to a lot each month.
8. Shop Smarter To Save For A Vacation On A Tight Budget
A big chunk of your monthly budget goes into shopping. Whether it's groceries, medicine, or clothing, you can save money by making minor adjustments to your shopping behavior. Learn to make grocery lists, and only buy the items on your list. Resist the urge to stock up on unnecessary items, such as clothing you don't truly need.
If you're not into comparing prices and looking for discounts, it's time to start. Look for discount codes before purchasing anything online, and plan your purchases around events such as Cyber Monday, Black Friday, and holiday sales. Make sure not to give in to the temptation these shopping festivals incite and only buy the essentials. These events are also a great way of saving on articles you will need for your trip. Use the opportunity to stock up on season and location-specific clothing, travel bags, and utilities. Make sure you readjust your target savings fund by deducting these costs.
These little adjustments and just a few months of sticking to the plan will help you save for your dream trip, so you can have a new dream destination next year.
9. Make a Plan
The key to knowing how to save money for the trip you've always dreamed of is understanding how you're actually spending your money each month. If you haven't created a monthly budget for your expenses, now is the time to start. There are holiday budgeting apps and programs that can assist you.
By creating a budget, you'll be able to identify the areas where you can save. This will give you a clear idea of how much money you can contribute to your travel savings account. By being smart with your spending, that trip of a lifetime will be just around the corner. Remember, when you plan in advance, and plan everything, you can even save for a vacation on a tight budget.
Know you know how to save for vacation like a seasoned traveler.
One important thing to be sure you add to your travel budget is travel medical insurance or travel insurance. Investing in an insurance plan for your trip provides you with financial protection in case of an unexpected travel-related issue or medical expense. It can allow you to enjoy the trip you've worked so hard to save for with additional peace of mind.
We are sorry that this post was not useful for you!
Let us improve this post!
Tell us how we can improve this post?