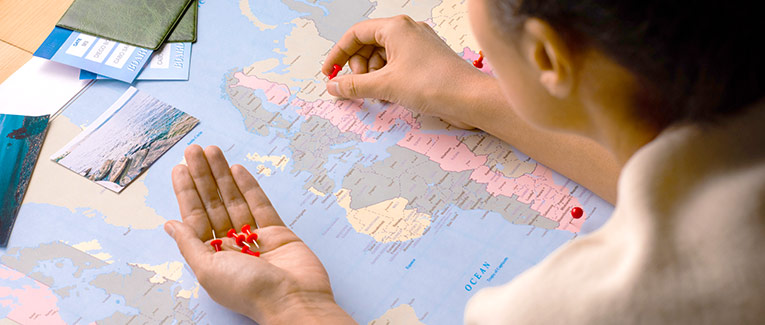 Even if you are traveling on a time crunch, you don't have to compromise on the number of places you want to visit. Multi-destination trips are perfect for enjoying an action-packed holiday on a restricted timeline. But not many can claim they know how to plan a multi-destination trip, can they?
How To Plan A Multi-destination Trip? Dealing With Overwhelm
Having an itinerary brimming with different cities, places, and countries to visit can be somewhat overwhelming. There are so many points to consider: traveling, hotels, booking tours, packing the right clothes, changing currency; the list goes on.
The trick to a successful and stress-free multi-destination trip lies in the planning. Figure out your entire itinerary before you leave, and don't leave anything to chance.
How To Design Your Very Own Multi-Destination Vacation Package? Explained
These are our top eight tips to remember while planning your busy holiday:
1. Chart your Course
Google Maps is the best application to organize a multi-stop journey. Decide on the cities or countries that you want to visit, and drop pins accordingly. Visualizing the destinations on a single map will give you an approximate idea of the route to follow.
Here are some pointers to consider before you add a stop on your trip:
Do you need an additional visa to enter the country?
What are the best things to see and experience?
Is it the best time of the year to visit that place?
How well connected is it by road, train, and air?
How to map out a trip with multiple stops, possibly in different countries, and connected via different transporation options.
2. Plan for Transportation
Should you fly from one city to the next, take a bus, or drive? It all comes down to the cost and travel time.
Thankfully, you can easily compare the details of each connecting mode of transportation on Google Maps. Use the flight view to filter flights by flying time, cost, number of stops, and baggage allowance. There is similar functionality for checking train routes on Google Maps.
How to plan a multi-city Europe trip? If you are traveling in a region like Europe, which is well connected by bus routes, you should consider Flixbus for zipping across countries. Get a regional public transport pass to save on intra-city travel costs.
3. Dealing with Delayed or Cancelled flights
A tight schedule with multiple flights between destinations can be stressful. You cross your fingers and hope for good weather and no technical delays. However, you can never predict if your flight will get canceled or delayed. In either case, the result is that you could lose a part of the nonrefundable charges, and your itinerary takes a hit.
The surest way to protect yourself from the financial blow of canceled or delayed flights is to get travel insurance. A comprehensive plan can help you get refunded for your cancelled tickets, giving you the peace of mind to re-plan your journey. Visit Insubuy to browse and compare the best plans for your requirements.
Also, write down backup travel options in your itinerary to avoid any last-minute panicking.
4. Living Arrangements
Your multi-city holiday will include a flurry of hotel and Airbnb reservations. If you're traveling on a budget, there are multiple pocket-friendly options for accommodations. Check out hostels, homestays, pet-sitting gigs, and Couchsurfing as potential living arrangements.
Couchsurfing and homestays let you share a house with the locals, which adds an interesting and authentic spin to your experience of the country.
House-swapping is another exciting option to consider. The basic idea is that you stay in someone's house while holidaying in their country, and they live in yours. It is economical, and you get to live in a fully-equipped house.
5. Creating a Shared Itinerary
This is by far the most crucial part of your planning process. Putting pen to paper is essential to ensure that you don't miss planning something that could later put you in a tough spot. If you are traveling with friends or family, create a shared document that everyone can view and edit.
How to plan a trip with multiple stops? The answer is — a robust itinerary.
A detailed step-by-step map of your preferred route.
City-wise itinerary – List out all the places you want to visit. Split your days wisely to include a mix of must-see sites and less "touristy" spots.
Travel information – List all the connecting flights, bus rides, train journeys, and drives that you plan to make along with their respective times. Also, include links to track your trips so that you stay on top of delays or cancellations.
Visa information – Do you need a different visa for some of the places on your route? Write it down in your itinerary, and cross it off once you have acquired the documentation.
Accommodations – Match each city with the living arrangement that you have booked for it. List the phone numbers or email of the proprietors to contact in case of emergencies.
Cost splitting – Make a spreadsheet or use a cost-tracking app to log the finances of the trip. If you are traveling with your companions, this is great to settle the payments afterward. This will also help you stay within your budget.
Emergency contact information – Staying safe and healthy is your top priority on the trip. Include a section for emergency contacts of the police and medical services in each country you plan to visit.
6. Get an International Credit Card
You will be surprised at how much currency conversion and transaction fees can impact your total expenditure. Getting the right international travel credit card is the best way to mitigate these extra costs.
Look for a plan covering the currencies of all the countries on your route. You can load the card up and pay as you go without worrying about daily exchange rates. Alternately, get an international credit card with additional benefits like airport lounge access, flight booking rebates, and higher points rewards.
Remember to inform your credit card company about your upcoming trip, because it might flag and block your foreign transactions for being irregular.
7. Research your Destination
One of the downsides of a multi-destination trip is that you will not get a lot of time to explore a destination organically. That's why you need to know beforehand about the best places to visit. Hop on Facebook or Instagram to find the most picturesque and enthralling sites to explore.
Search for travel hashtags and tours to find the best hiking trails, artsy cafes, nature retreats, and local foods.
If you're keen on knowing how to plan a road trip with multiple stops, realize you'd need to consider more factors, such as; finding viable pitstops, working out leaving and arrival times, and procuring necessary travel permits.
8. Leave Some Breathing Room
Finally, you must come to terms with the fact that even the best-planned itinerary can go haywire. So, prepare alternate plans and don't expect to follow the schedule to a T.
Remember to keep some time free for unwinding and relaxation. Don't overstretch your physical limits by cramming too many activities into too little time.
The point is to enjoy and have a good time, and you don't need to check off a hundred destinations to do that.
Parting Thoughts
Before you can truly claim you know how to plan a multi-destination trip, you'd rather answer these questions:
What exactly is my rationale behind planning a multi-stop vacation?
What's the pleasure versus planning (pain) equation?
What all resources will I need (time, money, energy, insurance, mind-space)?
Happy planning.
We are sorry that this post was not useful for you!
Let us improve this post!
Tell us how we can improve this post?