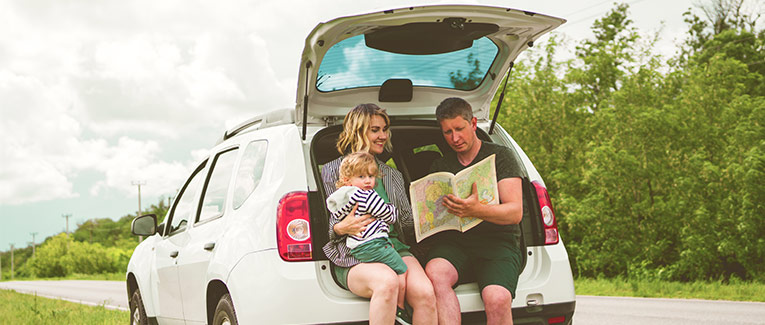 A 12-hour road trip with one irritable three-year-old,  one talkative seven-year-old, and plenty of backseat bickering is enough to send even the most fearless parents running for the hills.
But, all is not lost.
Here is a compilation of the best road trip games and activities for kids of all ages. Hours of nonstop fun and entertainment, guaranteed.
Road Trip Activities and Games for Two to Five-Year-Old Kids
1. What's that animal?
Animal sounds. Toddlers just love them, don't they?
Go crazy with funny animal noises, and ask your child to guess the animal. You can also download an animal sounds app on your phone.
If you want a less-noisy version, give your child clues about an animal and ask them to guess.
For instance, "What animal is big, has a big mane, and roars?"

For visitors, travel, student and other international travel medical insurance.
Visit insubuy.com or call +1 (866) INSUBUY or +1 (972) 985-4400

2. DIY Road-trip activity kit
Who needs store-bought preschool activity books when you can make your own?
Here's how you do it:
Check online for free activity printables
Print out worksheets that your child will enjoy
Organize the worksheets in a three-ring binder
Pack crayons, colored pencils, erasers, and other stationery in a pouch
A few worksheet ideas for your activity kit
Scavenger hunt list (keep it simple with images of signposts, cows, cars, etc.)
Road trip I-spy sheets
Alphabet tracing
Connecting the dots
Counting activities
Matching activities
Coloring sheets
Parent hacks:
Want to create reusable activity sheets? Insert your worksheets into plastic page protectors and have your kids use a dry erase marker.
Don't want your crayons rolling off into those hard-to-reach spaces? Triangular crayons to the rescue!
3. What color is it?
You rattle off a bunch of same-colored objects until your little one guesses the color.
For instance, you might say, "Tomatoes, fire trucks, cherries" and so forth until your kid says "Red!"
4. Magnetic cookie tray
Put that old cookie sheet of yours to good use.
Grab a few magnets of alphabets, shapes, and numbers, and ask your toddler to spell out a word, count the red magnets, or arrange the numbers in sequence on the cookie sheet.
Or, just let them go to town with their magnets.
5. Sing that nursery rhyme
A simple game that'll get your toddler's noggin working!
For example, you ask your three-year-old, "Can you sing a nursery rhyme with the word 'clock' in it?" They might take a few seconds to think before they sing "Hickory Dickory dock".
6. Seek-and-find books
If your five-year-old loves a good challenge, then seek-and-find books are your best bet. Not to mention, they'll be engaged in these books for a good while.
A few good ones include:
Find My Favorite Things by DK
I Spy (Sesame Street) by Caitlin Haynes
The Hardest Hidden Pictures Book Ever (published by Highlights)
7. Fun-to-eat munchies
Yep, even snacks can keep your four-year-old occupied while traveling. Especially, when they are oh-so-ingeniously presented.
Here are a few ideas:
Get a compartment-style lunchbox. Pack a few different colored snacks in each compartment. Let's say, apple slices, carrot pieces, bell pepper sticks, and hummus. Ask your child to name the colors before they pop them into their mouth
DIY Trail mix – Mix all your kid's favorites. It could be nuts, cranberries, dry cereal, popcorn, and chocolate chips. Go easy on the sugary stuff, unless you want your kid to be bouncing off his car seat!
Make a bracelet out of your child's favorite hoop-shaped cereal. What could be more fun than a bracelet you can nibble on?
Road Trip Activities and Games for Ages Six to 10
1. Cows on my side
Road-tripping through the countryside? This game's sure to keep your children entertained.
Be warned: Things can get LOUD!
Here's how you play:
You see cows on your side of the road, you yell, "Cows on my side!" One point for you.
You see cows on the other side, you shout, "Cows on your side!" Yell this before your opponent does, and their point is all yours.
Now for the twist in the plot. Come across a cemetery on the way? The first player to scream "GHOST COW!" gets everyone's points!
2. Memory game
Mom looks out her window and says, "I'm on a road trip, and I see a red car".
One child then hunts for other objects outside. He says, "I'm on a road trip, and I see a red car and a billboard."
The next child says, "I'm on a road trip, and I see a red car, a billboard, and a cow," and so on.
Someone forgets an item on the list? Game over!
3. Road trip – I-spy
Race to the finish line with this super-competitive car ride game!
Write down all the letters on a sheet of paper. Look out your window, and each time you spot an object, write it against the corresponding letter.
The first one to get through the entire alphabets wins!
Road Trip Activities and Games for Tweens and Teens
1. G-H-O-S-T
Nope, this is NOT a spookfest.
One person starts by saying any letter. The next player adds another letter and this goes on until the word is complete. The person who says the last letter of that word, gets a "G". The first player to get all the letters of the word G-H-O-S-T, is out.
Words should have at least 4 letters to qualify.
For example, Mom says "F", Jim says "O", Dad says "U", and Gina says "R". Gina now gets a "G" for completing the word "FOUR".
2. Word association
Perfect for those whiz-kids in the backseat.
For instance, John says "cold," Mom says "frozen," Tina says "Elsa," Dad says "Disney," and so on. Someone taking too long to answer, says an unrelated word, or repeats themselves? It's game over!
Road Trip Activities for the Whole Family
1. Musical games
One thing that can keep everyone bright-eyed and bushy-tailed on a long car ride is music!
Here are a couple of musical games to keep you hooked:
Hum n' Guess
One person hums a tune. It could be the theme song of your favorite TV show or from a movie
The player who guesses correctly hums the next tune, and so on
Guess the song
Someone sings one line of a song, while the others guess the title
Extra points for guessing both the singer and the title
Guessing games not up your alley? Blast your favorite tunes and have some good old karaoke fun!
2. Audiobooks
Your kids getting a little too boisterous in the backseat? It's time to whip out the audiobooks.
There are a plethora of free audiobooks to choose from, including:
The Wizard of Oz (Audible)
The Velveteen Rabbit (Spotify)
Katie and the Magical Deer (Storynory)
The Adventures of Pinocchio (Librivox)
3. Podcasts
"Why is the sky blue, mom?"
"Mom, why are planets round?"
"Where did all the dinosaurs go, dad?"
Do your kids ask you a gazillion questions like these?
Tune in to these nerdy science podcasts on your next long car ride. Who knows? You could learn something new, too:
But Why? A Podcast for Curious Kids
Brains On!
Tumble

For visitors, travel, student and other international travel medical insurance.
Visit insubuy.com or call 1 (866) INSUBUY or +1 (972) 985-4400

4. Watch Your Mouth
Best way to get your kids to stop saying "Are we there yet"? Turn it into a game!
The whole family decides on five words or phrases that are banned during the entire car ride.
For example, you could choose hard-to-avoid words like "eat," "see," "no," or "mom."
Say any of these words and you get a point. The winner is the one who scores the least points at the end of the trip.
With games like these, your next road trip adventure with the kids will be a breeze!
But, don't forget the most important part of your road trip: travel insurance. If there is an emergency or accident during the trip, you will want to be covered for the extra expenses.
We are sorry that this post was not useful for you!
Let us improve this post!
Tell us how we can improve this post?