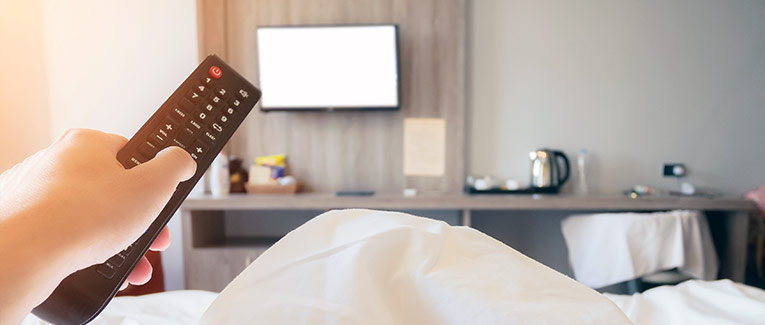 The frequent-flying globetrotter tends to assume that certain hotel amenities will be provided without having to pay an extra fee.
This utopian image of hotels that we build for ourselves mentally can quickly get shattered when you head up to your room and find no TV.
To avoid setting yourself up for disappointment, pack whatever you think you will need for the duration of your stay that cannot be purchased at the destination itself.
There is one extremelyeffective thing you can do to minimize the risk of falling victim to presumptions and then getting into a huff over a ruined vacation: When in doubt, ask.
The worst that the hotel employees will say is, "sorry, we don't offer that service currently."
Here are the six amenities and services that most people assume that hotels offer, when they actually very often don't.
Services That Hotels Usually Don't Offer
1. Television Sets
This is because many travelers are now looking at hotel vacations as getaway vacations. This includes getting away from technology.
Hotel chains observed that a remarkably large portion of their guests were not using their in-room TVs, so they decided to make television-enabled rooms an optional upgrade.
If no information is available on the website, phone the concierge before checking in and inquire whether your room has a TV or not.
If it's not that important to you, it's probably not worth making a fuss over.
2. Wi-Fi or Internet
Almost every single hotel will have an internet connection.
That internet, however, is probably only open to hotel employees for work purposes. Hotels have found that charging for Wi-Fi makes a tidy bit of side income every billing cycle, so that is exactly what they do.
First, check with your service provider to see if they offer conducive rates for data packs. If they do not, find out if there is free Wi-Fi available to guests.
There might not be free internet access at your hotel, so you will need to pay for it. In this case, find out about the cost of the internet packages that the hotel offers, and then let your wallet decide whether or not the packs are worth it.
If your stay is going to be for long duration, then the daily price of the internet might come to the amount it would take to upgrade to the next tier of rooms.
Higher-tier rooms may come with free internet, so do your research and decide whether you want to spend a little more to get a better room and free internet, or if your budget simply won't allow that option.
3. Room Service
If your hotel is a "full-service" hotel, it is probably wholly self-sufficient, complete with a laundromat, restaurant, bar, and reception.
But, as is slowly becoming the norm, if your hotel is classified as a "limited-service" enterprise, it may lack some of those features.
This is not to say that these hotels are cheap or tacky, as these hotels are often replete with other amenities like a gym, swimming pool, conference room, and business hubs.
Three Other Services That Are Often Not Provided At Hotels
1. Airport Shuttles
While it would be lovely to have a ride to and from the airport, it is simply not a reality. Many hotels do provide this feature, but only if you ask them, and usually for a fee.
Only very high-end hotels provide free airport shuttles, and these have such high per-night prices that they will easily recoup their expenses.
We all know how dicey rideshare services can be at times, so call ahead and reserve a taxi at the airport itself.
Give the taxi agent your flight number so that they know if your flight is delayed. This way, they will not charge you a cancellation fee should your flight be held up. And if your flight is delayed to the point that you may miss a night in your hotel that you've already paid for, be sure to have travel insurance so you have the opportunity to be compensated.
2. Daily Linen Changes
Your sheets and towels are not changed every day of your stay anymore. This is partly due to cost-cutting efforts, and partly due to trying to become more eco-friendly.
The hotel staff will, in most cases, change the sheets if you ask them to, but keep in mind that this is not a default service anymore.
3. Individual Toiletries and Freebies
Following up on the bid of trying to be more environmentally friendly, hotels have opted to cut down on plastic waste.
They will still provide basic toiletries, but just not as excessively, as was the norm a few years ago.
Assuming anything is setting yourself up for disappointment, so always ask about included amenities before you book your hotel.
We are sorry that this post was not useful for you!
Let us improve this post!
Tell us how we can improve this post?