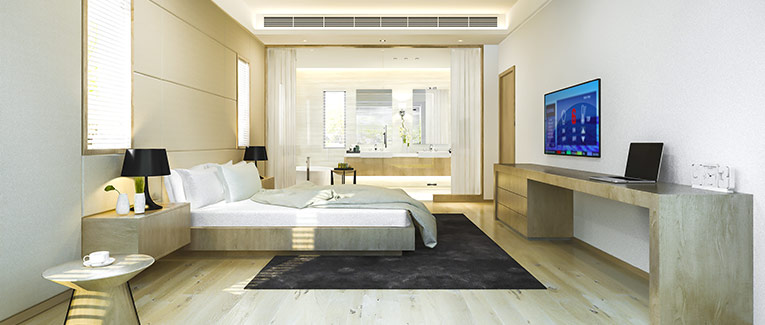 Smart hotels offer comfort and personalization. Your face can open the door, and your voice can turn on the light.
However, these connected technologies are susceptible to data theft, and pose the risk of exposing personal information through the internet.
Here, we will discuss the benefits of smart hotels, as well as the associated risks, and ways to combat them.
Smart Guest Room Lab in the Marriott Headquarters
In Bethesda, Maryland, Marriott has created a prototype smart hotel room. The developers continue to experiment with voice commands and other features with this prototype. CBS News Travel Editor Peter Greenberg went to explore the facility and published the experience in an article titled, "Are "smart hotels" a danger to privacy?"
All guests can personalize their smart rooms. They get access to their own profiles that can include workout schedules and relevant weather updates, and they can even upload personal photos for display.
Some Marriott showers now offer 'Smart-Glass' technology, too. Guests can write down their thoughts on the fogged-up glass, and then later on, they can have them emailed to their smartphones.
Connection Rooms in Hilton Hotels
If you are leaving home and are reluctant to miss your favorite Netflix show, you don't have to worry about that anymore.
Hilton collaborated with Netflix in order to enhance the guest experience. In Connection Rooms, guests can log into their Netflix accounts with either the keyboard on the Hilton Honors app, or with the remote control.
In a Connection Room, guests can remotely control the television, lights, and even the temperature. The addition of the Netflix account makes the experience even more personalized.
The hotel claims that it deletes the password and other personal information upon checkout.
Hilton offers 1,800 Connection Rooms in the U.S. alone. The hotel chain confirmed that it plans to add more both in the U.S. and worldwide.
FlyZoo by Alibaba
Alibaba constructed the futuristic FlyZoo hotel in China. The 290-room smart hotel opened for guests in 2018.
Every door in this hotel opens with facial recognition, and the same is true for every elevator. Even the coffee can be decorated with your face imprinted over it.
You will feel that the world revolves around you in FlyZoo, because the experience is so personalized.
The CEO of Alibaba Future Hotel, Andy Wang, remarked that Millennials will love the hotel, but middle-aged and older people might feel intimidated. He also assured that the hotel deletes the facial recognition data when the guest leaves.
Alibaba stated no plans of opening more hotels. FlyZoo serves as a platform to test and develop the technologies. Later on, the company plans to sell the technology to existing hotel chains.
Amazon's Alexa Customized for the Hospitality Industry
Amazon offered a customized version of Alexa for the hospitality industry in June, 2018.
You can adjust room controls such as lights, temperature, and even blinds with Alexa. In addition, you can order room service, or request a housekeeping visit.
Alexa even answers location-specific questions such as the location of the pool or other hotel amenities. Marriott Hotels, Westin Hotels and Resorts, and Aloft Hotels already offer Alexa in their smart rooms.
The Alexa command recordings clear out every day, and the hotels cannot review Alexa's response to users either.
Three Risks Associated with Smart Hotels
1. Invading Privacy and Data Brokering
You agree to share your personal data when you opt for smart services.
Former security advisor Eric Cole talked to CBS News about privacy issues. He remarked that smart hotels track your phone, therefore they know where you go, what you order in a restaurant, and even what coffee you drink.
2. Hackers are Waiting
Smart keys allow you to open hotel doors with your phone. However, they also leave you susceptible to hackers. Hackers can intercept smart keys from up to 15 feet away.
Hotels often offer free, but unprotected, Wi-Fi. Hackers can install malware to steal your passwords, credit card details, or any other sensitive information you have on your phone.
3. Alexa, Could You Expose Me?
Alexa's voice recognition feature is far from perfect. A Portland woman complained that an Echo device recorded a conversation between her and her husband, and the device sent the conversation to one of her husband's employees.
Amazon confirmed the incident occurred. However, the company also claimed Alexa mistook the conversation as commands, and the device wasn't spying on people.
Three Ways to Eliminate the Risks
1. Separate Cards, VPN, and Security Apps
It would be very dangerous if hackers got access your bank account. To prevent this, use a separate bank account and credit card to pay for a smart hotel.
Use a virtual private network (VPN) when you're using the hotel's free Wi-Fi. The process encrypts any data you send or receive. including credit card information, bank details, and passwords.
Install trusted security apps on your device. An antivirus program and software that warns you about unsafe websites would suffice. Always make sure to update these apps to get the best results.
2. Check Bank Statements Even After You Check Out
Hackers are getting smarter each day. Now, they wait until you check out of the hotel to use your information. Therefore, it's best to check bank statements even after you've checked out of the hotel.
You should contact your bank if you notice the points mentioned below:
Bills for products and services you never bought
Receiving debt collector calls
Unfamiliar account names appearing in the bank statement
Merchants refusing your checks
3. Opt Out of Smart Services
If you want to stop data theft, try not to give out your information. Hotels such as Marriott and Hilton offer an opt-out option from smart services.
If this option isn't available, avoid using the smart features and unplug any smart display or speaker.
Choose Privacy over Comfort
Robots and voice commands bring comfort, but at a cost. You miss out on the human connection, and your data turns into a commodity. Always choose privacy over ease.
Other Ways to Protect Yourself
Even if you opt out of smart services, your finances could still be at risk when booking an international trip. If your trip is cancelled or delayed, you may be faced with nonrefundable hotel booking charges, airline tickets, and other prepaid, nonrefundable expenses. Likewise, if you become hurt or sick in another country, your domestic health insurance likely won't provide sufficient coverage. If you require treatment at a medical facility, you could be responsible for paying the entire bill yourself.
You can have protection in these situations by purchasing travel insurance before your trip. A travel insurance plan can offer valuable benefits such as trip cancellation coverage, trip interruption coverage, emergency medical coverage, and more. The exact coverage will vary depending on the policy you choose, so you are encouraged to research plans thoroughly, and choose one that offers the right coverage for your trip.
We are sorry that this post was not useful for you!
Let us improve this post!
Tell us how we can improve this post?