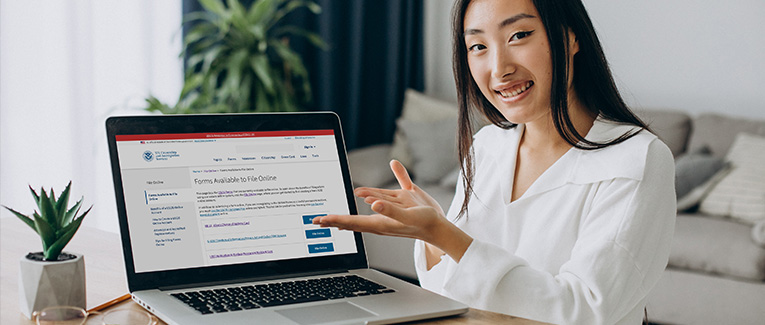 Please note that some forms are available for
Online Filing
. Whenever possible and if you are eligible, you should file the form online. Image

next to the form number below indicates that online filing is available for that form.
Almost all of the forms below are fillable forms. You can fill the form on this website and print it. No need to write by hand.
Application filing instructions
USCIS Forms
Form
Description
AR-11
Change of Address Form
G-28
Notice of Entry of Appearance as Attorney or Representative
G-639
Freedom of Information/Privacy Act Request
G-845
Verification Request (Non-SAVE Agencies)
G-845S
Verification Request (SAVE Agencies)
G-884
Return of Original Documents
G-1041
Genealogy Index Search Request
G-1041A
Genealogy Records Request
G-1145
E-Notification of Application/Petition Acceptance
I-9
Employment Eligibility Verification
I-90
Application to Replace Permanent Resident Card
I-94
Arrival-Departure Record

Your stay in USA is determined by the date on I-94, which is stamped by immigration officer at port of entry.

I-102
Application for Replacement/Initial Nonimmigrant Arrival/Departure Record
I-129
Petition for A Nonimmigrant Worker
I-129F
Petition for Alien Fiance
I-129S
Nonimmigrant Petition Based on Blanket L Petition
I-130
Petition for Alien Relative
I-131
Application for Travel Document

Sample form – Advance Parole
Sample form – Re-Entry Permit
Sample form – Refugee Travel Document

I-134
Affidavit of Support
I-140
Immigrant Petition for Alien Worker
I-191
Application for Permission to Return to an Unrelinquished Domicile
I-192
Application for Advance Permission to Enter as Nonimmigrant
I-193
Application for Waiver of Passport and/or Visa
I-212
Application for Permission to Reapply for Admission into the US After Deportation or Removal
I-290-B
Notice of Appeal to the Administrative Appeals Unit (AAU)
I-360
Petition for Amerasian, Widow(er), or Special Immigrant
I-361
Affidavit of Financial Support and Intent to Petition for Legal Custody
I-407
Abandonment of Lawful Permanent Resident Status – Surrender Green Card
I-485
Application to Register Permanent Residence or to Adjust Status
I-485 Supplement A
Supplement A to Form I-485, Application to Register Permanent Residence
I-508
Waiver of Rights, Privileges, Exemptions and Immunities (Under Section 247(b) of the INA)
I-526
Immigrant Petition By Alien Entrepreneur
I-539
Application to Extend/Change Nonimmigrant Status
I-539 Supplement A
Filing Instructions for V Nonimmigrant Status
I-566
Interagency Record of individual Requesting Change/Adjustment to or from A or G Status
I-589
Application for Asylum
I-600
Petition to Classify Orphan as an Immediate Relative
I-600A
Application for Advance Processing of Orphan Petition
I-601
Application for Waiver of Grounds of Excludability
I-602
Application By Refugee For Waiver of Grounds of Excludability
I-612
Application for Waiver of the Foreign Residence Requirement
I-687
Application for Status as a Temporary Resident Under Section 245A of the Immigration and Nationality Act
I-690
Application for Waiver of Excludability
I-693
Medical Examination of Aliens Seeking Adjustment of Status
I-694
Notice of Appeal of Decision
I-698
Application to Adjust Status From Temporary to Permanent Resident
I-730
Refugee/Asylee Relative Petition
I-751
Petition to Remove the Conditions on Residence
I-765
Application for Employment Authorization
I-800
Petition to Classify Convention Adoptee as an Immediate Relative
I-800A
Application for Determination of Suitability to Adopt a Child from a Convention Country
I-817
Application for Family Unity Benefits
I-821
Application for Temporary Protected Status
I-824
Application for Action on an Approved Application or Petition
I-829
Petition by Entrepreneur to Remove Conditions
I-864
Affidavit of Support
I-864EZ
Affidavit of Support
I-864A
Affidavit of Support Contract Between Sponsor and Household Member
I-864P
Poverty Guidelines
I-865
Sponsor's Notice of Change of Address
I-881
NACARA – Suspension of Deportation or Application for Special Rule Cancellation of Removal
I-905
Application for Authorization to Issue Certification for Health Care Workers
I-907
Request for Premium Processing Service
I-914
Application for T Nonimmigrant Status
I-918
Petition for U Nonimmigrant Status
N-4
Monthly Report Naturalization Papers
N-300
Application to File Declaration of Intention
N-336
Request for Hearing on a Decision in Naturalization Proceedings Under Section 336 of the INA
N-400
Application for Naturalization
N-426
Request for Certification of Military or Naval Service
N-470
Application to Preserve Residence for Naturalization Purposes
N-565
Application for Replacement Naturalization Citizenship Document
N-600
Application for Certification of Citizenship
N-600K
Application for Citizenship and Issuance of Certificate under Section 322
N-644
Application for Posthumous Citizenship
N-648
Medical Certification for Disability Exceptions
Nonimmigrant Visa Applications
| | |
| --- | --- |
| Form | Description |
| | Online Form for US Nonimmigrant Visa Application |
| | Application for A, G, or NATO Visa |
| | J-1 Visa Waiver Review Application Instructions |
Immigrant Visa Applications
Form
Description

Application to Determine Returning Resident Status

Special Immigrant Visa Biodata Form

Application for Immigrant Visa and Alien Registration

Sample form

Petition to Classify Special Immigrant Under INA 203(b)(4) as an Employee or Former Employee of the US Government Abroad

Affidavit Concerning Exemption from Immigration Requirements for a Foreign Adopted Child

Medical Examination for Immigrant or Refugee Applicant
We are sorry that this post was not useful for you!
Let us improve this post!
Tell us how we can improve this post?