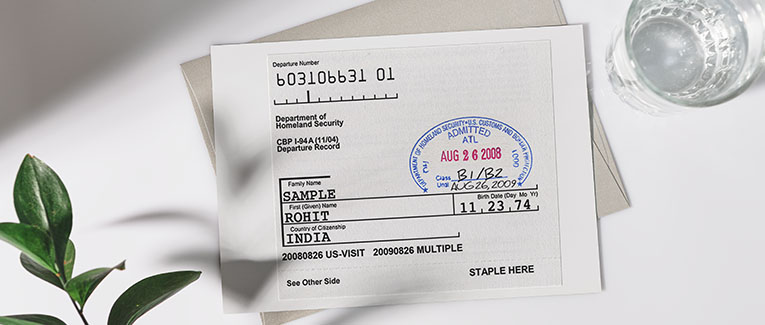 What is a Form I-94?
Form I-94 is the arrival / departure record by the US Department of Homeland Security (DHS) that is issued to aliens who are admitted to the US, who are adjusting status while in the US, or who are extending their stay in the US.
When you enter the US, a CBP (Customs and Border Protection) officer attaches the Form I-94 to the traveler's passport.
Using the information in this form, the US government tracks the travelers who are not US citizens or US permanent residents (green card holders) when they are entering the US, when they are departing the US, and whether they are overstaying in the US.
Electronic Form I-94
For air and sea port of entry, since May 2013, the electronic Form I-94 is issued based on the information earlier provided by the traveler, as part of the visa application process, the visa waiver application ESTA, and to the airline or other carrier.
When you enter the US, a CBP officer will scan your passport and stamp it indicating the date until which you are admitted into the US, and the status on which you are entering the US.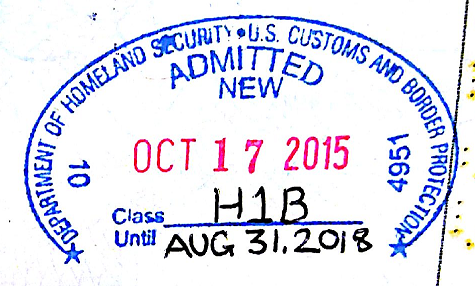 There is no paper I-94 form issued. Therefore, you don't have to fill any paper I-94 form in the flight or on the ship.
Printing Form I-94
When you are issued an electronic Form I-94 form, you still need a paper copy for various reasons, such as applying for a driver's license or social security number, completing Form I-9 at the time of starting a job, extending your non-immigrant status in the US, and various other purposes.
You can print yourForm I-94 from the CBP website.
In order to print Form I-94, you will need the information from your passport, your visa, other forms (such as Form I-20, Form DS-2019), your travel details, and more.
If you are unable to print Form I-94 from the CBP website, you should file Form I-102, Application for Replacement/Initial Nonimmigrant Arrival-Departure Record, with USCIS.
Paper Form I-94
CBP issues the paper-based I-94 form for land entry, as well in some limited circumstances, such as asylees,parolees, and in other cases where CBP determines that the issuance of a paper form is appropriate.
Sample Paper I-94 Form – Arrival and Departure
Authorized Stay in the US
If your Form I-94 or passport stamp indicates a date, you are authorized to stay in the US until that date, and must leave at the latest by that date. Commonly, people entering the US on tourist visa or business visa would have the date indicated.
On the other hand, if it says "D/S", which means "Duration of Status", you can legally stay in the US as long as you properly maintain your nonimmigrant status and your I-20 (F-1) or DS-2019 (J1) has not expired.
Exiting the United States
If you were issued an electronic Form I-94, you don't need to do anything while exiting the United Dtates. CBP will record your departure using manifest information obtained from the carrier, such as an airline or ship.
If you were issued a paper Form I-94, you should surrender it to the airline or ship when at the check in counter. They would forward it to CBP.
In any case, the departure will be recorded electronically by CBP.
What if I was Issued and Incorrect I-94?
If you were issued an incorrect I-94 form by CBP at the port of entry (mistakes, such as name misspelling, wrong date of birth, etc.), you should visit a local CBP deferred inspection site or port of entry to have your admission record corrected.
On the other hand, if USCIS issued an incorrect I-94 form, such as when extending your stay in the US, you would need to file a request to get it corrected.
More Information – Correcting Form I-94 Errors
I-94 Admission Number
Form I-94 has an admission number. It is normally an eleven-digit number. However, since May 2019, DHS is planning to make it an alphanumeric number since they are running out of the numbers with just digits.
Returning the I-94
If you were issued a paper I-94, and you didn't return it when departing the US, you should return it to properly record your departure.
We are sorry that this post was not useful for you!
Let us improve this post!
Tell us how we can improve this post?