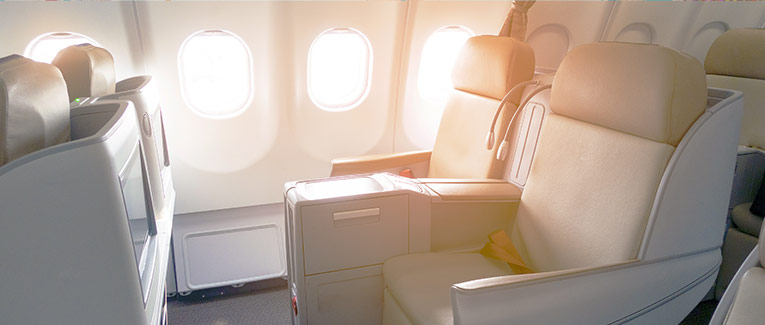 Some dream of flying to outer space. For others, their dream is to fly first class.
The former is an ambition that only a handful of people can achieve, but that doesn't have to be true for the latter.
You've heard the tales of how incredible first class is. You've always had the itch to find out what the fuss is all about, but there never seemed to be a good enough reason to justify spending that kind of money.
Is it worth flying first class? Absolutely. If you want to know when to fly first class, here are seven reasons to upgrade.
When to Fly First Class – 7 Reasons
1. Because You Want To Make A Trip Memorable
When should you fly first class? If you are planning to surprise your partner with the ultimate European holiday for your 10th anniversary, up your game by splurging on first-class tickets to get you there and back. 
If you've never flown first class, you're probably wondering what do you get when you fly first class. You'll get to breeze through exclusive check-in counters, be the first to board and deplane, sink into a spacious seat, fill up on top-notch food, and drink to your heart's content. Speaking of which, take the surprise even further by arranging for your partner's favorite meal if the airline provides the option to dine on-demand.
Shelling out the big bucks is no joke, but what better way to make an occasion more special? If one thing is guaranteed, it's that the experience will be unforgettable from start to finish.
2. Because You Deserve To Spoil Yourself
When was the last time you pampered yourself? You don't need a companion, or even a reason, to celebrate yourself for all that you do. Indulging in first class solo will be the self-care of a lifetime.
If the price point for a round-trip flight looks so steep that the guilt will trump the fun, book a one-way ticket. You can get a taste of first class at half the cost. It's ideal to book the leg of the journey that's overnight so you can rest and arrive at your destination fresher than ever.
The perks of first class aren't limited to the aircraft. Make sure to make the most of everything that comes before and after. These amenities can include extra baggage allowance, lounge access, and fast lanes at the airport, freebies to freshen up, complimentary hotel transfers, and more.
3. Because You Want To Get Things Done
Though it comes at a considerable cost and isn't obvious at first, few environments are as comfortable and conducive to productivity as the first-class cabin.
What to expect when flying first class? You get a cushy seat, a pull-out tabletop to create the ideal workstation, free Wi-Fi, charging ports, and the ability to ask for anything else you might need.
Flight attends will cater to your schedule, so request for meals to be brought accordingly. You can also ask for a 'do not disturb' sign to be put up at your seat if you need to get in the zone during your work period.
Once you're done ticking off tasks, you can just as easily wind down and kick back to reward yourself. You wouldn't want to miss the joy of fully reclining on an airplane, after all.
4. Because You Have A Long Way To Go
When to book first-class flights? When you're on a long-haul flight. Why?
Middle seat. Cramped legs. Waging wars for both armrests.
And you have seven more hours to get through.
You'd give anything at that point to escape the economy class. If you'd booked first class, you wouldn't have to be in such a situation. Though economy tickets are cheaper, you'll thank yourself for saving up your cents to fly first class on an overseas trip; especially one that's longer than five hours.
Plus, long-haul journeys give you ample time to enjoy the endless extravagances that you're paying for in first class. International carriers are designed differently than domestic ones for this purpose. In first class, you'll forget you ever had to fight for elbow space.
5. Because You Have Points To Redeem
If you have raked up points or miles over all those years of traveling for business trips and are waiting for the right chance to use them, you might have enough to cover a first-class ticket fully, or at least partially.
While getting first class without losing your coin sounds like a sweet deal, you should weigh out the implications of paying in points over cash before committing to it. Points are most handy when you have a significant balance, or if your immediate finances are tied up elsewhere. Also, do your homework to know if it's worth redeeming your points based on the airline, their loyalty program, and terms of associated travel or credit cards.
6. Because You Can Nab It At The Right Price
Nothing beats the satisfaction of getting a discount, especially when it saves you anywhere between a few hundred and a couple of thousand dollars.
With research, timing, and a little luck, the fare gap between a first class and coach ticket can be narrow enough to fall within your budget.
It'll help to compare ticket prices between multiple airlines, analyze routes, and be flexible with dates. Watch out for credit card signup bonuses that are tied to airline offers to get the maximum discounts. To give yourself the best chance, try to book a few weeks in advance, and stay away from Fridays, Sundays, and Mondays to avoid peak rates.
7. Because You Want More Than A Seat
An unspoken, yet invaluable, benefit of flying first class is networking. Traveling in the same leagues as the crème de la crème of flyers is bound to lead you to personal and professional opportunities that you wouldn't have fathomed to have access to otherwise.
You'll probably be able to find your co-passengers at the gate or lounge, and the time you spend waiting is perfect to strike up a conversation or two. You'll come across people who are just as chatty as you, some who open up as they get familiar, and others who aren't as pleasant. Whichever it is, be aware of personal boundaries. Whether you make friends or not, you don't want to annoy those around you.
Last but certainly not least, be friendly with the crew too. This may be your only first-class foray, whereas it's their forte. You never know how being in their good books will bode well for you in-flight and beyond.
When to Fly First Class – One Last Tip
Now that you know when to fly first class, a word of caution. Though booking a first-class ticket can entitle you to a wealth of luxuries on your flight, it doesn't eliminate the common annoyances all travelers face. Your luggage could still get lost or delayed, and your flight could be running behind or cancelled entirely. This could cause you to lose money on nonrefundable, prepaid bookings such as hotels, events and attractions.
By purchasing travel insurance before your trip, you can mitigate the effect these sorts of circumstances can have on your bank account. You can be covered for unexpected delays and cancellations, along with a variety of other travel and medical-related situations. It's one way you can give your entire trip the first-class treatment.
We are sorry that this post was not useful for you!
Let us improve this post!
Tell us how we can improve this post?