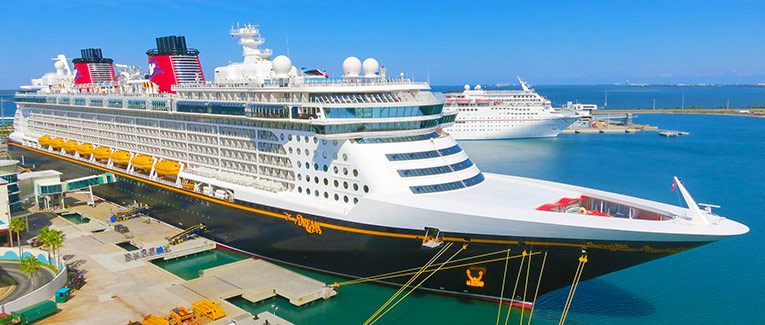 A black hull, two giant red funnels, and a Mickey Mouse logo are how Disney designs every ship for the Disney Cruise Line (DCL). With its four ships, Disney offers the best cruise experience. The four ships are Disney Dream, Disney Fantasy, Disney Magic, and Disney Wonder. Three more ships, including Disney Wish, will join the fleet by 2025. But, what goes on inside the Disney cruise? You are about to find the answer. In the next five minutes, learn 11 lesser-known facts about Disney cruises.
11 lesser-known facts about Disney cruises
1. Peek through the 'magical portholes'
Received an inside stateroom? You can still glance at the horizon. DCL offers 'magical portholes' in inside staterooms.
The magical portholes are screens. Disney mounts high-definition cameras on the outside of the ship, and the cameras capture real-time videos and show the footage on the screen.
Furthermore, Disney characters including Mr. Potatohead can peek at you through the porthole. As if all of it wasn't enough, the Millennium Falcon can whoosh pass.
The Disney Dream and Disney Fantasy offer the portholes in 88% of the inside staterooms. The number translates to 1,100 rooms. Disney Magic and Disney Wonder offer the same feature in over 613 rooms.

For visitors, travel, student and other international travel medical insurance.
Visit insubuy.com or call +1 (866) INSUBUY or +1 (972) 985-4400

2. A floating luxury hotel
Craving more Disney cruise facts? There are 950 crew members from over 86 nationalities that Disney employs on each ship. If the ships are booked to capacity, the crew-guest ratio stands at 1:3.
Furthermore, you never pay for room service. Disney includes the cost in the cruise packages. Order cookies, sandwiches, or Mickey Mouse ice cream whenever you wish. However, keep cash handy to tip the staff.
Crave a cup of coffee? All Disney Ships have a coffee bar called the Cove Café. The coffee bar serves tea, specialty drinks, and pastries as well.
If the temperature drops below 75 degrees, you can dive into the heated swimming pools that each Disney ship offers.
Every Disney ship provides Wi-Fi, so you can upload that selfie and seal that business deal while on the sea.
3. Disney cruises turned into Broadway
Disney cruise ships offer Broadway-style shows based on Disney classics. Here are a few of them:
Disney Wonder showcases Frozen, Disney Dream plays Beauty and the Beast, and Disney Magic portrays Tangled, while Disney Fantasy chose Aladdin for its show.
Participate in the 'Pirates in the Caribbean' deck party. Wear a pirate bandana, choose to feast on Pirates Gold-en Pot Stickers, or Jolly Rogers Barbecue Rib Salad.
Done with dinner? Gather around on the deck to dance with Disney characters. The party ends with a fireworks display.
4. A movie theater on the sea
All DCL ships allow you to watch your favorite movies when they are released on the cruise. The on-board Buena Vista Theater plays feature films, including 3D films from Disney and Pixar. If you book a cruise this fall (2021), watch out for Spider-Man: No Way Home, and Death on the Nile.
You never pay to enter the theater. Can you think of a better deal than that?
The theater decor emulates movie houses of the 1920s and 1930s. This period marks the time when Walt Disney produced the first Mickey Mouse animated films. The theater spans over three decks. and houses up to 400 guests at a time.
5. Disney cares about both E's — entertainment and environment
Disney Cruise Line uses a 100% non-toxic hull coating on all ships, so that no marine animal suffers. Furthermore, the coating reduces the ship's surface resistance in the water, helping the ship use less fuel.
The ships collect condensation from the air-conditioning units and reuse that water to wash the decks. This process saves over 30 million gallons of water every year.
Disney also partnered with the Bahamas Waste Management (BWM). Under the partnership, DCL ships collect over 1,000 gallons of cooking oil from Shipboard galleys. Afterward, Disney sends the oil to the BWM. The BWM converts the cooking oil into biodiesel fuel, and the biodiesel fuel powers BWM vehicles.
The shipboard recycling systems recycle over 325 tons of plastics, aluminum, and paper. That's the weight of 24 humpback whales, or over 54 school buses.
6. Star Wars onboard
Traveling on the seven-night Caribbean cruises from Port Canaveral? Expect to interact with Star Wars characters.
Strike poses with over a dozen Star Wars characters including R2-D2, Darth Vader, and Chewbacca. DCL ships offer scheduled Star Wars photo sessions, and you can come across Star Wars Rebels including Ezra, Sabine, and Ahsoka Tano on the deck.
Traveling with kids? Your 7-year-old can join the Resistance when BB-8 shows up looking for recruits. You can also suit up as your favorite Star Wars character and join the battle.
Hunt down the porgs destroying the ship with Chewbacca. After the hunt, meet and click a photo with the legendary Wookie.
The instructors in the Star Wars Drawing Academy will teach you to draw your favorite Star Wars characters including Darth Vader, Yoda, and BB-8.
Witness the fireworks light up the sky set to John Williams' infamous Star Wars score.
7. Listen to the official DCL soundtrack on your smartphone
Spotify offers an official DCL playlist. Listen to songs including A Whole New World, Under the Sea, and A Dream is a Wish Your Heart Makes. Anything better than listening to the DCL playlist while onboard a DCL ship?
If you are bored with the same-old ship horn, DCL ships change the scenario.
Each DCL ship has horn signals that offer six Disney song melodies. The songs include When You Wish Upon a Star, Yo Ho (A Pirate's Life for Me), and A Dream is a Wish.
8. Marvel Day at Sea
If you are traveling on the five-night cruises from Miami to the Bahamas and the Western Caribbean, you can come face-to-face with Marvel characters.
Book photo-op sessions with Marvel superheroes including Spiderman, Iron Man, and Black Panther. Furthermore, expect to encounter other characters including Captain America, Black Widow, and Loki anywhere on the ship.
Dance at the onboard nightclub, Fathom. Sip on cocktails as Gamora and Star-Lord drop by to say hello. Why should kids stay behind? They can join the dance with Mickey Mouse, Donald Duck, and Goofy.
Suit up as your favorite Marvel character, and watch the Marvel movies in the Buena Vista Theater. Kids can learn Marvel-themed craft-making in Disney's Oceaneer Club.
Kids will love to train to become secret agents. Thor will show them the path to become worthy, and Spiderman will help the kids to hone their intellect, reflexes, and speed.
The instructors in the Animation Academy teach you to draw Marvel superheroes including Iron Man, Captain America, and Groot.
9. Disney's Private Island
Traveling on Caribbean and Bahamian cruises? You can spend a day at Disney's private islands in the Bahamas — Castaway Cay.
Paddle a kayak, or go snorkeling in the blue lagoon. Dance to the beats at Gazebo, and feast at Cookie's BBQ. You can play soccer, volleyball, and tetherball as well.
The 2,400-square-foot floating platform Pelican Plunge celebrates the native pelicans. Ride on the two twisting water slides to the blue lagoon.
10. First cruise line to offer 'Bath-and-a-half'
A 'bath-and-a-half' offers two bathroom areas. One room houses a bath or shower and sink, and the other room comes with a toilet and a sink.
11. Disney Wish — the newest ship on the Disney cruise
Disney is all set to launch Disney Wish, which is the newest addition to the Disney Triton-Class ships. As per Disney cruise news and rumours, the ship will set sail for the first time on June 9, 2022. The journey will begin from Port Canaveral in Florida, to the Bahamas.
The 140,000-ton ship runs on environmentally friendly liquefied natural gas. The ship can accommodate 4,000 passengers.
You will enter into the three-story Grand Hall inspired by the Cinderella story. You will see a Cinderella statue at the foot of the grand staircase. Furthermore, the ship will house fairytale castles, animals, and forests.
Dive into the infinity pool in the Quiet Cove pool area. You will find an open-air bar, a poolside cafe, and a whirlpool spa.
If you are traveling with your significant other, book private massages, acupuncture therapies, and facials. You can also don a new haircut in the Untangled Salon and Barbershop.

For visitors, travel, student and other international travel medical insurance.
Visit insubuy.com or call 1 (866) INSUBUY or +1 (972) 985-4400

Lesser-known facts about Disney cruises – a whole new world
With its state-of-the-art features and environmentally friendly approaches, Disney Cruise Line offers a whole new world to its guests. Now that you know these eleven lesser-known facts about Disney cruises, book a trip for yourself, your family, and your friends.
Also, don't forget to purchase cruise travel insurance before you set sail. While the cruise ships have an infirmary on board, if you require medical evacuation, you will be paying a hefty price without an insurance plan. Protect yourself from emergencies, lost luggage, trip cancellations, flight delays, and more to keep your cruise magical. The Disney cruise line trivia you learned is guaranteed to make your trip even more enjoyable.
We are sorry that this post was not useful for you!
Let us improve this post!
Tell us how we can improve this post?