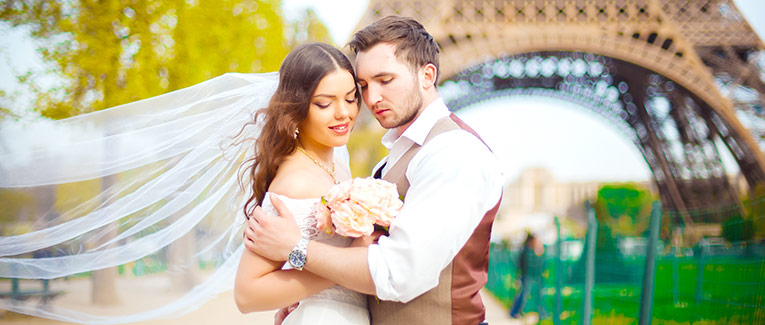 Finding your soulmate is most often followed by a wave of rituals, discussions, and preparations for the perfect wedding. If you and your partner have signed up for a destination wedding, then the preparations are going to be tenfold.
You probably have questions. What do you need to get married in another country? What is the cost? This article has the answer.
Before you get ready to say 'I Do,' here are 6 things to know before you marry abroad.
6 Things to Know Before You Marry Abroad
1. Don't Underestimate the Expenditure
The first thing you should write down on your destination wedding planner is the expenditure. Couples tend to underestimate the cost they'll incur on their destination wedding. For a resident of the U.S., the approximate expenditure for a wedding is around $35,000. Add $10,000 – $15,000 to this for a destination wedding in the U.S.
2. Learn About the Laws
Getting married in another country legally can be a nightmare if you don't have the proper information. Every country has its own laws about what would constitute a legally binding marriage. Some countries, such as Spain, require that at least one party fulfill certain conditions of residency. Of course, you may avoid planning a destination wedding in countries like these.
3. Who Will Perform Your Wedding?
For most destination weddings, local, civil or religious officials officiate the marriage. They first authenticate the documents, then they confirm the validity of the marriage, and then perform the officiating ceremony. Check these common legal requirements for a destination wedding:
• Documentation
A valid passport, birth certificates, authentication of the U.S. consular official (required in some countries). If either of the partners had been married before or is a widower/widow, they need to produce a divorce certificate or death certificate of the previous spouse. The process is quite time-consuming; so, be prepared at least eight months in advance.
• Affidavit of Eligibility to Marry
A country that follows civil law will, in most cases, require you to produce an affidavit of eligibility to marry. This is proof that you are eligible to sign a marriage contract, certified by a competent authority. In some countries, you may also have to come with witnesses.
• Blood Tests, and other Additional Requirements
In some countries, such as the U.S., you may have to submit your blood test reports. Some countries require you to produce these documents translated in the native language of that particular country. If yours is a Roman Catholic marriage, the documents should be verified by the Bishop.
4. Back to Costs
Destination weddings are as costly to attend as they are to host. According to a 2018 NerdWallet study, approximately 27% of Americans said that they try spending less on a wedding gift if they are to attend a destination wedding. But, do you know that more than 25% of marriages across the world are destination weddings?
Couples spend approximately $45,000 for a destination wedding in the U.S. It's no surprise that the destination wedding market accounted for about $16 billion annually as of 2017. While a destination wedding in the U.S. might cost you a lot of money, there are some destinations that may be more economical.
Some popular destinations that appeal to couples include Hawaii, the Bahamas, U.S. Virgin Islands, Florida, Mexico, Jamaica, and Italy. There are many ways by which you can save more while enjoying a destination wedding. Some of which include:
Use tools like Peerspace to find, pick and rent wedding venues in unfamiliar destinations.
Always filter the wedding venues by the number of guests, budget, and location.
If you're tight on budget, go for nontraditional venues like a cabin or a warehouse. Some of these are well-maintained and cost much less.
Let's walk you through one of the cheapest, and one of the costliest places to consider for a destination wedding.
5. Cheapest Place for a Destination Wedding – Jamaica
Dreamt of a Caribbean wedding? Well, Jamaica is your calling. In fact, it is ranked as the #1 destination wedding place in the Caribbean. Getting married abroad packages are the cheapest in Jamaica. The average cost of getting married in Jamaica is around $8,237, which is four times less than the cost of getting married in New York.
Rules for Destination Weddings in Jamaica
To perform a symbolic wedding ceremony in Jamaica, the couple will have to produce their marriage certificate. For this, they'll have to first get married in their own country.
Proof of citizenship, like a birth certificate that must include your father's name.
Proof of divorce, if applicable.
Occupation of both bride and groom, and their parents.
Parents' written consent in case either of the partners is under 18 years of age.
Notarized copies of passports.
6. Costliest Place for a Destination Wedding – Italy
Planning to get married on a private island in Venice? Italy is perhaps a dream wedding destination for many couples out there. Eloping to the Tuscan Farmhouse or the Vineyard in Venice to tie the knot is an appealing prospect. Well, before you commit to your dream wedding, take a look at some of the legal formalities you'll need to abide by for a destination wedding in Italy.
Rules for Destination Weddings in Italy
Before we begin to lay down the rules, please note that you must consult the Italian Embassy for accurate information about legal requirements.
To register at the Town Hall, one of the partners will have to be a resident in the country at least four days before your wedding ceremony.
For Nulla Osta (sworn statement), you should have your original birth certificates (must include the names of both the parents).
Original and photocopy of passports
Photocopies of your witnesses' passports, with their names, occupations, and addresses.
Divorce certificate, in case either of the partners had been divorced before.
No impediment certificate (only for UK citizens)
MP2A Form (only for Irish citizens)
For females who have been married before, the marriage must be annulled at least 300 days before they can re-marry.
Even the best-planned destination weddings tend to go haywire with one mishap. So, before you start looking for accommodations or wedding venues, you need to find the right travel insurance plan.
Things to Know Before You Marry Abroad – Why Do I Need a Travel Insurance Plan for my Destination Wedding?
A destination wedding adds multiple layers of planning, one of which includes getting coverage for unforeseen events like flight cancellations, trip interruption, and wedding cancellation. But, before signing a deal with an insurance plan provider, always go through the coverages provided.
Here are some coverages that the right travel insurance plan should provide:
Flight or accommodation cancellations.
Medical incidents, hospitalization, or evacuation.
There are some policies that provide coverage for a group of people. These policies can also provide coverage for wedding cancellations. For a destination wedding, you should consider such a travel insurance plan.
Please note that buying a travel insurance plan for a destination wedding will not provide you coverage for deposits like caterer, flowers, decorations, or venue.
However, it can shield you when things are not going as per your plan. So, get yourself a travel insurance plan after comparing relevant ones on Insubuy. Wave off any negative thoughts that may slither into your mind about your destination wedding, and tie that knot. Now that you know the 6 things to know before you marry abroad, the information will help you in making your marriage memorable.
We are sorry that this post was not useful for you!
Let us improve this post!
Tell us how we can improve this post?