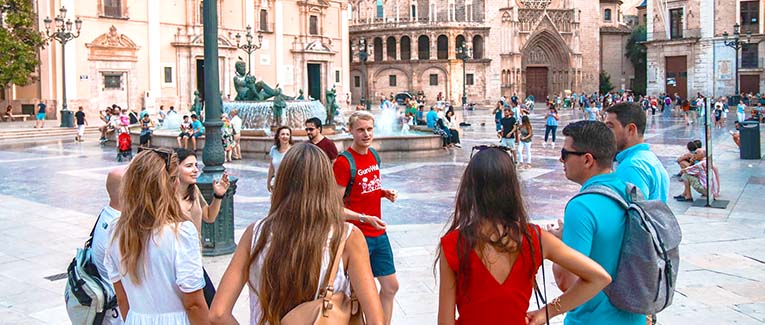 Wondering what makes a guided tour great?
The tons of cash you'd save on travel, accommodation, eating, and entry tickets. Everything is cheaper if you are with a tour company.
You can finally let someone else plan everything to perfection. Just let your hair down and enjoy.
You won't have to spend hours trying to understand how to get around a new place.
You get to explore much more in a shorter time than you'd be able to do on your own.
Want to make the most of your guided tour and get even more benefits?
Irrespective of whether you are a travel pro or a first-timer, this guide will teach you something new. So, fasten your seatbelts, fire your note-taking app, and start learning.
1. Book Pre-Night's Accommodation
Booking extra nights with your tour company might seem like a waste of cash, but honestly, it isn't the case.
If jet lag frequently affects the first days of your trips, this becomes all the more important. Arriving a day early will give you some time to relax and get acquainted with people and processes in a new land.
Also, if your tour just departs from the destination, arriving a day early is a great day to explore that city too.
2. Choose the Right Tour
Yeah, it is kind of obvious. But it is easier said than done. Other than prices, reviews, and ratings, also check what the focus of the guided tour is.
Does the tour focus on the history of the sites you'd be seeing? That's great if you are a history buff. But if architecture is what interests you, consider choosing another tour that better matches your interests.
If the information that you are looking for isn't available on the tour company's website or pamphlet, don't hesitate in dialing their customer support number or dropping a line in their email.
Also, after you check the places the tour will be covering, check the complete and detailed itinerary.
Check out if there will be enough time for you to explore the sights. If you are traveling with children, you might also want to factor in how frequently you'll be stopping for bathroom breaks.
How much time will you be allowed to grab your meals while touring?
Once you know all the details and you find an itinerary that matches your preferred pace, you can enjoy the tour better.
3. Start Your Exploration with A Guided Tour
Do you have a fortnight to spend in town? Or maybe even a week? Start with a full-day guided tour of the place.
Why? Because it is always easier to wander around and not get lost in a new place when someone has already shown you around.
Consider this as the first level of a video game. When you just start playing, you get helpful tips and prompts, right? Once you know the basics, you can easily find your way around to the next level.
A guided tour on the first day will equip you with valuable insights about transportation, tipping, getting around, and what places you'd actually like to explore in detail and at ease.
4. Ask Questions
Your tour guide has probably heard the question you are itching to ask before. And no, they don't mind giving you the details you need.
And your tour guide is also the most resourceful person around, so their tips and recommendations could do you good.
But remember, if you are with a group, don't expect your tour guide to attend to you exclusively.
5. Take Notes
No, there isn't going to be an exam after the guided tour. But it doesn't hurt to make a note of the places that you'd like to explore better, right?
You could always come back to check out that wing of the art gallery which wasn't included in your tour. And you can always visit the same scenic location again to take in the mesmerizing views once more.
And yes, it is perfectly normal if you want to have the next day's lunch at the same place where you grabbed a quick meal during your guided tour.
6. Use GPS
Before you set out for the tour, map out the places you'll be covering.
In ordinary tour situations, navigation won't be your concern. You can comfortably look out of the window, feel the wind in your hair, and capture memories with your camera.
But in case you get separated from the group, having the day's route mapped out will let you use the power of GPS technology to reunite with your group.
Also, a look at the map on your phone will let you know how much time will it take for you to travel from one place to another, and what nearby locations you can explore in the time you are allowed to be on your own.
7. Talk to Others
Talking to other travelers in your group will give you insights into what else you can do on your trip. You can also hear their stories from back home, and share your own. Who knows? You might return from your trip to Italy with an Asian friend who you can visit sometime.
Even if you don't want to strike up friendships, be courteous. Exploring the city with a bunch of people who despise your company won't be fun either way.
8. Know When You Can Sneak Away (And When Not!)
A guided tour does not mean you cannot have some time on your own. You just have to know when you are allowed to separate from the group.
Ask the tour guide about it. And do NOT sneak away without asking or informing them. You could unnecessarily create a hassle for others who would have to spend their tour time looking for you..
9. Select a Tour That Doesn't Include Lunch
No, we don't mean to tell you to skip lunch altogether. But if your guided tour lets you grab your own lunch, you can do more than just grab lunch at that time.
You could shop while munching on your carry-on lunch packet. You could interact with locals at the streetside cafe where you decide to grab your bite. And, of course, you can eat what you want without being seen as the fussy eater of the lot.
10. Maximize The Dinner Experience
If your guided tour includes dinner, make sure that you don't skip it.
Why? Most likely, the dinner is going to be either at the same hotel where you are staying, or at a popular restaurant.
In the first case, you get to choose between turning in early, or sneaking out after dinner for some nighttime exploring on your own.
In the latter case, popular restaurants that often host tourists have music or comedy nights, which you can enjoy.
Tour On
Ready to make the most of your guided tour?
Get travel insurance first. A canceled tour, lost luggage, and medical emergencies can all cause you severe financial strain. If you have adequate travel insurance, you can receive financial protection in case of one of these unfortunate situations, making for a worthwhile investment.
We are sorry that this post was not useful for you!
Let us improve this post!
Tell us how we can improve this post?