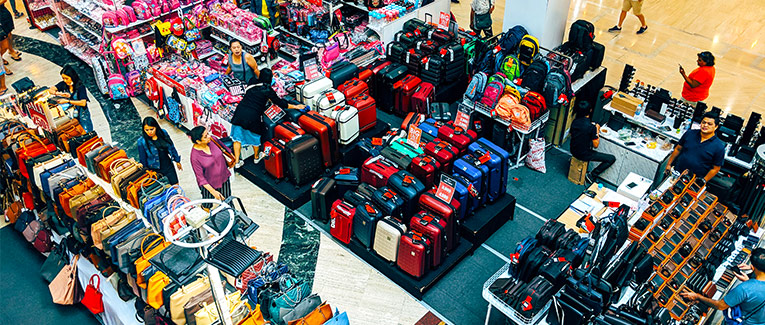 You are strolling through the mall a few days before your trip, and a swanky luggage store catches your eye. Fast-forward 30 minutes, and you emerge from the store $500 light, dragging along a hefty suitcase.
If this sounds like you, then you're in dire need of some luggage shopping advice.
Purchasing a suitcase or carryon is surely an investment, but can you spot the difference between a good investment and a rip-off?
Travelers put way too much emphasis on the features of the luggage itself — the number of pockets, smooth rotation of the wheels — and too little on where they're buying from. Every feature you're concerned with is ultimately tied to the place you buy your luggage. Buying luggage online is a far better alternative.
Buying Luggage In-Store—You Lose, They Win
The moment you set foot inside a luggage store, you lose control. To put it more accurately, control is snatched away from you.
Let us help you visualize what we mean. These are some of the predominant cons of buying luggage in stores:
1. Small Range Of Products
You're limited to the options available in-store. There might be much better suitcases by the same brand that you miss out on simply because they didn't have it in the store when you visited. Not to mention, the numerous options from other brands that you didn't have the chance to consider.
2. Overpricing Issue
You end up paying a lot more than the item is actually worth. Stores factor in a lot of the overhead costs on the price tag of their in-store products. Prices range from a few hundred dollars to thousands of dollars at an average outlet. This price could be even more outrageous at high-end stores.
However, a similar suitcase might cost a fraction of the price elsewhere.
3. Pestering Salesperson
As soon as you enter a store, a swarm of salespeople will gather around you. One of them will tag along with you no matter what. Even if they don't, you'd need assistance with the price and features of the items, anyway. You're never making an independent decision.
4. Manipulation
If the salespeople work on commission, they'll always guide you towards certain products. Other than being annoying, this can also be misleading. You might not even need the items they'll convince you to buy.
5. Shipping Hassle
If you don't want to carry around hefty luggage, you'll have to pay extra to have it shipped to your destination. This is given that the store even has such an option. Otherwise, you're stuck. This option also adds to the price significantly.
6. Difficult Returns And Refunds
The option of returning the purchased luggage is either nonexistent, or so arduous that you'd rather not return it, even if you're displeased. You might not even get a refund, as store credits are the predominant mode of compensation.
7. Less Flexibility
Unless you're a seasoned expert in shopping at outlets, you lack the flexibility of window shopping that the online medium provides. It is unlikely that you'll spend an hour in the store, exploring a hundred different items, and walk out without buying anything. Time and energy consumed to do so are too high.
8. Perplexing Psychology
Many in-store shoppers make a purchase because they don't want to have bothered the salespeople for nothing. They're simply not brazen enough. Another dominant thought pattern is a sense of responsibility to buy something once you enter a store. It's like an unspoken promise. That's the psychology behind buying unwanted items in stores.
These are some of the primary reasons buying luggage in stores is a lose-lose situation. You always have more to gain if you buy luggage online.
Online Luggage Shopping Is Your Best Bet
When you buy luggage in a store, you're fishing in a pond. When you buy luggage online, you're fishing in the ocean. That's how massive a difference the medium of purchase makes.
Online shopping solves the problems that in-store luggage shopping raise. Let's see how:
1. Vast Range
There is no limit to your options, and fatigue of choice shouldn't be a factor here. You can visit the luggage brands that you know and trust, and also explore unknown brands with the help of online reviews.
2. Reasonable Pricing
Storing cheap items is not feasible for physical stores. But, for online retailers, whatever you buy, no matter how cheap, brings in profit. So you can expect to find yourself a nifty travel bag for under $50. If you spend $100, you can obtain every feature an average traveler requires in their luggage. Don't forget the jaw-dropping discounts you get online, which can't be expected in a physical store.
3. Independent Shopping Experience
Apart from a few advertisements here and there, you can shop without interruption, completely independent of any salesperson's help. Unlike a living, breathing person trying their best to make a sale, advertisements are easier to ignore.
4. Transparency
You are less likely to be misguided online. You have every feature of the item listed out in bold letters along with the price. Combined with honest customer reviews, there is very little margin for error while making a purchase.
5. Effortless Shipping
Typically, when your bill exceeds a certain amount, you automatically qualify for free shipping. Even if they charge a shipping fee, it'll be nominal compared to stores. Transporting a bulky bag to your home by yourself is not even a remote possibility here, unlike in outlets.
6. Easy Returns And Refunds
Even if the purchase is not satisfactory, you have the option to return the item easily and get a full refund.
7. Increased Flexibility
Web-surfing and window-shopping go hand-in-hand. You can visit multiple websites, compare among several luggage items, and take your time before you reach a final decision. When investing in a pricey suitcase that ought to last you a long time, you want to have a few days to contemplate factors like the ratio of price and durability.
8. No Mind Games
The in-store psychology doesn't work online. You can visit a website numerous times without buying anything, and you won't have anything to feel bad about. When the rush and pressure of buying are removed, you will be happier with the luggage that you ultimately purchase.
It is clear that buying luggage online triumphs over in-store purchasing in every single area of concern. The decision is yours to make now.
The Only Exception While Buying Luggage
Under normal circumstances, you should always buy your luggage online. However, this rule doesn't apply to emergencies.
When you're already traveling and your luggage gets lost, broken or stolen, you might not have any other option than walking into the nearest store and purchasing a backpack or suitcase.
However, if you purchased travel insurance before your trip, this experience doesn't have to be so painful. Many travel insurance plans offer baggage loss coverage, which can assist by providing financial compensation to replace the items in the lost bag. This can help offset the inflated prices of store-bought luggage.
You're All Set for Travel
With the perfect luggage in your hands and insurance covering your back, the world is yours to explore. So, get your wheels rolling.
We are sorry that this post was not useful for you!
Let us improve this post!
Tell us how we can improve this post?