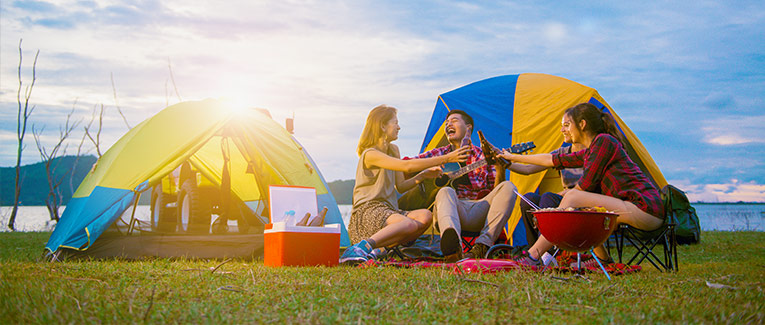 Camping as a recreational activity has been popular for well over a century. It's often traced back to Thomas Hiram Holding, a British tailor who is considered the father of modern camping.
Since Hiram's camping trips in the late 1800s, however, a lot has changed.
Now, we have a myriad of tents for all seasons, snug hammocks and sleeping bags, highly reliable global positioning systems, and commercial campsites. Modern-day camping is as convenient as it is adventurous.
Read on to learn about more gadgets that can make your next camping trip a breeze.
1. Portable Insect Repellent
Bugs and mosquitoes are the biggest killjoys of any outdoor camping trip. While there are plenty of sprays, creams, and coils on the market, they just don't cut it. Multiple reapplications and insufficient potency are just some of the few issues with these conventional methods.
Compact, handheld devices that can even be clipped to your belt, portable insect repellents offer up to 12 hours of protection, and have a range of about 15 feet.
The award-winning brand that stands out in this product category is Thermacell. They offer a plethora of repellents with different features, so that you can choose one that best fits your requirements.
2. Fire Blowing Straw
You can bid farewell to hours of trying to keep your campfire lit with little sticks, and getting up close and personal with the smoke. The fire-blowing straw is here to save the day.
With a sleek design that extends a good 20 inches outward, this handy tool is collapsible too, which makes it easy to carry anywhere. No more melting your face off for that roaring campfire.
3. Tent Air Conditioner
We all know that the best season to go camping and enjoy nature at its brightest is summer.
But, the one downside of summer is the scorching heat. Sleeping inside a tent in this heat is everyone's least favorite part of camping during the summer. Don't worry though, there is a gadget for this, too.
A tent air conditioner is a blessing during these sweltering summer nights. There are various brands in the market for this product, and they come in portable designs that aren't just powerful, but also silent. With this feature, your tech doesn't interfere with your quiet nature time.
Get one of these and say goodbye to your summer suffering, because camping doesn't have to be a torment trip.
4. Knapsack
Behold The reversible knapsack. This is a wearable jacket that you can also use as a sleeping bag.
With this one, what you see is what you get. Nothing too hi-tech, just a marvel of innovative design. So pick a color and get going.
5. Adventure Flask Kit
This is a flask with collapsible shot glasses that also has a LED light and a compass.
Watertight and sturdy, these flask kits, are ideal for hiking and trekking. They are not only made for holding liquids, but they help you navigate your way through the wilderness. Buy one to make your outdoor hours happier.
6. Cook Sets
A pot housing other convertible pots, pans, and cutlery is an indispensable part of your camping kit.
The convenience of camping cooking sets it a necessity for camping. They will only take up a fraction of your packing space, and they will definitely come in handy when you want a hot meal.
7. Multitool
You can't go camping without your trusty Swiss Army Knife. With this tool, you will have knives of varying sizes, scissors, a corkscrew, and maybe even a nail file.
Don't forget to keep this companion when you step out into the wilderness.
8. Rechargeable Hand Warmers
Who said camping is just for summer? You can just as easily enjoy nature in all its crisp, cold glory. All you need is the right camping gear in your arsenal.
Rechargeable hand warmers are essential for your winter camping escapades. They come in battery-powered variants, and some models can even double up as a power bank.
The Zippo 12-hour hand warmer is the one to beat. It very much lives up to its name. Even though it is fuel-powered, the long-lasting heating and price point balance the scales.
9. Backpack Chair
The brand Bumruck's tagline very aptly defines a backpack chair: "the most comfortable backpack you have ever sat on." They cheekily label their product as 50% backpack + 50% chair = 100% Bumruck, which isn't far from the truth at all.
The unanimous verdict on this one is that it's a must-have to upgrade your camping trip to the next level.
10. Portable Shower
Type "camping showers" into the Amazon search bar and get ready to have your world changed. From portable water pumps and collapsible shower shelters, to battery-powered and solar-powered showers, there indeed is such a thing as too much choice.
You will be able to stay squeaky clean, even in the middle of nature.
A Bonus Tip
While not a gadget, there is one thing you should purchase before any camping trip abroad: Travel insurance or travel medical insurance that provides coverage for camping.
On a camping trip, there are risks to keep in mind. An injury, illness, or animal bite is possible, and could result in a massive medical bill if you require treatment. It is essential that you have proper insurance in place for your international camping trip to safeguard your health, and your budget. With these gadgets and tips, camping will be a tempting and convenient option. Have fun
We are sorry that this post was not useful for you!
Let us improve this post!
Tell us how we can improve this post?