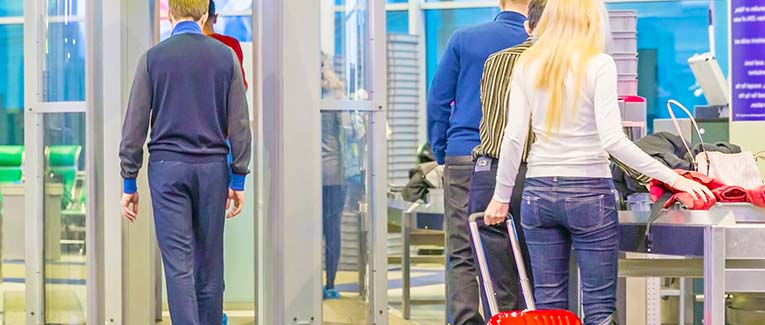 You slept through your alarm. When you arrive at the airport, you realize your flight will take off in an hour. You glance at the security line. You figure out the line alone will take you an hour to clear. You curse yourself for binge-watching Netflix last night.
Never find yourself in the aforementioned scenario. In the next few minutes, learn all the hacks to cut through the airport security. The article will cover everything from checking in online, to signing up for TSA Precheck. Let's begin.   
Check In Online
The online check-in process allows you to skip the long lines in front of the check-in counter. Furthermore, you can choose your seat as well. You can also pay the associated fees, including baggage fees and seat upgrade fees. Afterwards, print your boarding pass or have it emailed to you.
When you arrive at the airport, you will enter one of the two scenarios:
If you have only a carryon suitcase, you can skip the check-in counter and head straight for the security line.
If you are carrying luggage that you must check, airlines allow you to leave your bag at a designated desk (Hint: search for a 'bag drop only' desk). The line here is much shorter than a check-in desk. Furthermore, you already have your boarding pass, so you won't need to spend time collecting it.
The agent on the 'bag drop only' desk will issue and apply the tags to your luggage. That's it. You can head over to the security line.
Airlines open online check-in up to 24 hours before departure. If you don't check-in online, some airlines, including WizzAir, charge a fine of up to €50 per passenger.
Get Airline Elite Status
Airlines offer priority check-ins and separate security lines for elite members. So, as an elite member, you can forget the long waits.
Southwest Airlines offers this benefit through the Fly by Priority program. You must be an A-List or A-List Preferred member to receive the benefit.
Alaska Airlines offers priority check-in to the MVP Gold and MVP Gold 75K members. Delta Airlines offers the same to Gold Medallion, Diamond Medallion, and Platinum Medallion members.
Sign up for TSA Precheck or Global Entry
97% of TSA Precheck members wait for less than five minutes in security lines. If you are a TSA Precheck member, you receive access to a special security lane, and any children under 12 can go to the special lane with you.
When you are a TSA Precheck member, you never have to remove shoes, belts, or jackets. You also won't have to remove laptops and liquids from bags.
You can receive TSA Precheck benefits at over 200 airports, including John F. Kennedy International Airport (JFK) and Los Angeles International Airport. TSA charges $85 for five years of TSA Precheck status. You must undergo an in-person interview and background check to qualify for TSA Precheck.
The United States Customs and Border Protection Agency offers Global Entry. The program allows you to bypass the security lines when you are leaving the U.S. When you return to the U.S., you won't have to stand for hours in the passport line.
Instead, you can head over to the Global Entry kiosks. You will need to show your passport, and you will be required to go through fingerprint verification as well. Afterward, you must submit a customs declaration. The kiosk will issue a transaction receipt, and then that's it. You can now proceed to baggage claim.
You must pay a $100 fee to receive a Global Entry membership for five years. The agency runs a background check on you after you apply for the Global Entry membership. You must also attend an in-person interview.
Wear Uncomplicated Outfits
Wear little to no metal if possible. No metal belt buckles, no trousers with metal buttons and snaps, and no metal jewelry. If you do, the metal can trigger the scanner, and you will have to waste more time in a pat-down session.
You must remove your shoes at the security checkpoint as well. So, it would be wise to ditch the Oxford shoes with their laces. Instead, wear slip-on shoes or flats. You can carry dress shoes with you. After the security check, you can change your shoes if you want.
Keep in mind that thousands of people go through the metal detector every day. Be sure to wear your socks to keep your feet clean. You can change your socks after you go through security check.
You will also need to empty your pockets into a plastic bin.
Keep Travel Documents Easily Accessible
Imagine this scenario: You stand before the TSA official asking for your passport. You cannot find it. You also forgot where you kept your printed boarding pass. You can hear the grumbles of your fellow passengers, and the TSA official glares at you.
Never be that person. Keep the documents, including your ticket and ID, in your jacket pocket or somewhere else easily accessible. You can carry the documents on your carryon luggage as well. Make sure the documents are the first thing you find when you reach into the bag.
Pack Liquids the Right Way
Follow the 3:1:1 rule. You can carry liquids, gels, and aerosols containing up to 3.4 ounces. You must store these items in a one quart-sized, clear zip-lock bag. You can carry one bag.
Gels and aerosols include your toothpaste, shampoo, conditioner, hairspray, and mouthwash, among other things.
Break this rule and you will waste time in further screening. TSA officials might discard the items into the trash, as well.
TSA allows travelers to carry filled water bottles not exceeding 3.4 ounces through security checks. That's 100 ml of water. You will do better to carry an empty water bottle through the security checkpoint. Afterward, refill the bottle from a water fountain.
Left is the Way to Go
A study published in the Psychological Science journal confirmed that right-handed people prefer the right side of anything, and left-handed people prefer the left side. If you predominantly use your right hand and you see security lines to your left and your right, you are more likely to choose the one to your right.
Another study published in Scientific American states that over 70% of humans are right-handed. The next time you see two counters on both sides of you, head for the one to your left. The line will likely be much shorter.
A Warm Smile Goes the Extra Mile
You are anxious. You worry about missing your flight. However, yelling at your fellow passengers or security officials won't make it easier. However, letting the TSA official know about your situation, and asking if they can help you cut through security with a smile can expedite the process.
Most importantly, you should make sure to purchase travel insurance before your trip. If your trip is delayed or cancelled due to a covered reason, or if your baggage gets lost or delayed, travel insurance can allow you to file a claim for compensation. Travel insurance allows you to head to the airport with one less worry on your mind, even if you're in a hurry.
We are sorry that this post was not useful for you!
Let us improve this post!
Tell us how we can improve this post?