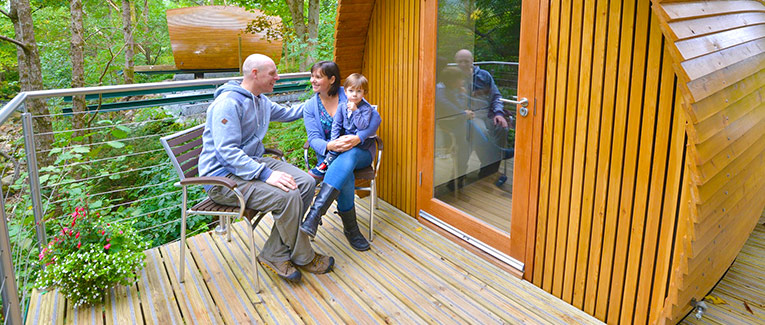 Glamping is the combination of glamor and camping. Glamping includes a lot more luxuries and activities than the traditional camping trip.
The luxuries of glamping trips can vary from a regular old tent with furniture in it, to a fully decked out glamping pod.
If you're interested in taking a glamping trip, then you've come to the right place.
What Exactly Is Glamping?
Though the word is new, the idea of glamping is not. Lavish tents were often used by royals when touring another country. Today, glamping isn't done with a horde of servants in tow, but certain luxuries do come along for the trip.
There is not just one way to go glamping.
• Glamp It Yourself
This is the most inexpensive form of glamping, and it closely resembles traditional camping. Here, you are in charge of your own tent and activities. You will need to book a camping site and pitch your tent or park your camper there. The key difference is that you are more comfortable while camping.
Beds and other furniture are popular additions to the tent. You can also bring the entertainment with you. Bring outdoor games and water activities if you're glamping in the summer.
• Glamping Rentals
A glamping rental will equip you with a glamping pod and the amenities inside. You will be responsible for providing your own entertainment, though.
If you're a stickler for pretty things, glamping pods may be the way to go. No matter if you prefer the quaint mountains or the airy beachside, there are options for you.
• All-Inclusive Glamping Trip
This is the fanciest one of them all. If you have the budget for it, an all-inclusive glamping trip will take all the responsibility off your shoulders. An agent will be in charge of booking your rental and coming up with your itinerary.
Activities like rafting and zip-lining are popular amongst glampers. This is the option that least resembles a camping trip, and spills more into a resort vacation. But, the difference is you will be amidst nature.
• Staying In a Glamping Pod
Glamping pods are sturdy structures with a host of amenities in them. Most pods come with a bed and a kitchenette. So, this gives you the feeling of camping, but you don't have to endure all the bugs.
Most glamping pods are equipped to deal with various weather conditions, so if there is a sudden downpour, you won't get drenched.
Pods are usually shaped like a tent. Even though you'll be in a wooden structure, it will still feel like you're in a tent.
Why Should You Go Glamping?
Staying in a tarp tent and enduring bugs may not be the thing for you. But, that shouldn't inhibit you from experiencing the beauty of nature. Glamping gives you the best of both worlds.
Glamping is more family-friendly because of the increased comfort. You will typically stay in glamping pods, which come furnished. Since most pods are built at scenic locations, you will be sleeping with a view.
How to Go Glamping: For Beginners
If you're about to embark on your first glamping trip and want to do it yourself, you will need some pointers.
• Upsize Your Tent
Glamping tents are typically bigger than traditional tents. This is because your bed needs to fit inside. You will also need a taller tent, one that you can stand upright inside. This makes a drastic difference to the experience.
As a simple guideline, get a tent that fits double the number of people going on the trip. Note that you may need to change your reservations at the camping size.
• Bring Your Comfort Items
The whole point of glamping is that you are comfortable in the great outdoors. Furniture plays a huge part in increasing comfort levels.
A bed is a must-have part of glamping. You can give your trusty sleeping bag a break on this trip. Either bring a collapsible bed frame, or put the mattress on the ground. Remember to bring a lot of plush pillows to make it seem more like home. You'll also need sheets and a comforter. Remember, it gets cold at night.
You can also bring a rug, a side table, and some chairs along. Remember, the idea is to take your home outdoors.
• Temperature Control
An air-conditioned room is definitely more comfortable than an outdoor tent. But, did you know that you can control the temperature even in a tent?
Most camping sites have electrical facilities. Take a heater or a cooler depending on the weather at your glamping site.
• The Kitchen Setup
Though campfire dinners are delicious in their own right, a simple meal just doesn't cut it for a glamping trip. A multi-burner stove is a must-have for glamping. This will allow you to make proper meals even if you're outdoors.
A cooler or a mini-fridge is also a necessity for glamping. There's nothing like a glamping breakfast of pancakes and fresh strawberries.
• The Dining "Room"
A dining table is imperative to making the glamping trip complete. You can choose to put your table outdoors, or keep it inside. But, it just won't do to balance your food on your knees as you sit on a foldable chair.
You can also bring real cutlery and a dining cloth to enhance the experience even more.
• The Bathroom Situation
Dirt and grime are for camping. When you're glamping, you get to take showers, and you can even have private bathrooms.
There are portable showers and toilets that you can take on your trip. Though it may seem unnecessary, having a private bathroom will elevate the glamping experience.
Many camping sites have a waterline that you can access, so you can get a portable water heater and a fold-up shower tent.
• Don't Forget the Entertainment
Activities and entertainment go hand-in-hand with glamping. You can book activities that will take you out of your camping site. There may be waterparks or zip-lining courses close to your site. When you're researching the location, remember to look up activities around the site as well.
If you don't want to drive to another location, you can bring entertainment with you.
To keep kids engaged, you can bring a kiddy pool and fill it with water. You can also set up a scavenger hunt, or even inflatable bumper balls. This will definitely tire out little children.
For adults, drinking games are a good option, granted the camping site allows alcohol. If not, fishing and hiking are good alternatives.
If you want to go all out, you can also bring a portable movie theater with you. All you'll need is a projector and a screen. This makes for the perfect night-time activity that can be enjoyed both outdoors and indoors.
The next time you go on vacation, consider glamping. The few upgrades to regular camping will definitely uplift your experience.
• Insurance is Still Essential
Staying in a luxurious glamping pod doesn't insulate you from the risks of the great outdoors. Just as with a regular camping trip, it's easy to twist an ankle, break a bone, or have an unintended interaction with local wildlife. Any one of these things could require a trip to the hospital, and if you're in a foreign country, treatment won't be cheap.
To avoid being stuck with a massive medical bill you must pay for out of your own pocket, be sure to purchase travel medical insurance or travel insurance before your next international glamping trip. The amount of money it could save you will give you a lot of peace of mind.
We are sorry that this post was not useful for you!
Let us improve this post!
Tell us how we can improve this post?