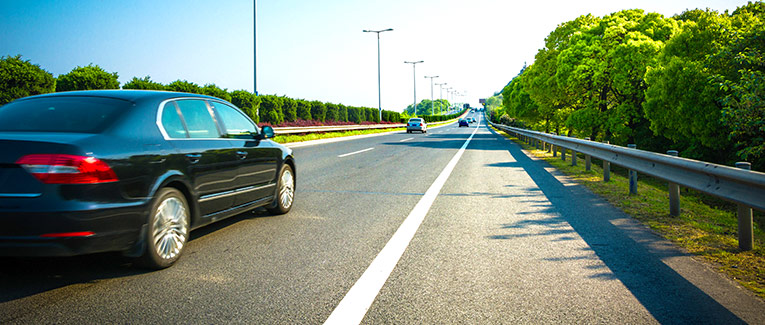 Road trips can be freeing. However, they require a fair amount of concentration and caution.
There are possibilities of getting lost, or being involved in some sort of accident. It is important to always be prepared and remain focused.
If you are taking a road trip this summer, you must be alert.
Scary Driving Situations That Can Spell Disaster 
1. Tire Bursts
Tire bursts can be alarming. Even a seasoned driver can lose control of the vehicle leading to an accident. Though modern cars are fitted with tubeless tires that are thought to be safer, there is still the possibility of a tire blowout.
The main cause of tire bursts is low tire pressure. The sidewalls bulge outward, and ultimately when the speed is too high, the tire gives way. A tire can get quite hot on a long stretch of asphalt, so try to make frequent stops to prevent overheating.
When you hear your tire burst, don't instinctively press hard on the brakes. Remember, the vehicle has only three functional wheels, and one corner is unstable. Applying brakes can skew the traction that keeps the car stable. The best way is to coast to a stop over a few hundred yards. Grip the steering with steady hands and head to the shoulder.
To prevent such an incident, inspect your tires before you set out. The tread must be at least 1/6 of an inch (4mm) deep. The tire pressure has to be exactly as specified by the manufacturer.
2. Black Ice
Black ice refers to the thin sheet of ice that forms on asphalt when it rains and the temperature is almost freezing. It is almost invisible and extremely slick.
When a car hits a black ice patch, it may suddenly lose all traction. That is indeed scary when you are headed into a corner at 60 mph.
At all costs, do not brake hard, as doing so can cause the car to slide. Take your foot off of the accelerator and let the car slow down.
At about 10 mph, steer carefully to the side of the road and stop. It's better if you wait at a diner or gas station. Black ice conditions are always temporary, and pass once roads have been treated.
If the weather forecast mentions a black ice warning, do not drive. If you have to drive, leave ample distance between yourself and other vehicles, as you will be unable to stop quickly.
3. Oncoming Vehicle
What do you do when there is a car coming straight at you? Your speed combined with that of the oncoming vehicle is bound to create a nasty situation.
Whatever you do, never veer into the wrong side of the road. Two wrongs never make a right, and in this case, you might be putting innocent lives at risk.
Honk your horn and blink the headlights to get the attention of the offending driver. If nothing works, your only resort is to slow down, steer right (in the USA), and get off the road. Even if you hit something like a mailbox or a tree, this is a better option than hitting another car.
4. Carjacking
According to reports from the National Crime Prevention Council, one vehicle is stolen every 20 seconds. Many of these are carjacking incidents.
Last year, ABC reported that reports of carjacking have risen by a stunning 537% in Minneapolis.
If you are inside the vehicle, keep your doors and windows locked. Be alert when you slow down, and when your car crawls to a stop at an intersection, leave enough space for maneuvering.
Remember, if you are in the center lane, the carjacker has a harder time reaching you.
Most often, carjacking incidents occur when you are getting into the car after stopping at a gas station or other roadside location.
Be careful and observe if anyone is lurking in the shadows. It is advisable that you park in well-lit places, as criminals tend to avoid places that might have closed-circuit television cameras.
You should never leave valuables in plain sight or flaunt your cash in an unknown town you are passing through.
When threatened with a weapon, surrender the vehicle. Your car is not worth your life. Do not argue, and back away after handing over the keys.
5. Sinking Car
If your car plunges headlong into the water, shock will paralyze you for the first few seconds. The airbag also stuns with sudden expansion. One moment you are driving, and the next, an airbag is against your face and the car is filling up with water.
Once your vehicle is submerged, you will not be able to open the doors, as the pressure of the water will be too much. You will need to roll down the windows. This will cause water to cascade in, but at least allow you to open the door.
Look around at your fellow passengers. Remove your seat belt first and then assist them with theirs. Remember to breathe, because soon the cabin might be full of water.
Once you are outside the vehicle, swim up to the surface and ask for help.
Time is of the essence, so you have to keep your wits about you and act fast.
Insure Yourself and Your Loved Ones
A vacation is meant to be relaxing, and a road trip is a chance to let go of everyday stressors and breathe life into body and soul.
Still, things can and do go wrong. An accident can leave you in a tragic physical and financial state.
That is why you should always buy travel medical insurance before you embark on a trip. Through Insubuy, you can find policies that fit every budget. You can compare and purchase the right plan in minutes.
Final Words…
Whatever happens, remember that remaining calm is your first priority.
You should always be focused and alert while driving. You will be required to make quick decisions. and you are responsible for the safety of everyone in the car.
We are sorry that this post was not useful for you!
Let us improve this post!
Tell us how we can improve this post?