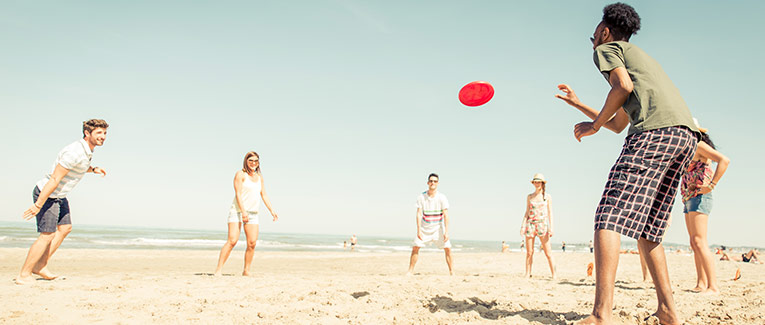 The number of fun beach activities is as vast as the sea itself.
Read on to find out about 30 exciting activities that you can do on the beach, in the ocean, and under the water. Rest assured that you will be making the most out of your next beach vacation in no time.
On the Beach
On the seashore, you have the best of both worlds: the sand and the sea. You are not using these to their full potential by just sunbathing for hours. You can do plenty more to have a fantastic time on the coast. Here are 10 awesome ideas for a fun beach day:
Beach Picnic – Pack an assortment of delicious foods, along with a beach umbrella and a towel. You are now ready to have a lovely picnic with a view of the endless ocean. You can also buy food from the various stalls available near the beaches. This is especially fun when you have company.
Horse Surfing – This is a unique water sport in which you ride a surfboard on shallow water, while being towed by a running horse. The horse is manned by a professional who will control the speed. This spellbinding sport is available on only some beaches around the world.
Hula Hoop – All you need is a hula hoop, a flexible waist, and a lot of energy. This will keep both children and the child inside you engaged for a long time. It can serve as a good exercise as well.
Frisbee – The ideal way to use the endless shoreline. Just get a Frisbee and some friends to play with. Pets also love this game very much.
Seashell Hunt – If you or your children have a habit of collecting seashells, this is the perfect pastime for you. Over time, you can create collections of seashells from different beaches and compare them, or create something out of them. It's a unique memory of the ocean.
Beach Volleyball – A classic seaside game that never gets old. While some beaches will have a permanent volleyball net, you can always carry a portable one, or simply draw a line in the sand. Other options for fun beach games are hockey, mini-golf, hopscotch, and anything else you can adapt to the seashore.
Sand Sculptures – You may not be able to create the Sphinx out of sand, but you can try. You can do this with children, and it's a great lesson on the transience of life. What you build will not last, but the process will be all the more rewarding for it.
Kites – The wind needs to be in your favor for this sport. You can teach kite-flying to your child on the shore, or simply enjoy the activity by yourself. It tests your patience, but it's worth the wait.
Limbo – Two people hold a rope or stick at a certain height, while another person tries to pass underneath it by bending their back. The height is lowered as each player succeeds. This game is very fun with multiple people. Not to mention, it tests your flexibility.
Bonfire Party – The perfect nighttime seaside activity. It doesn't need to be winter to have a bonfire party, since the sea breeze will keep you cool anyway. The perfect accompaniment for a bonfire is making s'mores. This is a sweet ending to a day on the shore.
In the Ocean
A lot of people choose beach vacations for the experience of the sea. But, do you know that there is a lot more to experiencing the waters than taking a dip in it? There are some activities that you can only do in the ocean that are not possible anywhere else. Here's a list of 10 such thrilling sea sports:
Sailing – The safest way to explore the ocean is sailing. You will need to hire a boat with professional sailors, or you can try your hand at it if you know how to sail. The experience of speeding through the waters while controlling the boat as the wind hits your body is unparalleled.
Surfing – Riding the waves is thrilling and dangerous at the same time. Skilled surfers can experience this adrenaline rush to its fullest. Novice and recreational surfers can enjoy this too, but in shallow waters and under proper guidance.
Windsurfing – Combine the previous two sports and you get windsurfing. You will be riding a board on the water while propelled by the wind. This is more scintillating than sailing, and less risky than surfing.
Whale-Watching – Many seaside tourist spots around the world offer whale-watching boat tours. It's fascinating to witness these creatures up close. The way they spray water is a sight of beauty.
Rafting – This infamous river watersport is now being introduced to the sea. It is far less dangerous and requires little to no skill in this setting. With rafting, you can enjoy a ride on the ocean while taking in the surrounding views.
Kayaking – With a kayak and a paddle, the sea is yours to explore. Many seashores have kayaks available for rent. It's a good way to explore the coastline of a calm ocean.
Flyboarding – A flyboard is powered by gas turbines to lift you to astonishing heights above the ocean while moving like the wind across the water. You will be connected to a watercraft by a long hose. In this new hydro flying activity, you are sure to feel like a bird.
Parasailing – With parasailing, you will be towed behind a boat while attached to a sort of parachute specially designed to help you fly. Another variant of this sport is spinnaker flying, which is equally exhilarating.
Jet Surfing – On most beaches, you can book a motorized surfboard, or jet board, to test the waters when there are no waves. It requires some getting used to, but the experience of whizzing through the ocean like a superhero is worth it.
Cliff Diving – The most hazardous and tantalizing sport is cliff diving. All you need is a seafront surrounded by steep hills, and a mountain's worth of courage. Do this at your own risk.
Under the Water
This is not for the fainthearted. You can truly experience the best of the sea when you go under it. The ocean is more than just salty water that keeps you afloat. It is a whole body of marine life and marine structures that you will never see anywhere else. Experience it firsthand through these 10 breathtaking (not literally) underwater activities.
Freediving – If you have swimming experience and good lung capacity, freediving will suit you. Since you won't be using any breathing apparatus, the period you will stay submerged is entirely up to you.
Underwater Scooter – A diver propulsion vehicle (DPV), better known as an underwater scooter, is a new addition to many famous beaches. It is a scooter-like contraption that carries you around the bottom of the ocean without needing a mask. It offers great visibility underwater, without requiring any prior diving experience.
Snorkeling – Swim through the surface of the water and explore the world underneath with just a pair of goggles, a snorkel or breathing tube, and life vest. It is a liberating experience, and with proper guidance, non-swimmers can do this too.
Submarine Tours – These tours are a safe and hassle-free way of going deep down into the ocean. Leave the navigation aspect to the experts, and explore the marine world from the comfort of a seat, without getting wet. This is ideal for families with small children.
Deep-Sea Fishing – This is a recreational fishing experience that takes you into the deep waters of the ocean. You will be on a boat, and the water depth has to be greater than 30 meters. You can release the fish back into the ocean if you don't plan on eating them.
Sub-Wing Diving – A sub-wing is a new watersport board that is towed gently by a boat. The rider can remain underwater, or come up on the surface to breathe while holding onto the sub-wing. This board can be maneuvered to change the direction. It lets you glide through the water like a dolphin.
Scuba Diving – A classic way to dive deep. The scuba (self-contained underwater breathing apparatus) lets you breathe underwater for long periods. This allows you ample time and freedom to explore the seabed.
Cage Diving – You will remain inside a protective cage while surrounded by sharks on the outside. Your heart will probably palpitate wildly, but you will be completely safe. It is an electrifying experience.
Sea Walking – The sea-walking helmet lets you breathe normally as you walk on the ocean floor. This is also known as helmet diving. It lets you explore the reefs and sea life at your own pace.
Underwater Photography – Take a waterproof camera and click away at the mesmerizing sights you come across on any of your underwater activities. Preserve those incomparable memories.
Get Insured and Stay Carefree
With the wide array of beach and water sport activities suggested above, you won't run out of things to do on any of your beach vacations anytime soon. What you need to take cognizance of, however, is that all of these activities come with varying sets of risks.
Staying careful and taking precautions is obligatory. But even then, you might get seriously injured, drown, or get seasick. The prospect of visiting the hospital in a foreign country is not pleasant in any way, and it can take a heavy toll on your finances as well. This is why you should get travel medical insurance or travel insurance that can provide coverage for watersports before you venture out on any trip. Once you get insured, you can take part in any activity that's covered by your policy with additional peace of mind.
We are sorry that this post was not useful for you!
Let us improve this post!
Tell us how we can improve this post?