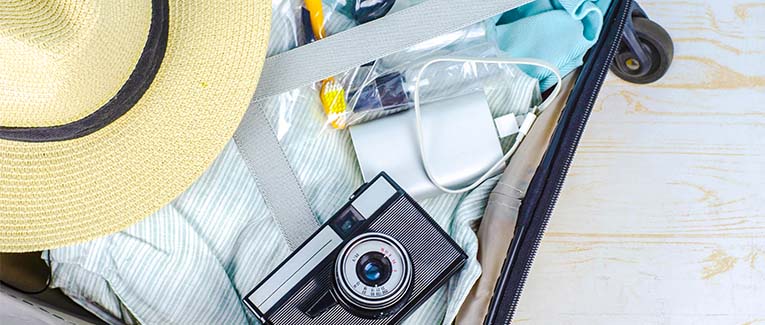 It happens all the time. You pack for a short trip, and deliberately leave out some smartphone accessories. You've either not needed them in the recent past, or simply assume you'll be fine without them. And then you end up badly needing that same stuff.
You can do without travel accessories such as a flashlight, a DSLR, even a laptop. Your beloved smartphone is a capable, all-in-one alternative. What you just can't do without is these smartphone essentials:
1. Smartphone Charger
A compatible charger is the one of the most important smartphone accessories for travel. The charger that came with your smartphone is typically the best suited. If you're looking to buy a new one, go for a compact design with 12W – 25W charging power.
A lot of third-party chargers offer lightning-fast charging. But they might not work for your smartphone. Always check your smartphone battery's charging speed. If the maximum charging speed is 18W, a 25W charger won't charge the phone any faster.
Dual-port chargers are always a good investment. You may be traveling alone now, but two charging ports can always come in handy in future. Look for a charger with a tangle-free, flexible charging cable.
Another factor to consider is the quality of the charger and the cable material. Avoid cheap chargers and cables from unknown brands. These can be falsely rated in terms of their output and charging speed. In addition, cheap chargers and cables pose risks such as fires, electrocution and damaging your smartphone.
2. Portable Power Bank
Portable power banks (external battery packs) allow you to use your smartphone without constantly worrying about the juice.
Your power bank's capacity should be at least three to four times the capacity of your smartphone's battery. Power banks typically involve a conversion loss of 25 to 30 percent. So, a 10,000 mAh power bank will charge a smartphone with a 2,000 mAh battery three to four times.
Shouldn't you opt for a power bank with greater capacity? The answer depends on the weight you'd prefer to carry. A 10,000 mAh power bank weighs between 150 to 250 grams. They're also typically bigger than power banks with lesser capacity. If you don't mind the additional size or weight, you may go for a higher-capacity power bank.
Avoid power banks made up of inferior, fragile materials. The best power bank for travel should be able to withstand a few knocks. We'd recommend a power bank with multiple, layered shells, and heat and fire resistance. These superior quality power banks are generally constructed from one of these materials:
Silicone rubber
Polycarbonate
Anodized aluminum
PC-ABS (polycarbonate acrylonitrile butadiene styrene)
Power banks with multiple output ports are always a good idea. The current lot of power banks comes with two to four ports.
Make sure you look into the power bank's charging speed before making a purchase. The current standard is 2A (amperes). Some newer models offer charging speeds of up to 2.4A. Make sure your device is compatible with that much current before investing in one of these.
Power bank batteries are generally of three types:
Lithium-ion
Lithium-ion polymer
Lithium polymer
Power banks with lithium polymer batteries are considered the safest of the three. These have the least likeliness of explosions and fires. Power banks marked 'Grade-A' have additional safety features such as PTC (in-build circuitry). PTC is extremely useful in the following situations:
Short circuits
Overcharging
Overheating
Current surge
Voltage surge
Prioritize quality. It's always a good idea to stick with a reputable brand. Unbranded or counterfeit power banks boast unrealistically high battery capacity and charging speeds at throwaway prices. Be smart and scroll past such products.
The final rule for choosing a power bank for travel is your means of travel. If you're traveling by air, you'll need to abide by the International Air Transport Association (IATA) norms. These are:
Aircraft passengers can only carry power banks in their hand luggage.
Passengers don't require any official approval for traveling with power banks rated up to 100 watt-hours.
Carrying 100 to 160-watt-hour power banks requires the airline's approval.
Power banks with over 160-watt-hour power ratings are not allowed on a flight.
3. Foldable Keyboard
Think you might need to do some typing while traveling? Well, then a foldable keyboard is a must for you. It allows you to ditch your laptop and still get work done in a quick, comfortable manner.
Most foldable keyboards are Bluetooth compatible. When looking for the right foldable keyboard, look for these features:
LED backlight
Touchpad
Dedicated smartphone slot or stand
Rechargeable battery
There are plenty of models that operate on AAA batteries. If you opt for one of these, make sure to carry enough spare batteries when you travel. Others are rechargeable. Keep the size of the power bank you plan to bring in mind if you also need to recharge your keyboard.
4. Car Mount
The car mount is one of the most essential smartphone accessories for traveling by road. A good car mount secures your phone and helps you make and receive calls hands-free. It also helps with navigation, and other phone features using the voice assistant.
Car mounts use a suction base, or some form of adhesive or clip to attach to the dashboard or AC vent. Want to be able to charge your phone while it's mounted? Go for a car mount with an in-built wireless Qi charger. Qi chargers use your car's DC port to charge the phone.
These car mounts work for most smartphone models. Verify your phone's compatibility before purchasing a car mount.
5. Bluetooth Speaker
If you're considering buying a smart speaker for traveling, take a pause. A Bluetooth speaker is a more practical option. Whether you're relaxing at a scenic site, or hiking a rough trail, a good Bluetooth speaker is always useful. A smart speaker can fail you in the outdoors where the Wi-Fi signal is unstable or absent. Bluetooth speakers, on the other hand, will play on regardless.
Bluetooth speakers typically have a better sound quality and are more economical than smart speakers. Waterproof Bluetooth speakers that can also operate as speakerphones are idea for traveling.
6. Protective Smartphone Case
Just as you shouldn't travel without comprehensive travel insurance, your smartphone shouldn't come along without a protective case. A protective case should be chosen based on your phone's features, and how you carry and handle it.
Smartphones with reliably unbreakable screens can do without 360-degree protective casing. If your phone lacks that feature and you're somewhat reckless with it, you should invest in a shatterproof case.
Some modern-day smartphone cases are safe enough for underwater photography. Planning on partaking in watersports or want to be prepared for any weather? These cases are perfect for you.
All of these travel essentials are one-time investments for making your travels more fun, comfortable and productive for years to come. Make sure you take your time choosing the ones that are just right for you.
We are sorry that this post was not useful for you!
Let us improve this post!
Tell us how we can improve this post?