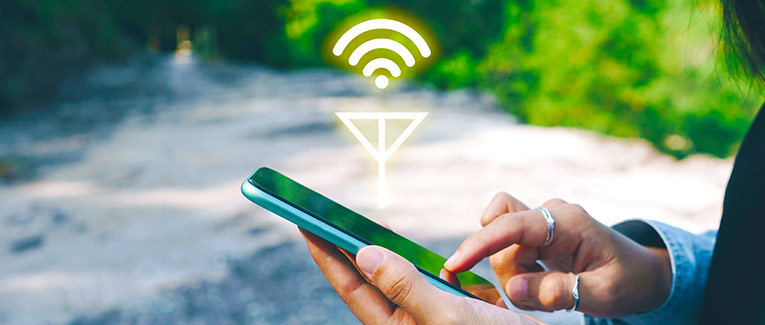 For many, the desire for a good Wi-Fi connection abroad proves to be an extremely expensive wish, as international roaming data plans are often costly.
There are many reasons why you might need a Wi-Fi connection while traveling; you might use apps like Google Maps, Gmail, Whatsapp, and Zoom.
In this article, we will guide you through all of the choices available for getting reliable phone service when traveling without breaking the bank.
Note: The details of products, plans, and prices mentioned in this guide are current as of April 8th, 2021.
5 Ways to Get Phone Service When Traveling
You have plenty of options to stay connected and get phone service when abroad. The costs, however, vary across regions. Some parts of the world have exceptionally low data costs. In India and Israel, a gigabyte can cost you as little as a few cents. In parts of Europe, such as Greece, this can soar to $12/€10.
Here are some alternatives:
1. Use phone roaming service when traveling
This is the easiest since there is no headache with buying another device or a new SIM card.
Ask your mobile phone company if they offer mobile roaming in the country that you will be traveling to. They might have their own network, (Vodafone has its own network across 26 countries) or a local partner (T-Mobile users from the U.S. use Orange network when in the UK). The cost depends entirely on your carrier.
Cellular plans are never one-size-fits-all.
Corporate clients get a different deal since they buy connections in bulk.
Those on a premium plan might get a discount on international data roaming rates.
If you are on a cheaper monthly plan, your service provider might ask you to enhance your deposit.
Most cellular companies offer a day pass that provides you a fixed amount of data for 24 hours for a reasonably affordable sum.
Verizon U.S. issues global data passes that allow 0.5 GB of data and several minutes of international calls. The fine print is unusually complex, and a thorough reading of it is recommended before you sign up.
Ensure that auto-updates through mobile data are turned off when traveling, as this will help save data.
You might need to manually update settings such as APN, Proxy, or Port depending on the phone model and carrier used to access the internet while abroad.
2. Buy a local SIM card
This is an effective solution in two scenarios:
If you are traveling to a country where the cost of a SIM card and data is low, you can buy a local Vodafone SIM. Typically costing less than 25 cents per minute, this is likely cheaper compared to your own SIM's international roaming rates.
If you are a frequent traveler to another country for business, it makes more sense to have a local SIM in addition to the one from your country of origin. If you are from Toronto and are often traveling to Cape Town for business, it makes sense to buy a local SIM from MTN or Vodacom.
Note that international data roaming is usually costlier and more restrictive compared to local plans. So, you could save a tidy sum and get more data with a local SIM card.
If your first device is locked (a peculiarity of the U.S. where carriers subsidize the cost of the phone), consider buying an unlocked device. Better still, buy a device with dual-SIM capability.
3. Use free Wi-Fi
This has become the de facto solution for most travelers. Hotels, airports, rail, and bus stations routinely offer free Wi-Fi. For over a decade, free Wi-Fi has been available at cafes and restaurants like Starbucks. This is your best shot at accessing Wi-Fi when traveling.
Buying a new local SIM, or subscribing to a global roaming plan can be a bit of a process. The simplest solution is to just use your device's Wi-Fi connection to log into a network wherever you can.
Across much of the UK, Australia, and Europe, there are free Wi-Fi zones in public spaces such as libraries. They are reasonably fast but don't necessarily provide the speed that you might be used to. However, this option is free.
Your smartphone will tell you which Wi-Fi connection is the strongest. Once you click to connect, a browser page opens and will ask you to fill in some information. Then, you can enjoy the internet when traveling.
This method is not without a few downsides. Usually, your connection will terminate after an hour, or after using about 500 MB. Some public networks might prevent access to sites that use a lot of data, such as YouTube.
It's important to remember that your data privacy can be easily compromised on a public Wi-Fi network, so refrain from any activity that involves financial or personal information.
4. Using specialized services
You can use a specialized service, such as Skyroam. There are also similar offers from competitors like Roaming Man and Google Fi.
Skyroam is a small device with a basic display and a large battery. The device has no SIM inside it and features what it calls a Cloud-SIM.
To use it, all that you need to do is press the power button. The device will search for public Wi-Fi and log in automatically. You can connect five devices at a time to its built-in hotspot.
Since it uses encryption, online transactions are stated by the company to be safe when using Skyroam.
However, you are limited to 500 MB of data at 4G speed. You will only continue to get unlimited data at 2.5G speed after 500 MB.
While 2.5G is not enough for Facebook browsing, it is still useful for Google Maps and translation. Of course, the fact that it uses public Wi-Fi means it is of little use in regions with no infrastructure.
Skyroam costs approximately $150 USD, and a day pass costs $9. You can get a hefty discount if you buy a monthly pass for $99.
5. International SIM
Several brands of international SIM cards have emerged. OneSIM, GoSIM, and KnowRoaming are some of the more well-known names.
These are essentially prepaid SIMs with two numbers. One of the numbers is in the U.S., and the other is European. The cost of data varies depending on where you are accessing the network from.
OneSIM claims that its network offers you 85% savings over international data roaming, availability in over 170 nations, and consistent 4G speeds. Its competitors make similar claims, so it is important that you do your research to find out which one best suits your needs.
Is There a Best Way?
You can stop wondering how to get service when traveling. If you can afford it, an international data roaming plan or local SIM is typically the best method to get phone service when traveling. If not, newer solutions such as Skyroam and international SIMs can save you a lot of money.
If you do not want to spend any money on data, no juggling of plans, devices, and SIMs, then public Wi-Fi is the best option.
Also, before you set off on your trip, there's another way you can potentially save a lot of money; that is by purchasing travel insurance. Travel insurance is designed to provide you with financial protection for hosts of different situations you may encounter while traveling. You don't want to save a lot of money on data charges, only to be stuck paying for lost luggage, or an unexpected extra night at a hotel due to a delay. Buy travel insurance that offers the right coverage for you.
We are sorry that this post was not useful for you!
Let us improve this post!
Tell us how we can improve this post?