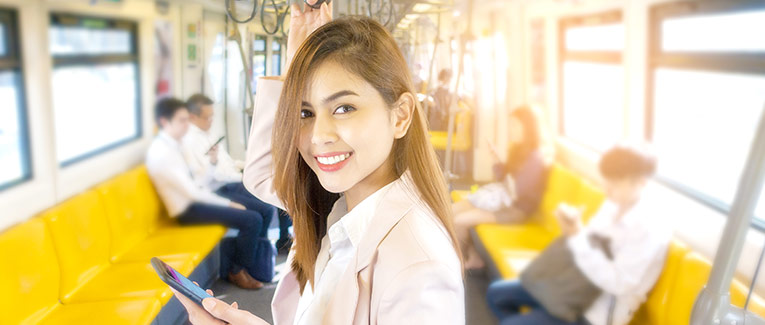 (For the purpose of this article, the term "public transport" is used to define modes of transportation that include buses, subways, trams, and trains.)
According to the information provided by the Bureau of Transportation Statistics, U.S. public transport is one of the safest means for travel. As far as fatalities are concerned, it ranks second in terms of safety, after flying. Surprisingly, despite such a large volume of supporting data, travelers are hesitant to use public transport while abroad.
Public transport systems are a much cleaner, greener and cheaper way to commute from one place to another. Sometimes, they are much quicker than traveling by car, as they avoid traffic jams. Navigating an unfamiliar transport system in a new city can be a bit scary for first-timers. However, with a little bit of research and planning, you can master the art of commuting like a local in no time.
Know Your Options
Every city will have its own set of transport systems with interconnecting stations. Not all local conveyance will be suitable for your travel purpose. Research several different ways to reach your destination, and choose the one that best suits your needs.
Don't shy away from using the subway system just because the route seems unfamiliar. Know where and when to purchase tickets, as some intercity train systems take reservations months ahead, and others might fluctuate their prices according to seat availability.
Consider a City Pass
Many metropolitan cities offer city passes that can be purchased ahead of time. A city pass lets you use multiple modes of public transport over a designated period. Some even include free entries to certain landmarks and museums. However, these passes are not always the cheapest option. If you are new to a city and are not sure whether you will need to use different transportation modes, maybe forego the passes. Instead, opt for one-way and pay-per-ride tickets to avoid wasting money.
Travel Light
Dragging your heavy suitcases and backpacks across train and bus terminals is no fun, especially when you are traveling solo or with small children. A minimalistic approach to packing will not only increase your mobility, but also save money in baggage charges.
If you are tempted to carry that extra pair of boots or portable speakers, ask yourself if there's really any point to lugging around items for the next week that you might not even use.
Get a Transit Map
Use the information desk at the terminals to get transit maps. You can also ask for expected times of arrival, departures. and the last running time of the day. Additionally, check the website of the transportation provider for additional information.
Download the transit maps to your smartphone. They will guide you to connecting stations. Be conscious of the last running time of the day to avoid getting stranded in an empty terminal in the middle of the night. Even extremely busy transport networks don't serve all stations at all hours of the day.
Carry Exact Change
Most public transport systems will require you to purchase your tickets before you board. However, in some cases, like trams and buses, you might be able to use the vending machine inside the vehicle. In such cases, you may need to have exact change to get the ticket.
Also, if you decide against getting a city pass, it will be quite handy to keep a small amount of change in the local currency. The clerk at the ticket counter will most certainly insist on change, especially when you are buying a one-way subway ticket to a nearby station.
Leave Enough Time
If you are planning to commute entirely using public transport, keep in mind the amount of time you'll need in each terminal while making your itinerary. Depending on how busy a terminal is and how much baggage you're carrying, it may take you several minutes to make it across the terminal to your connection. Leave enough time so you don't risk missing it.
Look After Your Luggage
Most public transport systems don't offer secure storage space for your luggage. You might have to stash it near the door or at the back of the compartment while sit a few seats away. Be vigilant when it comes to guarding your valuables, since public transport is often rampant with opportunistic thieves.
Avoid the Crowd if Possible
Pickpockets are always on the lookout for naive tourists in public places. Avoid boarding a crowded bus or train if you can, especially if you are by yourself. Also, refrain from drawing unnecessary attention towards yourself by foregoing the expensive jewelry and dressing conservatively.
Listen for Announcements
Nearly every mode of public transport will have a public address system announcing important information to passengers. These announcements will include the departing and upcoming stations, general safety information, and advisories. Follow the instructions and be sure to pay attention so you don't miss your stop.
Know How to Get Help
Whether you are taking the bus, subway or train, every terminal will have a few local police officers or transit workers who you can ask for help in case of an emergency. Don't hesitate to report to authorities if you suspect any of the following:
Unwarranted attention
Unguarded luggage
Suspected scammers or thieves
How Can Travel Insurance Help You Save
When you are already spending a lot on an international trip, every penny counts. While commuting through public transport may be comparatively cheaper, there's no way to prevent common travel mishaps. Setbacks like stolen luggage, cancelled trains, or an unexpected accident are not entirely uncommon, and often result in a financial loss. Your best bet in such cases is to get insurance coverage that will take the edge off of any extra expenses that you might incur. A travel insurance plan can not only help you get emergency medical service without the financial burden, but can also help you get reimbursement for lost/stolen luggage or cancelled departures.
We are sorry that this post was not useful for you!
Let us improve this post!
Tell us how we can improve this post?