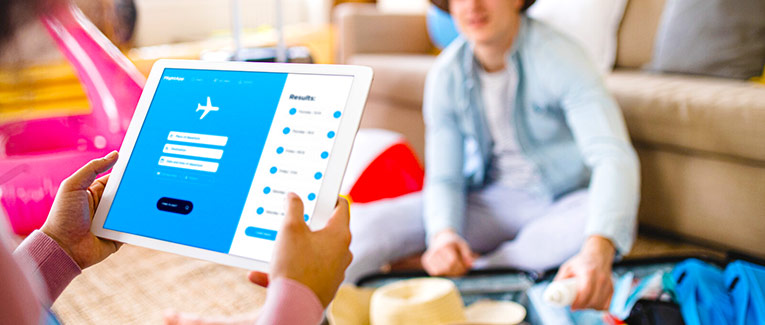 Often, flights are the most expensive components of an international trip, especially if you are traveling with your entire family. But, they don't have to be.
By using the right techniques and some smart planning, you can book cheap flight tickets. You do not need to wait for the typical offseason for the low-fare options that airlines offer. At any time of the year, you can find cheap flights.
Here are some flight ticket booking hacks that can reasonably ensure that you land a competitive deal.
How To Book Cheap Flights – Answered
1. The Early Bird Catches the Worm
Airlines release "early bird" fares up to a year in advance. These offers are for limited periods and are heavily discounted as compared to the usual fares. Plan your trip well in advance and enjoy offseason rates on peak season tickets.
2. Get Notified About "Mistake Fares" For Booking Cheap Flights
These are fares that are a fraction of the actual ones. Airlines accidentally post them sometimes. But, if you buy your tickets at that price, the airlines will usually honor them. There have been cases where people have bought a New York City-Santiago round-trip ticket for $290, or one for Los Angeles-Hawaii for about $300.
The catch is that you have to be prompt to grab these fares. The moment the airlines realize their mistake, they will rectify it. That's why you should sign up for alerts from sites that provide you with such information and jump at the opportunity.
3. Compare Prices from Different Sites
A simple Google search can lead you to a large number of sites dedicated to booking flight tickets. Some are quite reputable, and others are not that well-known. Visit as many of them as possible, and after obtaining the rates from them, compare them. You can also do a quick search with the airlines directly in case they have some limited-time discounts on flight tickets.
Once you have found the lowest price, it would be worthwhile to visit the airline's site and compare the price. In case there is no significant difference between the prices, you can choose either source to book the ticket.
4. Don't Book at the Last Moment
Prices escalate quickly about a month before departure. Good last-minute flight booking deals are hard to come by, and you might end up paying a far steeper fare on the same flight. So, book at least one to two months in advance, if not earlier.
5. Be Flexible
Instead of selecting the date first and then buying the tickets, do it the other way round. Let the lowest price set the date for you. By being flexible in selecting your travel dates, you can get decent savings on flights. Sites like Google Flights will notify you in case lower fares are available if you shift your itinerary by a day or two.
6. Embrace Layovers
This is another area where you need to be flexible. Understandably, a direct flight saves time and lets you avoid annoying layovers.
However, if you can handle some extra travel time, you can get substantial savings. Look for flights with one layover instead of direct ones, especially if you are flying on an intercontinental route. You can manage to save a few hundred dollars, on average. That will be more than worth the longer duration of the journey.
7. Fly Without the Frills
Use the flight as just a mode of transportation, devoid of any luxuries or indulgences. Save those for your destination. Flying on a budget airline can reduce expenses significantly. Low-cost airlines are available almost everywhere, so select one that flies to your destination. You will need to keep your baggage weight low and carry your own food. Also, there probably won't be movies onboard, and the seating might be the most comfortable. However, giving up these comforts can result in big savings.
8. Fly From Large Airports
The nearest airport may not be offering too many competitive deals regarding flight tickets. However, a large international airport in another city may be. Book your tickets to your travel destination from this large airport, and take a positioning flight from your location to this city. Larger airports are served by more airlines, increasing your chances of getting a competitive fare.
9. Consider Flying Two Airlines
We all know that it's convenient to book a return ticket on the same airline with which you departed. But you can try to book your return flight on a different airline. Doing this can allow you to get a lower fare for the return trip. While it can be a little less convenient, the savings are worth it.
10. Choose Flight Times Wisely
Early morning or late-night flights are usually cheaper, as fewer travelers want to take them. Look for flight options during these time slots to get cheap flights. As a bonus, these flights often have fewer passengers, which can result in a little more room on board for you.
11. Sign Up for Reward Programs
Reward points keep getting added on every time you fly with the same airline. At any point, you can redeem them. This takes a chunk out of your flight ticket costs and helps you to save some money. So, do sign up for the reward points programs.
Know That You Know How To Book Cheap Flights, You're Cleared for Takeoff
It always does you good to do some serious research before you embark on your trip. Plan your trip in advance and start a focused search to book cheap flights. Be sure to have travel insurance in place to protect your finances in case of a flight cancellation or delay. You may be pleasantly surprised at the number of dollars that you manage to save, courtesy of a planned approach to booking.
We are sorry that this post was not useful for you!
Let us improve this post!
Tell us how we can improve this post?