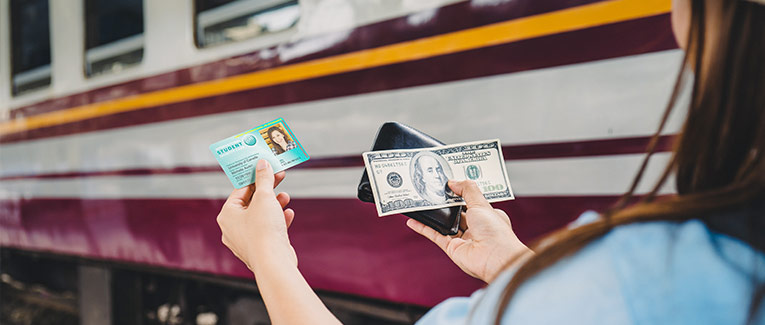 When you're traveling overseas, your student ID card can get you amazing discounts on a lot of different amenities including accommodations, sightseeing, food, and even shopping. But, to receive these benefits, you'll need an ID recognized by the International Student Travel Confederation.
The International Student Identification Card (ISIC) and International Student Exchange (ISE) card are two globally accepted ID cards for students enrolled in a junior high, high school, vocational school, college, or university. Having one of these can amount to saving tons of cash on overseas trips.
How to acquire an International Student Identification Card?
To acquire an ISIC, you must fulfill these conditions:
You must be age 12 or older.
You must be enrolled as a full-time student in an accredited school, university, or college.
You must submit documents to support your identity and status as a full-time student, along with a recent passport-style photograph.
The ISIC is approved by the United Nations Educational, Scientific, and Cultural Organization (UNESCO). The card if accepted in over 130 different countries, and it carries over 150,000 benefits and discounts internationally, along with more than 125,000 discounts in over 2,300 U.S. locations.
Featured benefits and discounts
Discounted flight tickets.
Discounts on trains, buses, and shuttle services during overseas trips.
Free or discounted entry to sites of educational, historical, and cultural value.
Discount on accessing student facilities in the U.S. and abroad.
Concessions on hotel bookings and international tour packages.
Free or discounted subscriptions for student magazines and online courses.
Discount on purchases of electronic equipment such as computers and tablets.
Discount on entertainment such as movies, plays, online music stores, and streaming services.
Discount on shopping at both physical and online stores such as Adidas and Amazon.
Concessions on membership fees of health clubs and sports centers.
Free food and drink offers at major international food chains such as McDonald's and Pizza Hut.
Free basic accident and sickness insurance while traveling overseas.
24/7 travel assistance helpline.
You can apply for the ISIC online at isic.org or through the ISIC app. The online discount search tool allows you to search for relevant discounts simply by entering the name of your current city. The card is valid for a duration of one year from the date of purchase.
How to acquire an International Student Exchange Card?
Both full-time and part-time students are eligible for an ISE card. Here are the eligibility criteria:
You must be age of 12 or older.
You must be enrolled in an accredited school, college or university.
You cannot have graduated or be scheduled to complete your education program in less than one year from the date of application.
You're also required to submit a scanned copy of your passport (or other identity proof), documents supporting your school/college admission, and a photograph of your face.
An ISE card makes you eligible for more than 100,000 varied discounts all over the world. All discounts included in the ISE Card benefits and discounts list are guaranteed.
If an establishment refuses to give you the listed discount, the ISE is liable to reimburse you twice the sum of the difference between the price you pay and the listed discounted price for a service. In addition, the validity of your ISE card will also be extended by twelve months.
Featured benefits and discounts
You can use your ISE card to pay your insurance deductibles. The ISE card covers costs of up to $100 per visit to a doctor and a total of $2,000 a year.
An ISE card offers Airline Bankruptcy Protection. If the student travel agency or airline that you've booked your tickets from files for bankruptcy, the ISE can reimburse the entire sum you've paid for your booking.
Around the clock assistance for travel-related inquiries and issues such as loss of passport, travel documents, and more. The ISE has a dedicated emergency hotline that supports 24 different languages.
Guaranteed 5 to 50 percent savings on accommodation fees, restaurant and nightclub bills, adventure activities, educational trips, and dozens of other student facilities.
An ISE card is valid for one year. You can apply for an ISE card online at isecard.com. The delivery of the card typically takes 5-30 days depending on your location.
Student discount tricks for maximizing your savings
Here are some simple, savvy tricks to enjoy huge savings during your travels.
Create a detailed travel plan
Plan everything from transportation to accommodations based on your student discount card. Both ISIC and ISE websites include lists of travel agencies, hotels, and hostels that offer discounted deals to traveling students.
Make a note of at least a few discounted cab services, restaurants, and attractions in every city you'll be visiting. This will ensure that you don't end up paying extra to undiscounted service providers in the event of an emergency or change in plans.
Always inquire about student discounts
Even if you do end up at an attraction or store that's not included in your ID card's discounted services list, don't be ashamed to flash your ID and ask if they offer a discount. There are hundreds of small and medium-sized businesses across the globe that don't advertise their student-friendly deals. Pull out your ID card, ask nicely and they will more than likely happily extend you the benefits.
Ask for student discounts on top of existing deals
An existing, ongoing discount doesn't mean that you can't get your student discount on top of it. If you come across a sale or limited period deal at a big brand or a local business, ask whether you're getting a student discount with your purchase.
Businesses that don't allow stacking discounts might ask you to pick between their deal and the student discount during check-out. In such a situation, check whether any of the deals involve cashback or loyalty points, and compare the actual overall difference between the two deals before making a choice.
Explore non-discounted businesses
Just because a business is promoting its student-centric discounts doesn't mean it has the best deals. Small, local businesses such as transport services, restaurants, and travel agencies may be offering better quality, variety, and rates even without any student discount.
If you're traveling abroad during local or international holidays, or occasions such as Black Friday, deals offered by local businesses can closely compete with the student discount at ISIC and ISE affiliated brands.
Insure your trip
All the discounts you can receive with your ISIC or ISE card may not mean much if you get seriously injured or sick on your trip, or lose all of your luggage and have to buy replacement items. Rather than worrying about blowing your holiday budget on unexpected expenses, get travel medical insurance or travel insurance instead. Your international insurance plan can help protect you against these unplanned costs.
Look for online promotions
Major international brands such as Pizza Hut and ASOS boost their student discounts from time to time. These occasional deals are often promoted heavily on the brands' social media channels. Keeping track of your favorite brands' social media activity will help you make the most of these additional discounts.
The limited time increase in student discounts usually occurs around the holiday season, and can lead to huge savings. You can go online and search a brand's ongoing student discounts in the country or city that you're in, locate the nearest store, and enjoy huge savings on your favorite brands even when you're out exploring a different country.
Your student ID card doesn't just verify your identity, it's key to a wide, wonderful world of exciting discounts. Always keep it handy, and have safe, rewarding travels.
We are sorry that this post was not useful for you!
Let us improve this post!
Tell us how we can improve this post?