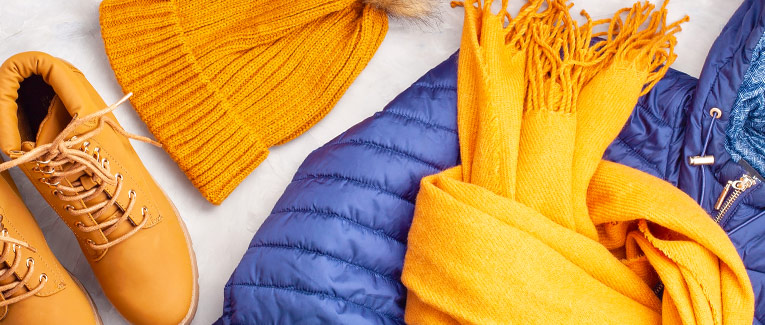 Are you jetting off to that much-anticipated skiing trip, or getting ready for that wonderful winter road trip? Winter is a beautiful time to travel, with its snowy landscapes and cozy meetings with friends and family. However, packing for a winter holiday requires more preparation than you would need for a regular vacation. You need these essentials to stay warm, safe, and healthy throughout your trip.
1. Winter Coat
Packing an insulated coat or jacket is a no-brainer when traveling during the winter. Choose neutral colors like navy blue, gray, or beige to match any outfit. Trench coats are great to both dress up and dress down. Ladies, pair a smart trench coat with thigh-high boots to make a killer fashion statement without feeling the chill.
If you are planning to spend more time outdoors hiking or biking, opt for a light but insulated down jacket. The best part about down jackets is that you can roll them up to take up very little space in your suitcase.
2. Thermal layers
Layers are the key to staying warm; especially in bitterly cold temperatures. When you dress in layers, small pockets of warm air are created between each one, providing excellent insulation. Plus, if you get too warm or too cold, it's easy to adjust your temperature by simply adding or removing a layer.
Pack some thermal shirts and leggings to wear under a sweater or jeans. The fleece lining is soft and extremely comfortable against the skin. If the weather isn't too cold and you don't want to wear a big coat, simply put on a regular shirt on top of the thermal layer, and you're good to go.
3. Scarves
When the mercury is dropping outside, you tend to lose the most heat from your neck and head. Covering your neck can quickly make you feel snug when it gets chilly or windy.
Scarves are an excellent winter accessory for traveling; not just because of the warmth, but also because they are so easy to pack. Roll one up and chuck it in your suitcase, backpack, or purse.
Pick out a large merino scarf in a bright color to serve as a handy pop of color. A large enough scarf can also serve as an airplane blanket.
4. Hats and Beanies
We cannot stress this enough: A hat is the best way to stay warm when it's particularly frigid and windy. A woolen hat, beanie, or balaclava can protect your head and ears from cold and frostbite on even the coldest days.
For the fashion-conscious; not only are beanies super warm, they quickly up your style factor too. A fluffy beanie with a cute tassel at the end gives your outfit a fun touch.
5. Socks and Gloves
For many of us, our extremities are the first things to get cold when the mercury drops. Whether you're going out, or just relaxing indoors, wool socks should be on every winter packing list. They're comfortable, warm, and naturally antimicrobial.
Gloves are essential for wintertime outdoor activities. They prevent you from needing to keep your hands in your pockets, and some are even optimized to work with touchscreens, such as the one on your smartphone.
Here's another benefit of gloves: they keep you from touching dirty surfaces directly. And, of course, you can never be too cautious.
6. Medical Supplies
Cold weather comes with a heightened risk of diseases, seasonal infections, and injuries. Be prepared for these health risks by packing a travel medical kit on your holiday. These are some essentials you should take along:
Cough and cold medicines
Headache pills
Basic antibiotics
Lozenges
Painkillers (the cold tends to exacerbate old injuries and joint aches)
Band-aids and bandages (icy surfaces could cause nasty falls)
Travel smart by buying travel medical insurance to face the health risks of your winter vacation. If you become sick or injured during your winter vacation abroad and require medical treatment, your insurance can provide essential financial protection from large healthcare bills.
7. Sunglasses
Did you know the UV radiation is stronger in the winter than in the summer? Sunlight reflects off of snow, and can be especially harsh at higher elevations.
Pack a pair of sturdy anti-UV sunglasses to protect your eyes from the sunlight. Also, sunglasses are a must to shield yourself from flying bits of snow while skiing or snowboarding.
8. Boots
A good pair of boots is the ultimate winter accessory. Invest in a pair of winter boots that are thick and waterproof. When it snows in droves outside, a regular pair of sneakers will just not cut it. And if you take part in any adventure sports in the snow, proper footwear is a crucial part of the gear.
Your boots should be fleece-lined to keep your feet extra warm and dry. Women can opt for heeled boots to up the glam quotient.
9. Moisturizers
The combination of cold and wind wreaks havoc on your skin almost immediately. Plus, spending long hours in a centrally heated room can also dry out your skin.
That's why you should stock up on a good-quality moisturizer and lip balm for your trip. The formula should be thick enough to give your skin a day-long moisturizing effect. Natural products like shea butter and almond extract is also great at keeping skin hydrated.
10. Insulated Thermos
Sipping a hot cup of tea or coffee in the freezing cold is pure bliss. Carry around an insulated thermos with your hot water, tea, or coffee on the go. You could also buy a smart thermos that allows you to adjust the drink's temperature and aeration with your smartphone.
11. Power Bank
If you have any experience living in a cold region, you know that your phone's battery hates the low temperature. In subzero temperatures, the chemical reactions in phone batteries become grindingly slow. This causes the battery to drain faster, even with minimal usage.
Pack a multi-outlet power bank to ensure that you never run out of battery on the go.
12. Hairdryer
Imagine this: you step out of the shower in your Airbnb or hostel with dripping wet hair. The blast of cold, made worse by your damp hair, could end up giving you a headache or a cold.
A hairdryer is super handy to have on a winter vacation, especially if you have long hair and don't plan to stay in hotels. It doesn't take up too much space, and you will be glad for the instant respite.
We are sorry that this post was not useful for you!
Let us improve this post!
Tell us how we can improve this post?