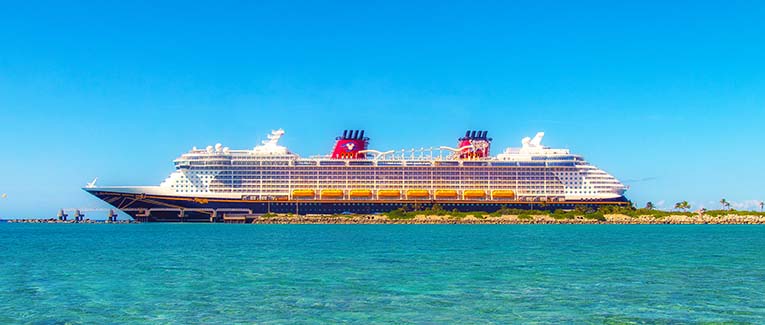 A trip to Disney World is truly magical. Disney never ceases to encapsulate your senses. But there's more to Disney World than what meets the eye. This season, plan a Marvel Day at sea, or a Frozen cruise on your trip to Disney World.
Disney Cruise Line says Magic is Here. And it truly is. Most often we hear tourists tell us how they could have done so much more if their days at Disney World weren't numbered. And that's why we are here to help you handpick activities on which you can splurge when on a Disney cruise.
Book a Memorable Disney Cruise Line
You can board a magical Disney cruise right in front of the rising sun. Book your Disney cruise line from Florida and enjoy a vacation that is truly filled with magic. Visit disneycruise.disney.go.com and explore some charming packages that'll help you book a cruise with confidence.
Also, look at some special offers on the website. We'd advise you to book your Disney cruise line at least six months in advance. If you're a Disney Premier Visa Card member, you can get special offers on early bookings.
Get your children enrolled in kids' clubs, and some Disney-themed entertainment activities featuring their favorite Disney characters. That's going to be the highlight of your cruise trip. Let your daughter dance with Mickey Mouse, or enjoy a Millennium Falcon at Disney's Oceaneer Club. Let your little one get a chance to dine with Donald Duck or Goofy.
And that's not all. While the kids are enjoying their time with Disney or Pixar characters, adults can engage in other amazing activities. Check them out below:
Bid adieu to your worries as you witness the skyline, and get swept off your feet from the chic sky bars.
Book a table at an upscale lounge spiraling with the city skylines, and witness the day turning into the night as you sip on your wine.
Heard of Paris 75, Londinium, or Aphrodite? Yes, one of them is a Greek goddess. But it's also one of the most admired hand-crafted cocktails. Explore more such metropolitan cocktails inspired by some of the most beautiful cities in the world.
Visit The District on the Disney Dream for exploring exciting nightclubs, bars, or lounges. Some of the popular ones include Pub 678, Evolution, Pink: Wine and Champagne Bar, District Lounge, and more.
Splurge on Live Shows and Entertainment Options
It's rightly said that the sea surpasses existence. If you love watching the sea or marine life for hours, here's something more that you can splurge on without thinking twice.
Immerse yourself at the nightclub "Fathom", which is inspired by the ocean. Witness the splendor of the sea as you sip on your drink with your family; the jellyfish fiber-optic light fixtures continually transitioning like the ocean. If you love to sing, you can participate in the live karaoke and have the ocean bring you into the spotlight.
Catch a live game show in the evening, and end your night with a live musical show at the Fathoms.
Also, try some appetizing sea-inspired cocktails and mocktails at the Fathoms. Its cidre de glace (apple ice wine) is a specialty!
New York is not the only city offering unforgettable nights out. If you sign up for the nightlife at the Disney cruise, you won't regret it even if it means splurging a bit more.
Now let's look at bookings. Before booking your hotel and flight tickets, make sure you have your travel insurance plan. Wondering why you need travel insurance for your Disney cruise? Go on, check below:
Why Do You Need Travel Insurance?
Simply because the only thing you should be worrying about while planning your Disney cruise is what all to pack. Travelers often feel that travel insurance or medical insurance is not significant while planning their trip. We support your positive outlook if you think like that, but prevention is always better than the cure.
Since unforeseen events cannot be predicted or avoided, a travel insurance plan can be your armor when mishaps occur. Look for these coverages before buying a travel insurance plan for Disney cruise:
24-hour emergency assistance
Flight delay or cancellation
Trip interruption due to injury or death.
Visit Insubuy to view a variety of plans, compare their features, and then e-purchase your insurance right from the website. Once you have your travel insurance plan, you can leave your worries behind and go on to book your accommodation and flights for the Disney cruise.
Can You Splurge on Accommodation?
Since you are choosing the Disney cruise line, you don't have to worry about booking a hotel room. But you should look for the ideal stateroom on the cruise ship. If there's one thing tourists complain of after returning from a cruise ship, it's booking the wrong stateroom at the deck. So, don't shy away from splurging on accommodation. It's important.
While booking the cruise line, you'll get an option to choose your stateroom. Here's what we suggest:
As you must have already seen in the images online, the ships are huge. So, you'll feel minimum movement, but there can be a little disturbance if the sea is harsh. We'd suggest you book the stateroom right in the middle of the cruise ship. You can't feel the movement at the center of the ship as much as you'd feel it on either end.
Tourists who are re-visiting Disney World often come prepared with this information and pre-book the midship area. So, make sure you book your place amidships eight or nine months in advance.
Take a sneak-peak into the Disney cruise line staterooms to know what you'll be getting for the extra bucks you're going to spend on accommodation.
The cruise line is divided into four main stateroom types:
Verandah:
Deluxe Family Oceanview Stateroom with a Verandah
Deluxe Oceanview Stateroom with Verandah
Deluxe Oceanview Stateroom with Navigator's Verandah
Concierge:
Concierge Royal Suite with Verandah
Concierge Family Oceanview Stateroom with Verandah
Concierge One-Bedroom Suite with Verandah
Oceanview:
Deluxe Oceanview Stateroom
Deluxe Family Oceanview Stateroom
Inside:
Standard Inside Stateroom
Deluxe Inside Stateroom
One of the best inclusions in the Disney cruise line is wheelchair-accessible staterooms. Yes, you can book a stateroom that comes with a wheelchair-accessible facility. Some of those include Deluxe Family Oceanview Stateroom with Verandah, Deluxe Family Oceanview Stateroom, Standard Inside Stateroom, etc.
There are many more facilities available for differently-abled guests. You can check them all out at the Disney cruise website.
What's left now is for you to pack your bags and book your flights for the most magical cruise of your life!
We are sorry that this post was not useful for you!
Let us improve this post!
Tell us how we can improve this post?