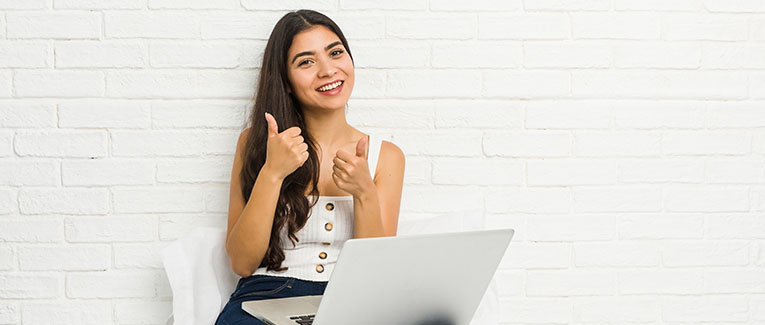 One of your first priorities once you move to the U.S. will be to get a good Internet connection.
Free Wi-Fi at the airport will help you make your first few VoIP calls. That said, you'll need a dependable Internet connection for your residence and for your mobile phone as early as possible.
For everything from speaking with your friends and family back home to online shopping, remote working, or entertainment, the Internet will be your lifeblood.
So, what are your options? Which providers should you choose? Read on to find out about how Internet connections work in the U.S.
Types of Internet access
There are two major categories of Internet access:
Dial-up access
Broadband access
Does anyone even use dial-up anymore?
Dial-up is a means to connect to the Internet via a phone line. This is a semi-stable connection and is usually very slow.
To put it in perspective, dial-up speed does not go above 56 kbit/second. However, many extremely remote or rural parts of the country still rely on dial-up connections to access the Internet.
What is a broadband connection?
Broadband access is the newer and faster cousin of the dial-up connection. Broadband works on a permanent link; that is, it does not use a phone line to dial up to servers. It makes the connection through cable, satellite, or via a mobile device.
Broadband connection speeds are at least 25 Mbit/second for downloading and 3 Mbit/second for uploading data.
Quick tips before you select an Internet provider
Estimate your monthly net usage
If you stream a lot of videos or movies, your data consumption will be much higher than if you just browse the Internet. Keep in mind that you will probably be speaking to your relatives and friends back home via communication software like Whatsapp, Zoom, etc. If you use them regularly, they tend to take up a lot of data.
Find out the average Internet speed in your location
Almost all cities and towns in the U.S. have rapid download and upload speeds. Currently, the average download speed is 135 Mbps and the average upload speed is 52 Mbps—almost double the global average.
However, if you are moving to a remote location like the middle of the Rocky Mountains or rural Alaska, you might be better off with a satellite connection rather than regular mobile phone data.
Check for service bundles
Many service providers have pre-made "bundles" for connections. That is, you can get your television, home Internet, phone connection, and phone data from the same provider for a reduced bundle price.
Since you will likely require new connections for all these services when you move to the U.S., picking a package like this would be more economical.
Getting a home Internet connection
Setting up a new home WiFi connection? Here you have the option of picking a DSL connection (Digital Subscriber Line), a cable connection, or a fiber-optic connection. All three have high-speed Internet links, although they vary among themselves in speed, cost, and infrastructure.
DSL is the slowest of the three, but if your needs are mainly for web browsing and texting over the Internet, it is the cheapest option. You will get an average download speed of approximately 15 Mbps, and a DSL connection will cost you around $30-$40 a month. It is widely available in all states. You will also find a larger number of service providers for DSL and, hence, more options to choose from.
A cable connection is much faster, and depending on your package, you can get download speeds of anywhere between 30 Mbps to 300 Mbps. This comfortably covers the general requirements of a family of four, including web browsing, streaming music and videos, Internet TV, and calling over data.
A basic cable connection starts at around $45 a month. It is not as widely available in all towns and cities, and a smaller number of providers have cable Internet options.
Fiber-optic outranks DSL and cable by miles when it comes to upload speeds. Its download speeds are on par with cable, but on upload speed, fiber optic connections are almost five times faster than cable.
If you use large data volumes for uploading content like music or video, then fiber-optic is the way to go. It is more expensive (around $50 a month), but it is definitely worth it for the seamless connection and rapid speed.
Thinking of alternatives?
These three types of connections are most ideal for a home connection to be used by multiple people. But what about if you are moving to the U.S. alone and don't require a huge amount of data each month?
You can consider opting for smaller data plans like these that will save you time and money:
Tethering and hotspots: You can directly use your mobile phone's data for your other devices (like computer, tablet, TV, etc.)
Mobile broadband: If you are traveling extensively and need access to the Internet at all times, this is your best bet. Mobile broadband usually has a data limit, like 4 or 6 GB, but it is very convenient for working and making phone calls on the go.
For mobile phone plans, the biggest service provider companies are Comcast, AT&T, Verizon, T-Mobile, Sprint, etc.
Factors to consider for your cell phone data connection:
Data limit: You can either get a limited connection (10-15 GB per month) or an unlimited data plan
Complimentary talk time: Most providers have unlimited calling minutes and SMS benefits on top of their data plans
Family plans: Another example of a "bundle", you will find family mobile phone plans much cheaper than individual ones. A family pack for four connections normally costs around $100-$120, whereas individually each would cost around $40.
Having Internet access in the U.S. is an essential commodity, so plan to get your connection as soon as you arrive there. Evaluate your preferences (budget, data consumption, general requirements, geographical location, solo/family plan, etc.) to pick the Internet connection best suited for you.
We are sorry that this post was not useful for you!
Let us improve this post!
Tell us how we can improve this post?