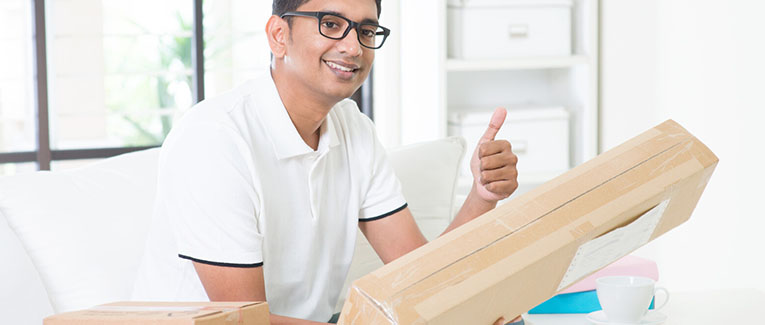 International shipping is ridiculously expensive. There are a number of reasons why you could need to ship things from the U.S. to India.
You could be moving to India after a long stay in the U.S. You could want to send gifts to your relatives or loved ones. Your relatives in the U.S. may need to send things to you. Either way, it's important to know about the most reliable and inexpensive courier services.
Due to lack of knowledge, people tend to spend large sums of money on shipping from the U.S. to India. However, there are multiple courier services that are economical as well as reliable.
The Main Methods of Shipping
There are several modes by which shipments can happen—by sea, by air, etc. However, the mode you choose depends on the urgency of your shipment and the cost you're ready to incur.
Shipment by Air: Needless to say, shipment by air is faster but also much more expensive. It takes anywhere between a couple of days to a week. Such shipment is recommended only when you need to dispatch items urgently, because it can cost you a great deal.
Shipment by air also has certain hassles attached to it. There is a long list of items that cannot be shipped by air. These restrictions can be especially hard to work with if you're shipping in bulk or moving to India permanently. The prohibited items are:
Gases: Lamp bulbs, etc.
Flammable substances: Perfume, deodorant, etc.
Magnetic objects: Loudspeakers, etc.
Biochemical products and oxidizers: Chemical medicines like gibberellins, etc.
Objects that could cause a public health risk: Untanned hides
Toxic or corrosive items: Batteries, sulfuric acid, etc.
Shipment by Sea: Shipment by sea is the more widely used method. It takes about 8–10 weeks. However, it is much more economical than shipment by air. Such shipment is highly recommended if you do not need your items urgently.
Price difference: What costs $195 for shipment by sea can cost up to $1,000 by air. The price will vary depending on the weight of your parcel.
For visitors, travel, student and other international travel medical insurance.
Visit insubuy.com or call 1 (866) INSUBUY or +1 (972) 985-4400

Here Are The 5 Best Courier and Shipping Companies
The courier company you choose has a large impact on your experience of shipping things. Although all companies serve the same purpose, they differ in certain aspects—the most important being the price.
Customer reviews and feedback play an important role when you choose your courier company. You can judge the reliability of a company by reading customer reviews. The process of shipping in bulk can be really stressful. Hence, transparency and tracking are essential factors to consider, as well.
The following is a list of non-mainstream shipment companies:
Garudavega: Garudavega is an India-based courier company that is quick and reliable. They offer courier services via air as well as via sea. They also provide door-to-door delivery of the couriers. The items will be picked up from your door and delivered at your destination in India. The prices charged by Garudavega are competitive with other companies. On average, they charge $93 per 10 pounds (about 4.5 kilograms) in a 10 in. x 10 in. x 10 in. box (about 25 cm on all sides).
SFL Worldwide: SFL Worldwide specializes in international services. They are easy to work with, cost-effective, and reliable. They offer economical and reasonable rates.

These are the services provided by SFL Worldwide:



International Relocation: This includes door-to-door relocation with clearance
Domestic Relocation: Eases the process of long-distance transportation
Worldwide shipping: The rates are economical, and the service is reliable and convenient
Domestic shipping plus trucking: Transport of small quantities as well as truckloads
Origin and destination services: With trusted removal agents
Service of auto transport: Nationwide and economical
Unirelo: Unirelo offers services for relocating to India, the U.S., Europe, and Australia. They provide the following services:

Full-secure packaging of all items
Shipment by sea
Shipment by air
Storage of courier items
Hassle-free customs clearance
Door-to-door delivery
Universal Relocations: Universal Relocation has relocated more than 1,000 families to more than 100 countries. They also offer complementary services (such as business services) all over the United States. Universal Relocations is an FMS-licensed, certified moving company.

They offer the following facilities for shipment from the U.S. to India:



A weekly direct schedule from the U.S. to India
Door-to-door service at minimal costs
Baggage shipment
Bonded warehousing for items
Air 7 Seas: Air 7 Seas is yet another shipping and courier company that provides a ton of services. Air 7 Seas is extremely easy to work with. They offer the following facilities:

Air Shipment
Sea Shipment
Packing
Loading
Trucking
Storage in the U.S. and India
Transporting
Crating
Customs clearance
Door-to-door delivery
Unloading and unpacking
Removal of wastage
For visitors, travel, student and other international travel medical insurance.
Visit insubuy.com or call 1 (866) INSUBUY or +1 (972) 985-4400

Important Tips: Things to be careful about
Know the weight of all the boxes and containers. It is a common tactic among shipment and courier companies to extort more amounts than need to be paid by lying about the weight of the parcels.
Once the couriers are out of your hands, there is no way to confirm the weight. Hence, always check the weight before you send them off for shipments. If you're aware, you cannot be taken advantage of.
Make sure the U.S. company has a proper Indian counterpart. Courier companies often have uncertain relations with their counterparts in other countries. If the company that you choose offers suspiciously low rates, it could be because they don't have proper or legal ways of transporting your goods.
To be 100% sure of your choice, read customer reviews, and opt for the company with maximum ratings and happiest clients.
Make sure a person is physically present to receive your order. The receiver must have proper ID proof and proof of your U.S. address (i.e., utility bills, etc.). Your shipment will be opened and inspected by the officers. The recipient must be able to answer questions in detail.
Disclaimer: Immihelp.com does not have any relationship or affiliation with any of the companies mentioned above. Immihelp.com does not receive any compensation or incentives from any of them.
We are sorry that this post was not useful for you!
Let us improve this post!
Tell us how we can improve this post?