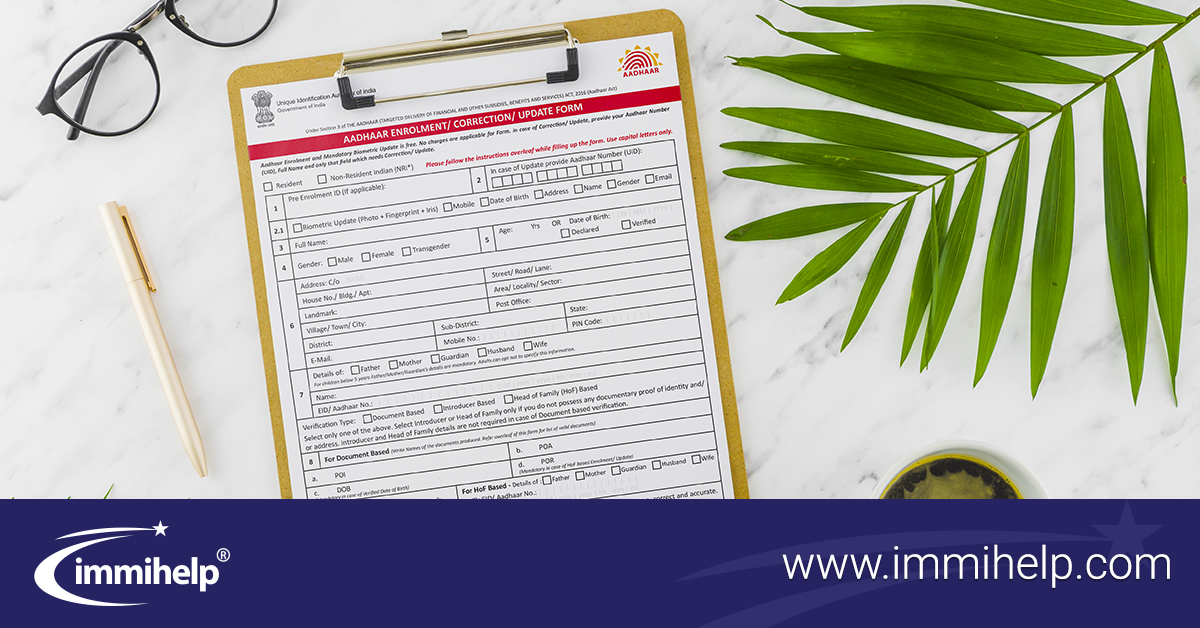 The Non-Resident Indian (NRI) status is hugely important from a taxation perspective. Because taxation is an evolving body of rules and regulations the definition of NRI is also prone to changes. Find out whether you qualify as an NRI or not, here.
Note: The rules of Aadhar enrollment are same for both NRIs and OCI cardholders desiring to acquire the card. This article treats any person residing outside India, whether an Indian citizen or a foreign national, as an NRI for clarity and simplicity, unless mentioned otherwise.
NRIs may feel the need for an Aadhar card because they have elaborate legal and financial matters pertaining to India. Also, NRIs who believe they may have to return to India feel the need to have their Aadhar card ready. Whether an adult or minor, an NRI is eligible to apply for an Aadhar card, provided they apply in India and plan to live in India.
In 2019, a slight change was introduced in the application procedure for Aadhar cards for NRIs. The process, however, remains more or less the same.
Some Key Points to Note for NRIs
Keeping in mind the changes introduced in 2019, note these points:
The waiting period of 182 days post-arrival is now non-existent. Upon arriving in India, you can now immediately schedule a prior interview for generating your biometric ID (a mandatory step for Aadhar enrollment) upon arrival in India.
An Indian passport is a valid Proof of Address (PoA). If the passport does not have an Indian address, any other UIDAI-approved PoA can be shown. PIOs don't have Indian passports, so they need to show a Proof of Address accepted by UIDAI (the authority in charge of processing Aadhar applications and issuing the cards).
The waiting period is obsolete for NRIs but is slightly different for foreign nationals or OCI cardholders. An OCI cardholder must reside in India for 182 days or more in the 12-month period preceding the date of application for the Aadhar card.
For visitors, travel, student and other international travel medical insurance.
Visit insubuy.com or call 1 (866) INSUBUY or +1 (972) 985-4400

What exactly is an Aadhar card?
Before going into the procedure, let's talk about this special identification card.
Aadhar is a 12-digit unique identity number issued to Indian residents by the Unique Identification Authority of India (UIDAI). These 12 digits are random, get synced to your biometrics, and serve as a unique identification number for you alone.
The Procedure:
The UIDAI makes it easy to get an Aadhar card. Follow these steps.
Visit the Aadhar enrollment center, and make sure to carry a valid Indian passport (if you have it). Provide Proof of Address (PoA)—again, an Indian passport is a valid PoA. A full list of acceptable documents for Proof of Address is available here.
Biometrics: Fingerprint scans and iris scans follow after submitting the documents.
Photographs: After your biometrics scan, a webcam snaps your photograph for the Aadhar card.
It takes roughly 60-90 days for your Aadhar card to get delivered. The card can also be downloaded as an e-Aadhar card from the website, and this digital copy is equally acceptable for practical purposes. Please note that the Aadhar card website is not accessible from outside India.
The status of your card application is trackable on the UIDAI website using the enrollment number (EID) present on the acknowledgment slip.
Common FAQs for Aadhar Card
Do I need an Aadhar card?
Yes, the Aadhar card is very useful. It is required for many things in India, such as buying and selling property, opening investment accounts, or even getting a mobile phone SIM card.
Can I give a different address other than the one in my passport?
As long as you can give a valid Proof of Address (PoA), you can provide any other Indian address.
Can I use my international phone number on my Aadhar card?
International phone numbers are not accepted by the UIDAI.
For visitors, travel, student and other international travel medical insurance.
Visit insubuy.com or call 1 (866) INSUBUY or +1 (972) 985-4400

We are sorry that this post was not useful for you!
Let us improve this post!
Tell us how we can improve this post?