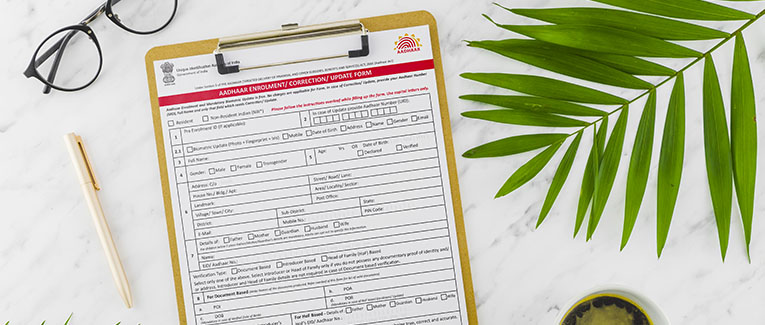 Note: The rules of Aadhar enrollment are the same for both NRIs and OCI cardholders desiring to acquire the card. This article treats any person residing outside India, whether an Indian citizen or a foreign national, as an NRI for clarity and simplicity, unless mentioned otherwise.
As an NRI, you are often required to show a valid Government of India-issued identity card for carrying out financial transactions. An Aadhar card is one such valid proof of Identity.
Also, NRIs who wish to return to India would need an Aadhar card for several legal and financial purposes. Before 2019, only resident Indians could enroll to get an Aadhar card. NRIs (adults and minors) had to reside in India for 182 days before they were eligible for the Aadhar application.
However, in July 2019, the GoI commenced the Aadhar on Arrival program. With this amendment, NRIs could get Aadhar cards with just their valid Indian passports and could bypass the 182 days requirement.
Note that while the 182-day waiting period is now obsolete for NRIs, OCI card holders still need to reside in India for 182 days or more in a 12-month period before applying for the Aadhar card.
What exactly is an Aadhar card?
Before going into the procedure, let's talk about this special identification card.
Aadhar is a 12-digit unique identity number issued to Indian residents by the Unique Identification Authority of India (UIDAI). These 12 digits are random, get synced to your biometrics, and serve as a unique identification number for you alone.
For visitors, travel, student and other international travel medical insurance.
Visit insubuy.com or call 1 (866) INSUBUY or +1 (972) 985-4400

The Procedure:
The UIDAI makes it easy to get an Aadhar card for resident and non-resident Indians. Just follow these steps.
Visit a convenient Aadhar Kendra (Aadhar enrollment center). You can visit the UIDAI website to schedule a slot for Aadhar application at an Aadhar enrollment center at a suitable location.
Carry your valid Indian passport as it is the primary document that will be required. Your passport will act as your Proof of Address. However, if the address on your passport is not updated and you wish to use another address for your Aadhar card, also carry a PoA document that has the required address. Bank statements, a Voter card, or an Indian driving license can be used as PoA. Electricity, water, or telephone bills, not more than three months old, and property tax receipts, not more than a year old, are also valid Proofs of Address that you can use. You can check out the complete list of other acceptable documents for Aadhar registration here.
At the Aadhar enrolment center, you will be required to fill in an enrollment form. Honestly enter the correct details in the form.
NRIs are required to compulsorily mention their email ID in the enrollment form.
After filling the enrollment form, carefully read the declaration and sign it. The declaration for NRIs is different from the one for resident Indians. Don't hesitate to ask questions if you do not understand something or need any assistance.
Once you have filled the form and signed the declaration, ask the operator at the Aadhar enrollment center to enroll you as an NRI.
You will then be required to show your passport. You can use your passport as both the Proof of Address and the Proof of Birth. However, you can also use other acceptable documents.
Next, the operator will help you complete the biometric capture process. The process involves fingerprint and iris scans.
After the biometric scan, a webcam will click your picture, which will be displayed on your Aadhar card.
Before the operator submits your application, make sure you check all the details displayed on the computer screen. The information will be displayed in English as well as a local language.
After the application is submitted, collect the acknowledgment/enrolment slip that has a 14-digit enrolment IDwith the date and time stamp. You can use your enrolment ID to check the status of your Aadhar application by visiting https://resident.uidai.gov.in/check-aadhaar.
It takes roughly 60-90 days for your Aadhar card to get delivered.
You can also download the e-Aadhar card from the UIDAI website. This digital copy is equally acceptable for practical purposes.
Please note that the Aadhar card website is not accessible from outside India.
For visitors, travel, student and other international travel medical insurance.
Visit insubuy.com or call 1 (866) INSUBUY or +1 (972) 985-4400

Common FAQs for Aadhar Card
Do I need an Aadhar card?
Yes, the Aadhar card is very useful. It is required for many things in India, such as buying and selling property, opening investment accounts, or even getting a mobile phone SIM card.
Can I use my international phone number on my Aadhar card?
International phone numbers are not accepted by the UIDAI.
Can children of NRIs also get an Aadhar card?
Yes, children of non-resident Indians are eligible for an Aadhar card.
For getting an Aadhar card in the name of the child:
One parent or guardian of the child is required to authenticate the application on behalf of the child.
The parent/guardian also needs to give consent for the enrolment of the minor by signing the relevant form.
If the child has an NRI status, the child's valid Indian passport has to be used as the Proof of Identity (PoI).
However, if the child is an Indian resident, a valid Proof of Relationship document would be required. The Birth Certificate of the child and the identity proof of the parent/guardian can be used. A Birth Certificate can also be used if there is no other valid document in the name of the child.
For resident Indian children of NRIs, other forms of PoI like a school ID card or school leaving certificate in the child's name can also be used for the application.
We are sorry that this post was not useful for you!
Let us improve this post!
Tell us how we can improve this post?