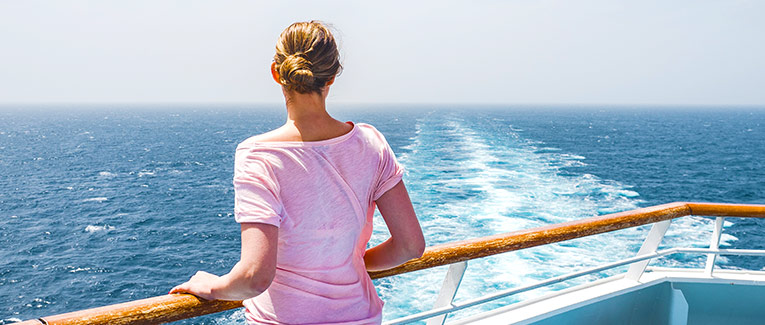 The type of cruise, destination of the cruise, and the time of year that you book will vastly affect your overall cruising experience.
For example, if you're in your 20s and choose an open-ocean retiree cruise, you'll spend your entire trip just moping about the ship. Younger crowds tend to prefer short and wild trips to the Caribbean or to the Bahamas.
The peak season refers to the time of year when cruises are popular, such as around the July and December holidays. The offseason implies the slow, or less crowded, weeks of the year.
If you like being alone on cruise ships, the best thing you can do is book an out-of-the-way destination during the offseason.
During the offseason, you will probably get fantastic prices, deals, and offers from the cruise line, but there will be far fewer people aboard.
This kind of negates the purpose of singles' cruises, which are meant for meeting new people. Some cruise lines might add to your bill in exchange for certain extra privileges, like access to a nightclub, and free drinks.
What Are Singles Cruises?
Singles cruises are cruises geared at single, unattached individuals who are looking for new friends or romantic interests.
They are also much more. They can be reunion points, music festivals, alcohol getaways, or even parties.
The average length of a singles cruise usually hovers around the 10-day mark, although there are cruises as short as a single day, and a few longer options as well.
Certain cruise lines offer something called a "roommate matching service" for single occupants. This is mainly aimed at helping people socialize.
If you do opt for this feature, the cruise line will probably ask you to fill out some demographic data and preferences to better connect you with your new roomie-to-be.
Why Are Single Cruises Still a Thing?
Singles cruises were made because everyone else had specific cruises for them: seniors have getaway cruises, families have kid-friendly vacation cruises, and there are even couples' honeymoon cruises.
The only people left out were the unattached, so singles cruises were born. Understand a few things before moving on:
There are singles cruises, but singles–only cruises are pretty rare.
Ships have "singles areas" that are accessible for a fee. People who opt for these extra features are called the "singles."
There will likely be a pre-cruise event, sort of like a cocktail party, for the single guests to familiarize themselves with each other.
All singles are part of the main cruise, but not all other cruise vacationers are part of the singles parties. This translates to: the singles can use all parts of the ship, but the regular passengers cannot go to the "singles-only" areas.
Aside from physical locations onboard the ship, there are also mixer events at regular intervals throughout the cruise for the single folks to relax.
People seem to think that singles cruises are slowly petering out, but nothing could be further from the truth. In all probability, with solo travel on the rise, cruises for singles are set to take off in a big way.
How Do I Get Myself On One Of These Cruises?
So, you've decided to take the plunge and dive into the world of singles cruising? You're in the right place.
Step one is to decide what type of single you are: romantic unattached or aromatic unattached. The only difference is that the former option is looking for a romantic partner.
It is up to you to read the itinerary of the cruise and figure out if it is for you. Figure out if the onboard activities are likely to draw your type of crowd.
Fast-paced activities are likely to draw younger crowds, and the converse is also true.
We've categorized the best cruise offerings for single people into the following three categories:
The best singles cruises for people under 40
The best singles cruises for people over 40
The best cruise lines for single people
The Best Singles Cruises for People Under 40
These are the cruises that will most likely not be called "singles cruises." The cruise lines advertise these cruises as being "themed" or "party" cruises.
The crowds here tend to be sort of wild, which is why quite a few of these cruises will have multiple bars, nightclubs, and dance areas allocated for the singles onboard.
Try to find cruises that have a lot of fast-paced activities on board. These cruises are also likely to be on the shorter side: five to seven days long.
Often, the ships that run these routes will have a dedicated singles lounge or studio lounge.
Norwegian Cruise Line is one of the best cruise lines for single travelers, so try to get yourself booked onto any of their ships such as Norwegian Getaway, Norwegian Escape, Norwegian Breakaway, or Norwegian Pride of America.
Most of those ships sail year-round, and all of them have staterooms specificallygeared towards solo travelers. These rooms are called studio staterooms, or studios for short.
They are usually built to accommodate only one person.
The Best Singles Cruises for People Over 40
While the under-40 gang likes to do things independently, the 40+ folks tend to prefer quiet, sophisticated, and moderated holidays.
Most of these cruises will have fewer participants, and the staff-to-guest ratio will be much higher.
These getaways also feature private hosts, performances by celebrities/unique people (one cruise had an astronaut). The activities onboard these trips are usually private and exclusive.
Be very wary of the fine print though — you may be required to have a roommate sharing your cabin, or you will have to pay double the cabin fare.
These cruises are slightly on the longer side, lasting about two weeks. Most of them are open-ocean cruises and do not have destinations.
The Three Best Cruise Lines for Single People
Norwegian Cruise Line. They were the first to offer staterooms specifically geared towards solo travelers. As such, they offer studio cabins on most of their ships, as listed above.
Royal Caribbean. Royal is one of the few lines to offer ocean-view/balcony studios for solo occupants. They also have the best free amenities bundled with their studio rooms.
Silversea. Silversea doesn't offer dedicated singles cabins, but their occasional discounts are so good that a single or solo vacationer may find themselves paying less than the standard fare to such an extent that they pay no supplement at all!
Hopefully, you are now a little better prepared to go about choosing your next getaway.
But, before you head out, be sure that you purchase cruise travel insurance. With this, you can be better prepared for cancellations, or medical emergencies while onboard.
We are sorry that this post was not useful for you!
Let us improve this post!
Tell us how we can improve this post?