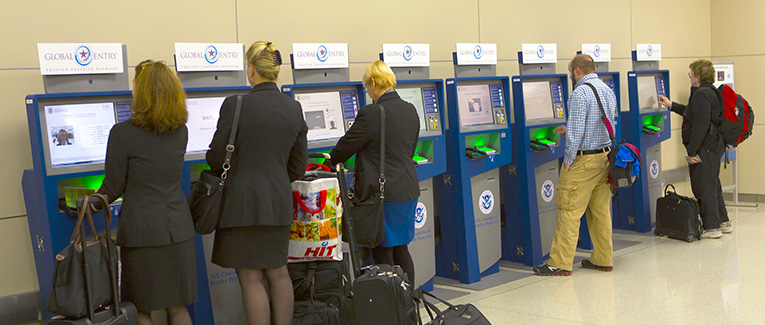 No matter how you slice it, no one enjoys standing in line at a customs and border control checkpoint after arriving in a new country. Usually, we're weary from a long flight. And even if we're sure we've got all of our paperwork in order, the nagging feeling that you may have filled out a form incorrectly can cause more than a bit of anxiety. However, digital border controls, also known as e-gates, are becoming increasingly common, and could make getting through customs easier than ever for many travelers in the years to come.
What are Digital Border Controls (E-Gates)?
Much like the kiosk at a fast-food restaurant, digital border controls take the customs process and automate it. Some countries may have you download an app with a QR code. Others may automatically scan the chip in your passport and photograph you. Nearly all e-gates use some sort of facial recognition software and biometric verification, but the exact process can vary depending upon the country.
Regardless, entering a foreign country through an e-gate typically has no more human interaction than the self-checkout kiosk at a grocery store. So long as you fit all of the criteria and have taken the appropriate steps, you no longer have to speak with a customs officer, get a passport stamp, or wait in an endless line. In some locations, e-gates can reduce the customs check-in time from 30 minutes average to just 30 seconds on average.
Who is Eligible to Use E-Gates?
As of now, most countries only allow citizens of highly developed, high-income countries to use e-gates. For instance, countries like the United Kingdom, Portugal, France, and Italy allow eligible Americans, Canadians, Australians and British Citizens to utilize digital border controls. If you are not a citizen of a country that qualifies for e-gate access, you'll still have to go through customs manually, at least for now.
It should be noted that some countries, such as Australia, only allow e-gate access if the traveler has the correct type of passport; an "ePassport" with a camera symbol on the front cover that can be scanned by the system.
It's also important to remember that even if you qualify for e-gate access in your destination country, it isn't available at every port of entry. You're more likely to find them at major international airports and international train stations than you are at smaller ones.
And of course, in order for any of this to be possible, you must be allowed visa-free travel to your destination country. If you require a visa for entry, you're going to have to join the regular customs queue.
Looking Ahead
As technology advances, the implementation of digital border controls is bound to become more common. There may come a day where, regardless of where you're from or where you're traveling to, passing through customs will be no more of an inconvenience than walking through a turnstile. But until that day comes, be sure to do your research. Have an up-to-date passport, correctly filled-out travel documents, and the extra time to wait in the customs line if necessary.
We are sorry that this post was not useful for you!
Let us improve this post!
Tell us how we can improve this post?